US top three
The first day of racing at the 2015 Audi-Tron Sailing Series hosted by Fraglia Della Vela Riva and organised by B.Plan Sport & Events (BPSE) in cooperation with Melges Europe, featured three intense races, and the result - an all-American podium to commence the event. Reigning World Champion Jason Carroll on Argo is seated in first on 13 points. In second place, also with 13 points, is Ryan DeVos on Volpe, followed by his younger cousin, Dalton DeVos on Delta in third.
The first race of the Riva del Garda series got underway on time under beautiful breezy conditions with Fritz Homann's Wilma immediately pulling to the front of the fleet to round the top mark in first, Ryan DeVos came second and Alec Cutler's hedgehog was third. Homann generated a massive lead downwind to pass through the gate first, Ryan was second and a heated battle for third between Cutler and Filippo Pacinotti's Brontolo HH ensued. Pacinotti overtook at the gate to round third.
Homann continued his impressive lead to take the win, with Ryan finishing in second. Although Pacinotti did well to hold on for third through the final mark of the race, Cutler found some nice speed and great pressure on the last downwind run to regain this third place position and took it to the finish line.
Race Two put Edoardo Lupi and Massimo Pessina's Torpyone at the front of the pack, with back-to-back World Champion Jason Carroll and his Argo team in second. Ryan DeVos had another fantastic start to take the top mark in third, followed by Dalton in fourth. Pacinotti was back on the good foot in fifth. The cluster of lead boats maintained position through the gate, and back around the track finishing first through fifth respectively - Lupi/Messina, Carroll, Ryan DeVos, Dalton DeVos and Pacinotti.
Carroll sealed the daily deal with a win in Race Three, chased by second place finisher Giangiacomo Serena di Lapigio's on G-SPOT. Yukihiro Ishida on Yasha Samurai and Edoardo Pavesio's FRA MARTINA battled side-by-side finishing third and fourth. Roberto Tomassini Grinover's Robertissima placed fifth.
Racing continues on Saturday with three more races scheduled. Round two in Riva begins at noon.
Top 10 results after three races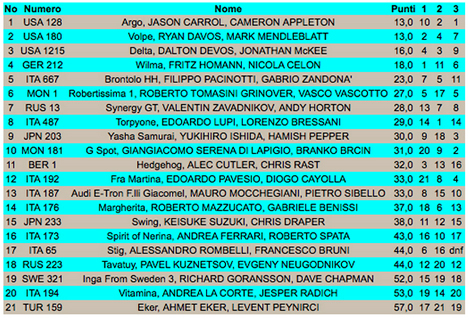 Back to top
Back to top