Carkeek 40 Mk2 in the UK
Rebellion, the Carkeek 40 Mk II built by Premier Composites is about to embark on her first competitive season in the UK.
Owned by Stewart Whitehead, Rebellion is the second of the Mark II Carkeek 40s to be built by Premier Composite Technologies. She was commissioned in Dubai before being shipped to Hamble in mid-April. Rebellion's first competitive outing was the Brooks Macdonald Warsash Spring Series, where she scored a race win against a competitive 18-boat fleet in IRC 1.
This Carkeek 40 is a 'second generation' desig, created to be competitive under both IRC and HPR. It sports a lightweight carbon infusion construction, carbon rig and rod rigging, square-top main, hydraulic forestay, under-deck systems and pedestal winch package.
This type of high performance yacht represents the future of handicap racing as faster, lightweight boats are looked up with increasing favour by IRC.
Rebellion is due to compete at the IRC Nationals, Aberdeen Asset Management Cowes Week and a series of RORC Channel Races to qualify for the Rolex Fastnet Race.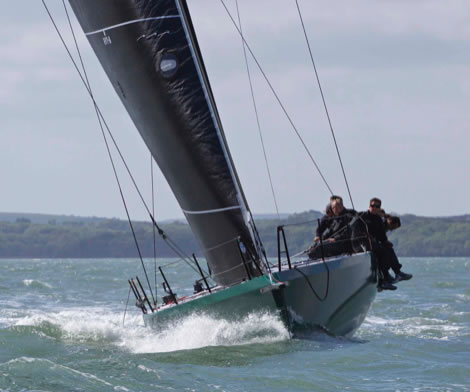 Owner Stewart Whitehead explained that he chose the Carkeek 40 because he wanted a boat that combined light weight and planing ability with high quality construction: "The average conditions we tend to sail in here in the Solent is 8-15 knots, so it made sense for me to pick a hull and complete package that was light. What I wanted was a fast planing boat, but with the ability to do some offshores as well as inshore racing.
"I want to do some of the classic offshore races in it. The build quality on the Carkeek 40s is very good. I really didn't like the sound of going offshore in a boat that might have structural issues! The tooling facilities, quality control, and existing boats from PCT – I'd had recommendations from a couple of people on the yard – made the decision pretty easy. And having seen the build quality, it's an excellent finish, both interior and exterior.
"With a lot of the options I've gone for – the TPT rig, EC6 rigging etc – the idea was to keep the weight at the bottom of the boat rather than at the top of the rig, and keep light in general. That's something we can tweak if needs be for IRC or offshore at a later stage, so we can add some weight in the keel if we feel we need to. We discussed definitely trying to weigh sub-4000 kilos, PCT were aiming for 3900kgs and it ended up being 3897kgs, so it was a good result all round and shows that the PCT control methods through the process have worked."
The Carkeek 40's light weight also means that Rebellion can be easily adapted to compete under different rating systems around the world.
"The focus was to have a fast boat, to have the potential to go to the Caribbean if I wanted to do that season, we could definitely do the Rolex Middle Sea Race – I could almost make it an ORC boat and put it in the Med. It gives me a lot of flexibility over the next few years," explained Stewart.

The Rebellion team reports that in over half the races they have entered so far they have been first to the top mark, despite sailing with a cruising mainsail and instrument calibration on-going. They also enjoyed some two-boat tuning against another highly successful 42 footer, and after experimenting with mast rake and weight distribution had visibly faster pace upwind despite their lesser waterline length, and were also comfortably quicker downwind, especially in light airs.
"The boat is great, straight off the blocks we've been more or less where we need to be in terms of performance," commented boat captain Andy Greenwood. "I'd say out we were more than happy with the performance – not only in terms of on handicap, but also a fast boat to sail, you're always going to come in with a grin on your face!"

Premier Composite Technologies expects to complete a third Carkeek 40 Mk2 by mid-summer 2015. PCT has also made some minor modifications to the production process for future Carkeek 40s. Max Waimer, Technical Director explains: "The whole aim was to basically make the boat marginally simpler in the building process, and therefore be able to reduce costs."
The changes include a move to a two-piece rig, which will also make the Carkeek 40 highly transportable. Waimer adds: "On the first two boats we had the halyards positioned below decks, and now we have the halyard exiting from the mast, and going back in a trough on the outside to the pit area. It simplifies the systems."
There have also been alterations to the hull construction – bulkheads are now made of an infused foam construction, and the structures have been modified for a more efficient production process. "Basically, all the longitudinals and the forward bulkhead have flanges on one side so we can bond them into the boat, and only the mast bulkhead is taped both sides, which takes out a lot of time for the secondary bonding process," explains Waimer. "The third thing we've changed is how we have done the hull-deck joint, again it is basically a more production-friendly way, now we are bonding the deck on only, with no secondary taping."
The construction changes incur a minor weight penalty of around 40 kilos, which has been accounted for with a 100mm deeper keel draught and 100kg lighter bulb to maintain the same righting moment. The Carkeek 40 will continue to be offered with a wide choice of specification options, with tiller steering offered as standard and twin wheels as an option.
Improvements to the production process mean owners placing an order for the Carkeek 40 will enjoy a markedly quicker delivery time this summer, together with reduced costs. "These changes have major aims, one is the cost saving because it takes time out of the production hours, and the other one is that we are able to deliver the boat faster. I would say we have reduced production from almost six months to four months, so it's quite significant," reports Max Waimer.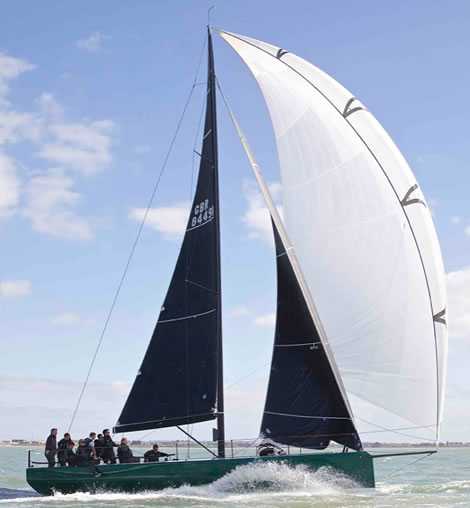 Back to top
Back to top