The AC factor? Sultanate of Oman looking unstoppable
On Lake Traunsee, another severely testing day at the Austria Cup, the opening event of the 2015 Bullitt GC32 Racing Tour, allowed just two races to be competed, but not for want of trying by PRO Anne Mallédant-Vadré.
The opening race – race 10 of the series - took place in the most stable conditions we have seen here – a SSWerly peaking at 9-10 knots, blowing up the length of the lake. Apart from one tense moment at the top of the first beat, this was led from almost start to finish by the immaculately sailed Sultanate of Oman, skippered by Leigh McMillan.
After a short postponement, a second race saw more of the fluky, unpredictable conditions that have marked this regatta. A big right hand shift soon after the start made the first run heavily port gybe-favoured and it was Spindrift racing that led from the start, until they were overtaken by the Omanis approaching the leeward gate. Going into the leeward gate for a second time, the leaders sailing into less pressure caused a compression. Rounding in fourth place, Armin Strom Sailing Team was the only boat to stay on the starboard side of the beat where she was first to pick up pressure, enabling them to not only lay the final mark of the course but to come in at speed. This fast track enabled Armin Strom to pick off three boats, motoring home to her first 'bullet' of the 2015 Bullitt GC32 Racing Tour. All five boats competing have now won races.
Marazzi, who represented Switzerland three times at the Olympic Games in the Star keelboat, admitted that his crew don't like light airs, particularly when it redefines 'fickle' as it has done to date on Lake Traunsee. "In these short, light air races, it is a big advantage for the teams that have sailed in the Extreme Sailing Series," he says. "We have slowly figured out how it works and our communication is improving, but we still have to learn. It is good to finally achieve what we've been fighting for."
As President of the GC32 International Class Association, Marazzi says he is pleased that here the class has an unprecedented heights in terms of its competition. "We haven't even been close to this in the last two years." But he is craving a day with winds of 15+ knots when the one design foiling catamarans can really show themselves off.
Top scoring boat of the day was Yann Guichard and Dona Bertarelli's Spindrift racing, posting a 2-2. This was enough to leave them level with Alinghi, the team of Bertarelli's brother Ernesto, but ahead according to the GC32's tiebreak rules where the boat with the better result in the last race prevails.
"I am happy, but today it was really difficult conditions - really tricky and unpredictable," said Guichard. "Saying that – our starts and our tactics were very good."
Key to success on Lake Traunsee is staying in the breeze, but this challenge reached a new level in the two unsuccessful attempts to complete race 12. As Guichard described one moment: "It was bizarre: two lengths behind us there was a southerly wind and one length ahead it was northerly. You just had to try to manage with the wind you had. Sometimes there would be only 10m between the boats, but they would be in completely different winds." In one particularly extraordinary race both Spindrift racing and Team ENGIE ended up sailing several hundred metres beyond the leeward gate before they could work their way back to it.
Going into the final day of the Bullitt GC32 Austria Cup, Sultanate of Oman holds a commanding nine point lead, despite posting their first result here off the podium today (a fourth in race 11). So is their secret their two America's Cup sailors: Emirates Team New Zealand wing trimmer and ten time A-Class catamaran World Champion Glenn Ashby and ex-Luna Rossa crewman Alister Richardson?
"I think we are sailing the boat fairly relaxed and keeping our heads out of the boat," said Ashby. "There is obviously a lot of experience with Leigh [McMillan], Pete [Greenalgh] and Nasser [al Mashari] sailing together and Alister and I coming in and looking at the same sort of things. It feels like we are on the same page and its working nicely."
Ashby is a fan of the GC32: "The boat is great – they are really good fun to sail. They are a bit of a slave ship in 10 knots - having to use the full-sized gennikers, make it a boat handling issue at times, but it forces you to prioritise the important things and put your fireman's hat on and put out the right fire at the right time in the manoeuvres! But the boats sails really well."
Results
| | | | | | | | | | | | | | |
| --- | --- | --- | --- | --- | --- | --- | --- | --- | --- | --- | --- | --- | --- |
| Pos | Team | R1 | R2 | R3 | R4 | R5 | R6 | R7 | R8 | R9 | R10 | R11 | Tot |
| 1 | Sultanate of Oman (OMA) | 2 | 2 | 1 | 3 | 1 | 2 | 3 | 1 | 2 | 1 | 4 | 22 |
| 2 | Spindrift racing (FRA) | 5 | 4 | 4 | 2 | 2 | 1 | 4 | 4 | 1 | 2 | 2 | 31 |
| 3 | Alinghi (SUI) | 3 | 1 | 3 | 1 | 5 | 3 | 1 | 3 | 3 | 3 | 5 | 31 |
| 4 | Team ENGIE (FRA) | 1 | 3 | 2 | 5 | 3 | 4 | 2 | 2 | 5 | 5 | 3 | 35 |
| 5 | Armin Strom Sailing Team (SUI) | 4 | 5 | 5 | 4 | 4 | 5 | 5 | 5 | 4 | 4 | 1 | 46 |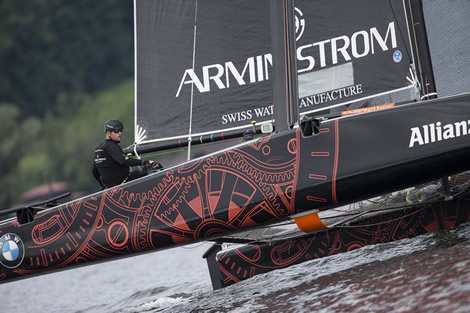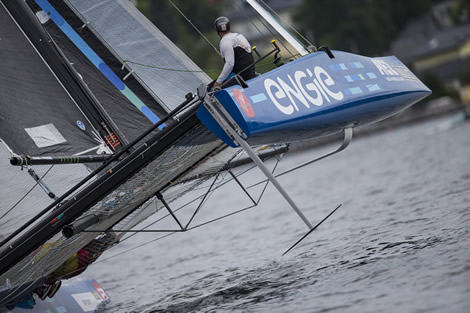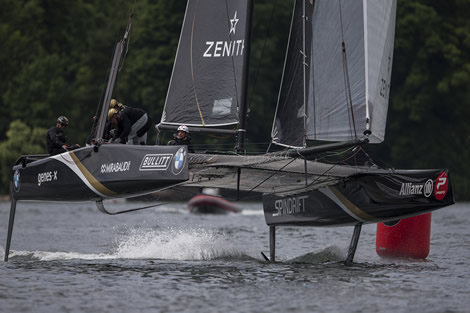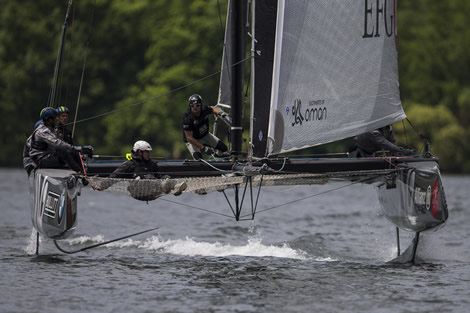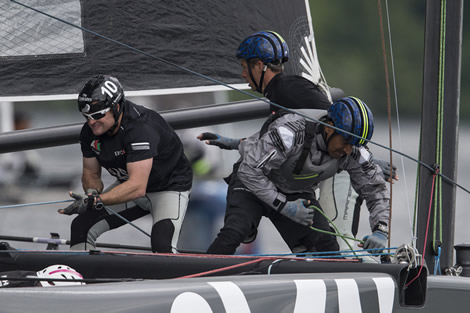 Back to top
Back to top