Omani GC32 newbies pull ahead on tricky day
Downtown Gmunden was graced with a bird's eye view of competition on day two of the Austria Cup, the opening event of the 2015 Bullitt GC32 Racing Tour.
Compared to yesterday, the immaculate Lake Traunsee, nestled among the snow-capped Salzkammergut mountains, today had warmed up with the wind shifting into the northeast, allowing the course to be set up off the model Austrian town. Sadly the wind was even more marginal today, momentarily touching 10 knots, enough for the one design foilers, that resemble mini-America's Cup catamarans, to fully fly. Despite the challenging, fickle breeze, the race management got five races completed before competitors returned ashore to recover and ready themselves for a Bullitt Group party in Gmunden's waterside square.
At the start of the day the two old Extreme Sailing Series foes, Alinghi and Sultanate of Oman, were tied in the top spot. But through today's lengthy bout, Leigh McMillan's team maintained the best consistency and, with no results off the podium after nine races sailed, at the halfway point of the regatta, holds a six point lead over its Swiss rivals. On a course where it often didn't pay to lead (showing those behind where NOT to go), Alinghi regularly was the best starter, but was unable to hang on around the whole course.
"For once we were starting well," explained Alinghi skipper Morgan Larson. "Sometimes with this lake you find yourself doing the right thing, then the wind evaporates and fills in from somewhere else. It is a 'lake of opportunity' and the other guys took a few better opportunities than we did. But Traunsee is always tricky - sometimes you get in rhythm with the conditions and sometimes you don't. Tonight maybe we'll have a few more foamy ones. It's about giving the lake respect and we need to do a little more of that. You just have to chip away, learn from your mistakes, and don't take it too seriously, because it is impossible to predict here."
It remains uncertain if Alinghi's injured mainsheet trimmer Pierre Yves Jorand will return before Sunday. At present highly capable Austrian two time Olympic Tornado gold medallist Hans Peter Steinacher is standing in for him.
After the immaculate Omanis, today Spindrift racing finally came good, scoring the second best result of the day. Dona Bertarelli and Yann Guichard's team became the fourth different race winner after claiming race six, (today's second), showing how competitive this fleet is.
"It was a good day for us, but it was difficult to stay in the wind," said Guichard. "The game was to find the puffs and to stay in them. Yesterday it was difficult for us to manoeuvre, but now I am happy because today my team did a great job: We were starting well and our tactics were good.
"It is difficult to keep foiling here because the wind is not steady - the puffs come down the mountains, so they are strong, but really short too. For the helmsman it is difficult to keep the boat going fast. "
French skipper of Team ENGIE, Sebastien Rogues is earning himself the title of the 'comeback kid' making some spectacular recoveries to come home second in today's third and fourth races. "We did some good things and some bad things, but the challenge is getting easier," said Rogues, the 2013 Class 40 champion. Half way through the regatta the mid-fleet in particular is close with Team ENGIE having dropped to fourth, but is just four points adrift of Alinghi in second, their position not helped by coming home last in today's final race. On board leading Moth, catamaran and lake sailor Arnaud Psarofaghis, is calling tactics in place of former America's Cup helmsman Sébastien Col, however Rogues points out: "The tactics are very difficult here because of the gusts. It is very difficult for all the tacticians."
Like all the crew here, Rogues is crossing his fingers that conditions pick up for the last two days allowing the GC32s to get foiling with greater regularity.
Struggling at present is the ARMIN STROM Sailing Team of GC32 International Class Association President Flavio Marazzi, which has yet to finish on the podium and has its work cut out to make its impression on the front runners this weekend.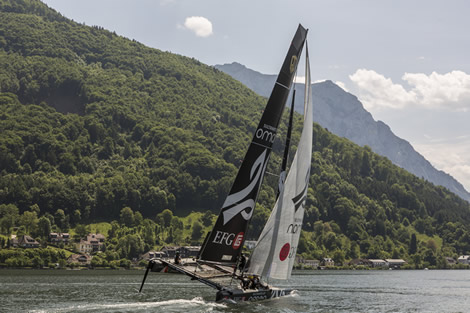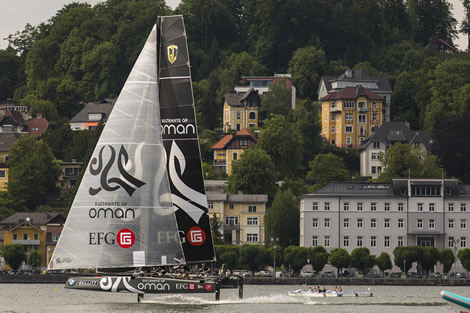 Back to top
Back to top