Lake Traunsee...
Heading for the start grid
Next Wednesday the Bullitt GC32 Racing Tour gets underway with its first event, the GC32 Austria Cup. Competition for the foiling catamarans will take place over five days (27th-31st May) off the picturesque resort of Gmunden, on the northern shore of Lake Traunsee.
Five GC32s are set to contest this first official regatta of the inaugural Bullitt GC32 Racing Tour, that will this year see the state of the art, one design catamarans competing on courses in the UK, Germany, Italy and France.
While this is the first season of the Bullitt GC32 Racing Tour, in fact it will be the third consecutive year the GC32s have raced on the chocolate box-beautiful Alpine lake, nestled among the mountains of Austria's Salzkammergut. Lake Traunsee holds a special place in GC32 history: It was here, back in 2013, before the boats were flying, that the class held its first ever regatta. They then returned last year to have their first regatta as full foilers, when it was Chris Draper's Luna Rossa crew that came out on top.
This year, with a full-blown circuit and associated infrastructure in place, the Tour has a new complexion with an influx of elite-level teams including a two time America's Cup winner, two Extreme Sailing Series champions and a Class40 champion.
Fresh from winning the 2014 Extreme Sailing Series, Alinghi is in theory the stand-out entry with Team Principal Ernesto Bertarelli sharing helming duties this season with American Morgan Larson. While many of the team, including Bertarelli, have sailed foiling Moths before, the GC32 is the first flying catamaran the crew have raced and they are relishing this new challenge. As their sage-like mainsail trimmer Pierre-Yves Jorand puts it: "We know how to sail multihulls on two hulls or on one hull, but on foils it is a brand new sport for us. The speed and the sensation of the GC32 is great, but it is something new for most of us in the Alinghi team.
"We are really excited to take part in the first official event. We expect intense racing against some good teams and some of the best sailors in the world, but this our first year on a flying machine, so our learning curve is huge."
Alinghi is one three of the teams competing in Austria, either coming from Switzerland or regularly racing on the lakes there. However Jorand doesn't feel this will benefit them. "We have never sailed on Lake Traunsee before. It will be mountain lake conditions, so I don't think it will be an advantage for us. We sail a lot on Lake Geneva but it is not a mountain lake."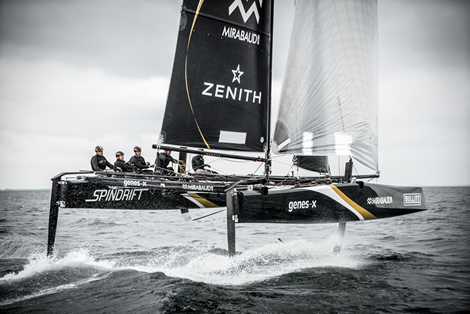 On Lake Geneva Bertarelli has an on-going competition with his younger sister Dona, whose Spindrift racing team is also contesting the Bullitt GC32 Racing Tour this season with Yann Guichard at the helm. This sibling rivalry is certain to continue up on foils.
Guichard is one of France's most decorated multihull sailors from the ex-Olympic Tornado catamaran to larger inshore boats to last year racing the world's biggest racing trimaran, the 40m long Spindrift 2, across the North Atlantic entirely on his own. But even for him, the foiling GC32 represents a wholly new challenge.
"I am excited not only to start racing in a new circuit, but on a new boat which is setting new trends: Foiling is clearly the future of sailing," says Guichard. "Many experienced multihull and America's Cup sailors will take part this year on the Bullitt GC32 Racing Tour and I am expecting the competition to be tough. I am looking forward to being in Traunsee with our own boat, having had more training days."
Although new not just to foiling, but to inshore multihull racing, Sebastien Rogues' French crew on Team ENGIE (formerly GDF Suez) has put in the most training over the winter months. It also features many highly accomplished sailors.
"After the Test Event in Marseille we look forward to starting the Bullitt GC32 Racing Tour and competing against our competitors," says Rogues. "Just for this event, we have made some small changes to our crew with Devan Le Bihan and Arnaud Psarofaghis standing in for Sébastien Col and Bertrand Castelnérac. We are pleased to welcome them. Their experience will allow us to learn and further raise our level. Traunsee is the first step and we intend to get on the podium - it would be a nice gift for our first time racing under our new colours of GC32 ENGIE."
Racing is scheduled to get underway at 1100 CET off Gmunden on Wednesday, 27th May following a skippers' briefing at 0945.

Back to top
Back to top