Ran Racing clings on
Two second places today, both of them hard earned from intense, close boat-on-boat combat, have kept ice cool Niklas Zennström's Rán crew on the top of the 52 Super Series' Ford Vignale Sailing Week.
After a chilly opening day, the mercury rose up to a record a pleasant early season warmth and with the return of late Spring sunshine came the resulting reliable Valencia sea breeze.
The steady 12-15 knot winds kept the action close and tight all the way down the 12 boat fleet. And as two different teams won races three and four of the ten race series – Andy Soriano's Alegre and Vladimir Liubomirov's Bronenosec – Rán maintains its high level of consistency. With Morgan Larson and Adam Beashel combining on tactics and strategy, they restored themselves from sixth to third to second during the first race of of the day and then chased the runaway Russians in the second to step three points ahead of nearest rivals Alegre, which posted a 1,5 for the day.
The leaderboard still reflects a good early showing so far from the 52 Super Series debutants: Alegre lies second overall while, thanks to their race four win, while Bronenosec holds third. Meanwhile the 2014 season's top two teams - Quantum Racing and Azzurra – may find themselves currently scrapping over sixth and seventh, but at the same time so close are the points that both teams are only four points shy of the podium.
Rán tactician Morgan Larson, who previously guided Rán to a regatta win in Barcelona, explains the reason for the Zennström crew's consistency so far: "We seem to be pretty fortunate, the guys did a great job of getting us off the start line. I feel like we are a little bit behind with speed upwind. But then downwind Niklas and Andy Hemmings just find the right heel angle and the boat design is maybe fast, but we are certainly cooking downwind!
"These boats really, really need a little extra pressure and that is where the gains are. It is not so much about windshifts. We took a last minute decision at the finish to do two gybes just looking for more wind pressure and we gained more than we thought.
"It is good place to be, at the top of the table, any time you can be in the top group you are happy. But two days into a five day event there is plenty to play for, but we know we have to keep learning, it is the first event of a long season and everyone is learning their boats, you needf to keep progressing and keep learning.
"Starting is in this group is crucial. Niklas, Steve Hayles our navigator and SIlas up on the bow, the three of them have their communication dialled so well, we are trying to do a good job of keeping out of the fray and letting our boat its own speed."
The hallmark of good regatta winners often is the ability to climb back up the fleet from a lacklustre race opening. Rán showed that in the first heat of the day when they fought back from sixth place at the first rounding. They made three places on the run and then proved the huge value of seeking extra wind pressure when they made two extra gybes at the bottom of the final run. That maybe taxed them distance to get there but the dividend was a big jump in windstrength, a slingshot to just pip the unfortunate Sled on the finish line. Only three seconds separated Rán from Sled.
Takashi Okura's Sled led around the top mark first time up, but Alegre slipped through on the run to take the lead. Andy Soriano's crew became the only one to now have won two races, but their second start of the day did not match their pristine race 3 effort - they had to take sterns off the line and could only add a fifth to their tally.
Bronenosec, the last of the new boats to be commissioned and launched, won their first race of the 52 Super Series on only their second day of racing. The formula for victory looked simple: A clean, well executed start and solid first beat, then just keeping Rán under wraps – but it certainly was one that brought owner-driver Vladimir Liubomirov back to the Veles e Vents dockside with a big smile on his face. He was not the only owner-driver to be wearing a huge grin tonight, so close and rewarding is the competition on a top class race course area.
Liubomirov commented: "I am really happy to win our first race in this class. The boat is excellent and the team is great, a real dream team. For me it is a great feeling in this class, racing with a tiller in a big boat, different from what I did before and so we are improving every day. Now we have won a race, what more could you want for?
"Some of the team have been with us three or four years with the Bronenosec team since when we started and two or three of them are with us here in the TP52. I have one of the best tacticians in Michele Ivaldi and some great trimmers. I am so happy to have them with us.
We started out with a sport cruiser Swan, did the RC44 and now we have the big, high performance grand prix boat, logically it is the next level, a high level of competition and it is interesting to drive. This is the top class that is why we are here. We had a really good groove, we made a really good start that is the most important thing and we were fast.
"Our shore team have done such a good job getting us ready quickly. The builders King Marine did an absolutely excellent job. The boat comes third from the yard after Phoenix and Azzurra and now all the details are refined, it is so excellent."
52 Super Series - Ford Vignale Sailing Week - results after four races.
1. Rán Racing, SWE (Niklas Zennström SWE) (2,1,2,2) 7pts
2. Alegre, GBR (Andre Soriano USA) (1,3,1,5) 10pts
3. Bronenosec, RUS (Vladimir Liubomirov RUS) (8,6,6,1) 21pts
4. Provezza, TUR (Ergin Imre TUR) (5,2,7,8) 22pts
5. Sled, USA (Takashi Okura JPN) (7,11,3,3) 24pts
6. Quantum Racing, USA (Dalton DeVos USA) (4,7,8,6) 25pts
7. Azzurra, ITA (Pablo/Alberto Roemmers ARG) (6,5,5,9) 25pts
8. Platoon, GER (Harm Müller-Spreer GER) (3,8,11,4) 26pts
9. Interlodge, USA (Austin & Gwen Fragoman USA) (10,4,4,10) 28pts
10. Gladiator, GBR (Tony Langley GBR) (11,9,9,7) 36pts
11. Paprec FRA (Jean-Luc Petithuguenin FRA) (9,10,12,12) 43pts
12. XIO, ITA (Guiseppe Parodi ITA) (12,12,10,11) 45pts
From Nico Martinez / 52 Super Series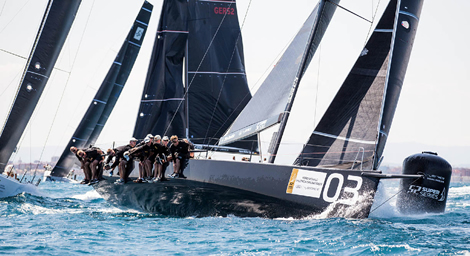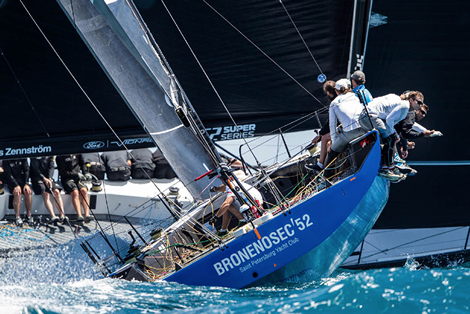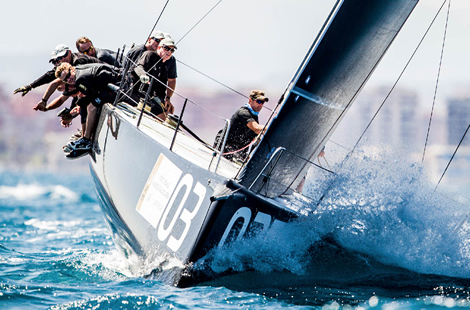 From Ingrid Abery / www.ingridabery.com

Back to top
Back to top