Ran and Alegre set an early benchmark
With all of the pressure and excitement of opening day of the 2015 52 Super Series applied, it was Niklas Zennström's Rán crew on their new, recently launched Vrolijk design which rose best to the multiple challenges, posting an impressively consistent second and first to lead Ford Vignale Valencia Sailing Week.
From the biggest and most competitive 52 Super Series fleet yet assembled, including nine new boats all making their major championship debut and three high level teams new to the circuit, the potent combination of the cool Swedish owner-driver, multi-talented Californian Morgan Larson on tactics and long term Team New Zealander Adam Beashel as strategist, proved telling. Their positioning on the race track was consistently strong, their crew work polished to ensure they finish the first, high octane day with a lead of a single point over circuit newcomers Alegre.
Zennström commneted: "It was very difficult conditions today with a very choppy sea so this is also a day not to have a shocker. With this fleet it's about if you can stay consistently in the top four I think you're going to be winning the regatta. We are very, very, pleased with the results today.
"Morgan called the tactics amazingly well and I think the boat was going okay. I don't know if we were quicker than the others but i think that Morgan, Adam and Steve did a very good job in the afterguard.
"Morgan's very laid back but he's also very talented and together with Adam and Steve we've been working really well so far but all the boats have very, very, good afterguards here so if we can keep this up it's going to be amazing but I know that we will have some challenging races as well. You can just see on the lay line on the top mark if you're ahead it's easier but if you are in the group it is pretty difficult."
Andy Soriano's crew made a dream start to its TP52 campaign emerging as clear winners of the first windward-leeward race. Ergin Imre's brand new Provezza finished second to Rán in the second heat. Added to a modest, just above mid-fleet opening race fifth the Turkish team lie third, four points up on a gaggle of three crews all sharing 11 points. And so two of the top four teams after the first pair of races are newcomers to the 52 Super Series. Defending champion Quantum Racing lies fifth, sharing the same points tally as Azzurra.
Kelvin Harrap strategist on Alegre said: "We did Palma Vela a few weeks ago and we learned a lot from there. We worked on our starting since then and we got two good starts today which put us in a good position in first beat. The key was mainly the starting that was not so good in Palma. It was a very left hand track in Palma so we have worked on starting mainly. But it's a new boat so we are still learning every day, even now we learned a lot today too. This is really our second time sailing above 15 knots. So it's just today about learning the angles down-wind and still the simple things like going the right way. It's a great class I've had a lot of fun so far. And winning? Well, I have to say we are pleasantly surprised. The left was pretty strong and between John Kostecki and myself, we really wanted the left and it worked out well."
Among this high calibre fleet there are many sailors who spent what to them must seem like half of a lifetime training and racing off Valencia's Malvarrosa beach in the build-up to the 32nd America's Cup. There is no shortage of in depth 'local knowledge' on almost all of the very top TP52s, but it was John Kostecki – who sailed here with BMW Oracle Racing – and Kiwi Kelvin Harrap, who was with Emirates Team New Zealand, who called the first beat of the first race best, earning the preferred left side of the course in the 11-13 knot northeasterly breeze. Their start, towards the pin end of the line, was sharp and owner-driver Soriano had Alegre locked into a good groove early, not easy in the choppy, bumpy conditions. They led around the windward mark with clear daylight between them and second and third-placed Rán and Platoon. That was the order across the finish, the first winning gun of the year going to Alegre.
In third, Harm Müller-Spreer would be content to open with a third in his first race back in the class since 2008, but Platoon was then locked out of the start of the second race, caught early at the committee boat end of the line.
Just before the second race start a few spits and spots of rain was maybe a signal that the breeze was becoming more unsettled and changeable. Early in the first windward leg the left looked to be strong again, Quantum Racing – with 23 year old TP52 debutant Dalton DeVos on the helm – was nicely positioned with good speed, working the left flank, but during the top third of the beat, the right side came in strong with a noticeable shift. Rán was well placed to benefit, Provezza bouncing back from a less than perfect start to round second – chasing Zennström's stern hard downwind, while Quantum Racing and Sled, in particular, suddenly found themselves fighting near the back of the pack.
Between the new boats, there is no discernible speed difference. The top five represent designers, in order, Vrolijk, Botin, Vrolijk, Vrolijk, Botin. But Zennström cautioned: "It's always a challenge when you have a new design and you don't know how the boat is going to go. I think we're quite happy with the boat, but there is so little in it that I think that nobody is going to win this regatta or the 52 Super Series this year just because they have the quicker boat. It is going to be who has the best team and who sails the best."
Ford Vignale Valencia Sailing Week - results after two races:
1. Rán Racing, SWE (Niklas Zennström SWE) (2,1) 3pts
2. Alegre, GBR (Andre Soriano USA) (1,3) 4pts
3. Provezza, TUR (Ergin Imre TUR) (5,2) 7pts
4. Platoon, GER (Harm Müller-Spreer GER) (3,8) 11pts
5. Quantum Racing, USA (Dalton DeVos USA) (4,7) 11pts
6. Azzurra, ITA (Pablo/Alberto Roemmers ARG) (6,5) 11pts
7. Interlodge, USA (Austin & Gwen Fragoman USA) (10,4) 14pts
8. Bronenosec, RUS (Vladimir Liubomirov RUS) (8,6) 14pts
9. Sled, USA (Takashi Okura JPN) (7,11) 18pts
10. Paprec FRA (Jean-Luc Petithuguenin FRA) (9,10) 19pts
11. Gladiator, GBR (Tony Langley GBR) (11,9) 20pts
12. XIO, ITA (Guiseppe Parodi ITA) (12,12) 24pts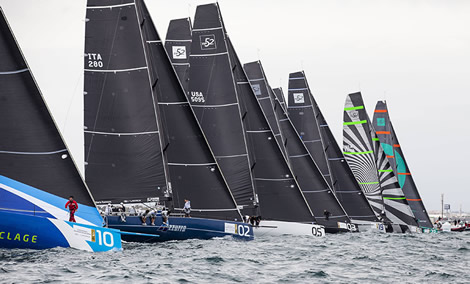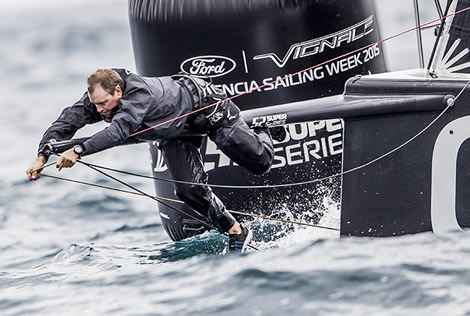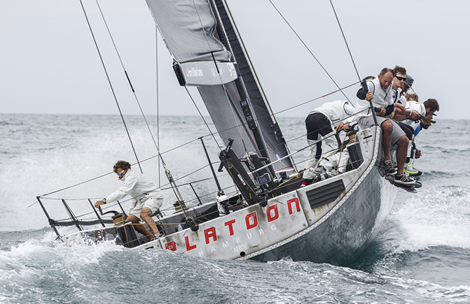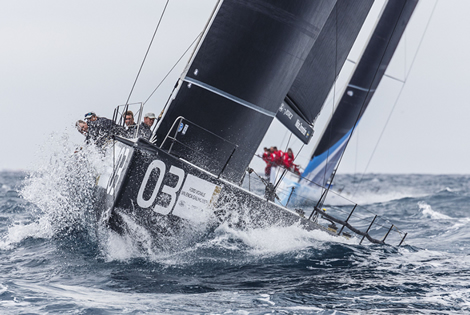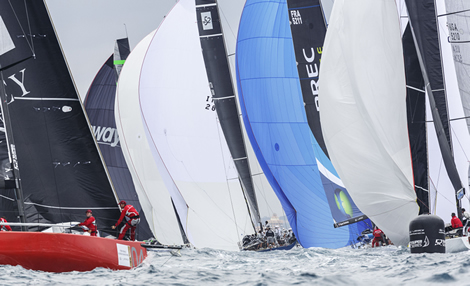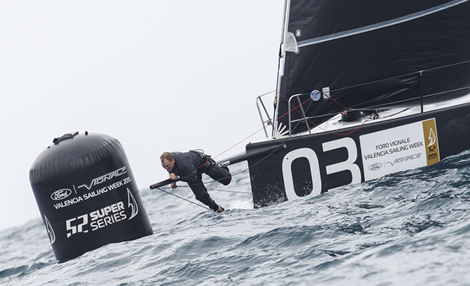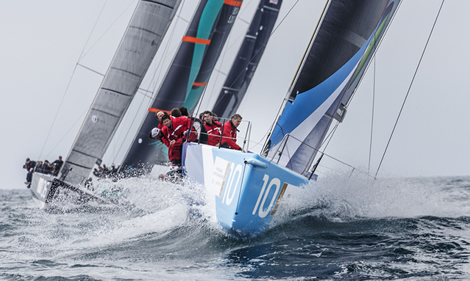 Back to top
Back to top