Traditional practice race win for Ran
Competition for the 2015 52 SUPER SERIES, the world's leading grand prix monohull fleet racing circuit, kicks off tomorrow at Ford Vignale Valencia Sailing Week, with a level of excitement and interest around the dock in Valencia has not been seen for many, many years.
The reason: Nine brand new boats and three proven, established designs to the latest 'turboed' incarnation of the TP52 rule, represent a quite significant investment of time, money and energy for their proud, poised, expectant team owners. And it is a glowing reflection of the desire of owner-drivers to go TP52 racing.
For all that, it is hard to predict who might win the top prize for this this five regatta 2015 circuit come September. There are many more variables than in preceding seasons. The fleet is bigger and there are many new boats which are relatively unproven and unknown.
There have been some changes in the afterguard of the back-to-back championship winning Quantum Racing. The dominant team of 2013 and 2014, the core of Quantum's crew still comprises five sailors who won the America's Cup eight years ago with Alinghi on these same racing waters off Valencia's Malvarrosa Beach: Ed Baird (USA), Juan Vila (ESP), Warwick Fleury (NZL), Lorenzo Mazza (ITA) and Pieter van Nieuwenhuyzen (NED). This season Adrian Stead (GBR) replaces Terry Hutchinson (USA) as tactician, and owners Doug and Dalton DeVos will share the helming duties. In Valencia, 22-year-old Dalton DeVos is steering his very first ever 52 Super Series regatta, coached by Baird. It is a new dynamic which is showing signs of settling quickly.
Stead comments: "We are in good shape now and seem to acheive a lot in the last couple of days here and I think we are now well ahead of where we were in Palma (Palma Vela warm up regatta earlier in May). We have a good set up now with Ed Baird doing the starts as starting tactician and starting coach with Dalton and that allows me to have a good look around on the race course. Then I do tactics around the course. Off the start line it is handed over and Ed is strategist. Dalton is used to high level sport and is used to being pushed hard and so it is working out well."
Leading contenders, Rán Racing, are only due to compete in two regattas this season - in Valencia and at the World Championship, but look set to get their money's worth.
Additional insight is gained from today's one, adrenalin-fuelled practice race. Most of all It proved there will be nothing in it. At the first top mark the fleet was overlapped, with mere seconds between first and 12th. He who won the start and found a lane of clear breeze did best. Getting caught a metre short on the start line at the gun and life proved much more difficult.
For the record it was Niklas Zennstrom's brand new Vrolijk-designed Rán which won the practice race, finishing just ahead of Jean-Luc Petituguenin's French, mainly amateur crewed Paprec, which is in fact the 2011 generation ex-Rán Racing. But throughout the fleet, places changed all the time.
Zennstrom commented: "Last season we were the boat which won most of the practice races and so we seem to continue with that tradition! It was good. It is great with the bigger fleet. We got a good start and got a good lane and then we could sail our own race. I think the boats are very even. Every one is just trying to find the right modes. We are all learning the new boats. It is great with the new boats but of course there is a big risk with a new boat. You know what you had with the old boat, what you are doing, now you don't really know until you line up. But we seemed to be fine. And it is good to see the old Rán just behind us. It is great to see the new boats and the new owners coming into the class. I think all the teams have a good level and there will be an even level. I dont think here will be some good boats and some not so good. All the new ones are still learning too but they are good teams."
Mainsheet and Project Manager Tim Powell added: "Sailing against other boats here for sure is the best way of learning. And it is a steep curve. The new boats are significantly faster upwind for sure. The boats are ripping around quite a bit faster than before, especially upwind. You notice the extra power. They wick up noticably in not very much wind. They are turboed up significantly on last year. Now it is undertsanding how you go against other boats with different sails."
Then there are well drilled, excellent teams which previously had an older boat, now armed with a newer competitive boat in which they can race on equal terms.
Into the line up of established 52 Super Series teams, Azzurra (ITA), Gladiator (GBR), Interlodge (USA), Paprec (FRA), Provezza (TUR), Rán (SWE), Quantum Racing (USA), Xio (ITA previously Hurakan) and Sled (JAP) - three new, high level, successful teams make their debut in Valencia. Andy Soriano's Alegre team is the reigning Maxi72 World Champion. Germany's Harm Mueller Spreer has been attracted back into the class because ten of the 12 boats are owner-driven and likes to drive his own Platoon. Russia's Vladimir Liubomirov has assembled a top crew for his Bronenosec - built from the same moulds as the new Azzurra.
Michele Ivaldi, tactician on board Bronenosec observed: "We have very low expectations. We have had the boat in the water for just over one week and so we set our bar very realistic. And so we have a nice surprise to have such a good package, boat, sails and rig and we have just checked in and are happy with it. The important thing is going to be how we sail. All the fleet is very tight. The boats are really, really close. And so it is coming down to start, strategy and practice. There will be lots of ups and downs. The goal is consistency."
Azzurra, the Roemmers family's team representing the Yacht Club Costa Smeralda and the 2012 52 Super Series champions - won the warm up Gaastra PalmaVela regatta earlier this month and are clearly quick and very well prepared. And Takashi Okura's Sled team which finished on the podium twice last season have a new Botin design with Canada's ice cool double Olympic medallist Ross MacDonald calling tactics supported by Hamish Pepper (NZL) as strategist.
MacDonald commetned: "We had a constructive week. The boat was two weeks late off the ship (delivery from NZ). So some of the jobs we had hoped to do have had to wait. But we have had some good training here and are in the mix. I think everyone is in the mix, though! I think it is going to be a very exciting season with so many new boats. I think if you threw it down on the table right now then you would not know how it is going to shake down. It is as close as one design. Our team is the exact same as in Ibiza and the plan is to keep it together as much as possible. Our aim is to keep our noses clean and to keep improving. As easy it is to say that will be hard to do. And we are not lacking for anything to get on to the podium. I would not say we are the highest budget team but we are not lacking for anything. We will have no excuses."
Setting the blood racing.....

One of the reasons for the outstanding success and longevity of the class is the managed evolution of the design rule 'box' which has ensured the boats get quicker and more challenging with each iteration. A new generation rule comes into force this year and that has promoted the building of new faster, more exciting boats.
It is a different animal now but with the same genes as 2005 when the TP52 was introduced to Europe. The displacement has dropped in managed stages by 500 kilos from 7500kgs to 7000kgs, lowered 200kgs from last year. Draft has gone up in steps from 3.2m to 3.5m.
Mainsail area has increased from the original 91.51sq m to 98.5 sq m now with powerful square roached mains. Spinnaker area has risen progressively from 247.6 sq m to 270 sq m. Max crew weight is down from 1273kgs originally to 1130 kgs, now sailing with one or two crew less. Deflectors on backstays which add power and control to the rig are new this year. From a traditional spinnaker pole length of 7.67m to a bowsprit at 9 metres (both measured from the front of the mast)
Racing starts Tuesday at 1300hrs local time and runs through until Saturday 23rd with ten windward-leeward races planned. There are no discards over the five regatta season which includes the Settimana delle Bochhe (9-13 June, Porto Cervo), 52 World Championship (14-18 July, Puerto Portals Mallorca), 34th Copa del Rey MAPFRE (4-8 August, Palma) and climaxing in Portugal at the Cascais Cup over 16-20 September.
Entries Ford Vignale Valencia Sailing Week.
Boat name, owner-skipper, designer, year, builder
Alegre, GBR, Andres Soriano USA, Botin Partners, 2015, Longitud Cero
Azzurra, ITA, A & P Roemmers, ARG, Botin Partners, 2015, King Marine
Bronenosec, RUS, Vladimir Liubomirov, Botin Partners, 2015, King Marine
Gladiator, GBR, Tony Langley, GBR, Judel/Vrolijk, 2015, Persico
Interlodge, USA, Austin & Gwen Fragomen, USA, Botin Partners, 2011, Longitud Cero
Quantum Racing, USA, Dalton DeVos, USA, Botin Partners, 2015, Longitud Cero
Paprec, FRA, Jean-Luc Petithuguenin, FRA, Judel/Vrolijk, 2011, Green Marine (ex Rán Racing)
Platoon, GER, Harm Müller Spreer, GER, Judel/Vrolijk, 2015, Premier Composites
Provezza, TUR, Ergin Imre (TUR), Judel/Vrolijk, 2015l, Cookson
Rán Racing, SWE, Niklas Zennstrom, SWE, Judel Vrolijk, 2015, Persico
Sled, JAP, Takashi Okura, USA, Botin Partners, 2015, Cookson
Xio, ITA, Guiseppe Parodi, ITA, Botin Partners, 2011, Longitud Cero (ex Quantum Racing)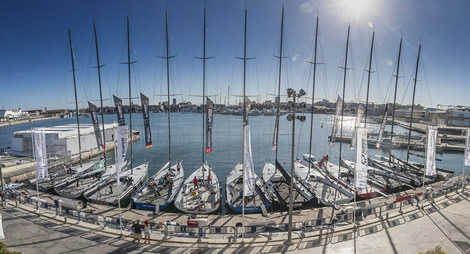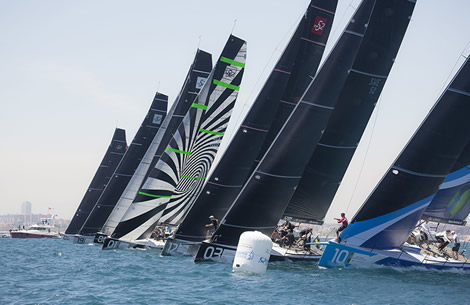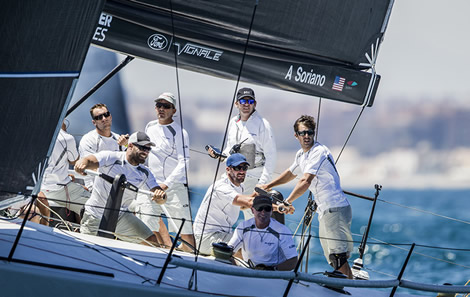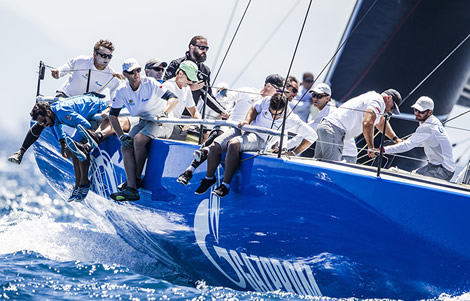 Back to top
Back to top