Mini Maxis in 2015
Wednesday May 6th 2015, Author:
James Boyd
, Location: none selected
The Mini Maxi class has changed complexion for 2015. At last September's AGM in Porto Cervo it was rechristened the 'Maxi 72', while this season there has been some musical chairs going on, with some new faces putting in an appearance but also some departures.
Perhaps the saddest news is of Niklas Zennström's withdrawal from the class, having had one of the most successful runs with his Judel Vrolijk design Rán 2, including Rolex Mini Maxi World Championship victories in 2010, 2011 and 2013 and consecutive Rolex Fastnet Race victories in 2009 and 2011.
The Skype founder's first all-conquering Mini Maxi was sold in 2013 to Italian Roberto Tomasini Grinover and rechristened Robertissima as a new JV 72, Rán 5, came on line for last season for the impeccable UK-based team. Unfortunately business commitments have required Zennström to slash his racing right back this year. Rán 5 is believed to be up for sale, and at present on the program for the Rán team this year are only the first 52 Super Series event in Valencia later this month and the TP52 World Championship aboard the new Rán TP52, although Zennström remains President of the TP52 Class Association and is still one of the three stakeholders – along with Doug DeVos and Alberto Roemmers - in the 52 Super Series circuit.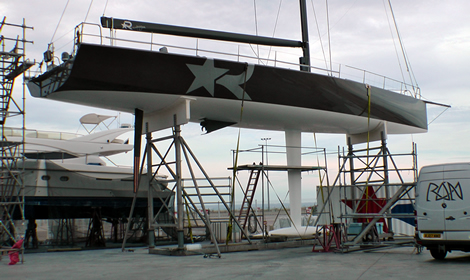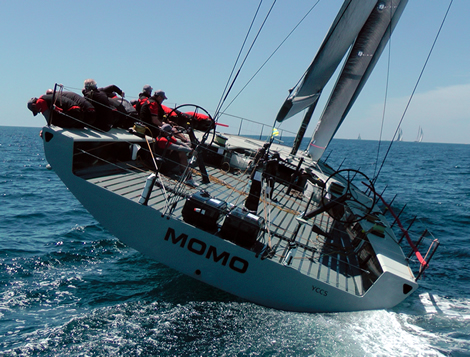 While the fate of Rán 5 remains up in the air, new to the Maxi 72 fleet is her sistership MOMO, built for German Dieter Schön. Schön is known in maxi circles as owner of the silver hulled Wally-like Chrisco, in fact a 30m long Luca Brenta design, built by CNB in France in 2009. However he is also a keen Dragon sailor, having won the Worlds in 2003 and prior to the launch of his new boat he was campaigning a Melges 32. The full story and technical insight into MOMO follows, but she is no less immaculate than Rán 5, with Tom Swift having project managed her (having previously run a number of Udo Schutz's Containers) following her build at Persico in Italy.
Elsewhere musical chairs have been going on with Andres Soriano's reigning Rolex Maxi 72 World Champion Alegre, a Mark Mills design, having been sold to Swiss owner Alex Schaerer (President of modular furniture manufacturer USM), who also previously bought Soriano's Mills 68. Preferring box rules to a secret rating system (the Maxi 72 rule is based on IRC, boats confined by a TCC rating cap of 1.607), Soriano has for this season moved to the TP52 class where he has a new Botin & Partners designed Alegre, that is a sistership to the new boat for the defending 52 Super Series champion, Quantum Racing.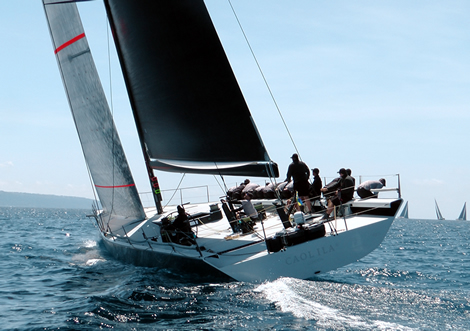 The former Alegre, now CAOL ILA R has a similar crew to the previous Mills 68, including her tactician, the Sydney-based Irish round the world legend Gordon Maguire, who has imported a considerable number of his Aussie chums to race on board – such as Alby Pratt, Anthony Merrington, David Sampson, and many others from Stephen Ainsworth's highly successful, but now defunct Loki program to which Maguire was also integral. However they have also inherited a couple of Alegre sailors including Tom McWilliam and lurking in their midst here is also former Olympic Star sailor Flavio Marazzi, taking time off from his GC32 foiling catamaran program.
So why did Schaerer make the change? "The boat became available. Alex liked the boat. Now we own the boat," sums up Maguire succinctly. "The reality is that the Maxi 72s want their class to be a 72ft class – ergo the name. And we were a 68 footer. While it was one of the most competitive 68 footers in IRC, it was not 72ft long and we were feeling a little bit of a squeeze to be 72ft long. So now we are…"
At Gaastra PalmaVela last week, the boat was currently still in its World Championship-winning set-up, the crew only having had the chance to sail the boat for four days as training before the regatta. From Palma the boat will compete in the full Mediterranean Maxi 72 circuit, including Menorca Maxi at the end of this month, the Giraglia Rolex Cup in June, the Maxi 72 Worlds in September, before rounding off the season with the Rolex Middle Sea Race.
So how does the new Mark Mills-penned CAOL ILA R stack up against the Judel Vrolijk majority? "It is too early to say, but the boat comes with the reputation of being good downwind and in light airs," says Maguire. "But I think the fleet – particularly the two J-Vs that are here - are moded light anyway."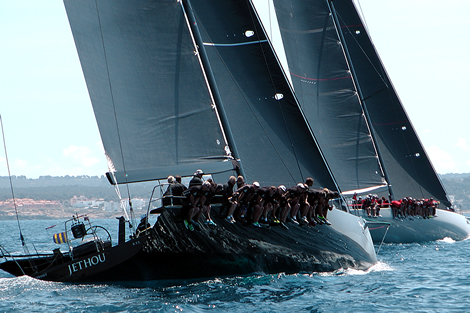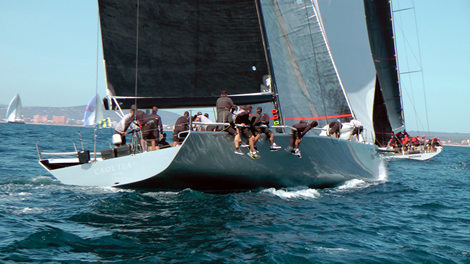 Also competing at Gaastra PalmaVela last week, Sir Peter Ogden has been further releasing the purse strings for Jethou. Not only did the Computacenter founder trade in his JV60 for the former STIG JV72 last year, but over the winter he upgraded his sleek all-black beast with a complete new rig, new boom and, below the water, a new fin and bulb.
Despite now calling the shots on George David's new Rambler 88, Brad Butterworth has remained with the Jethou program as tactician and summarised the changes made over the winter: "The boat has come down in weight, has more power and more draft, and is lighter with more sail. Basically it has become competitive with the other boats that were all in that area before we did it. It has made quite a difference."
To be competitive in the Maxi 72 you have to be knocking on the door of the 1.607 maximum TCC it seems. Jethou is now doing so, the changes having ramped her rating up by 10 points. "We were quite a bit under last year," Butterworth continues. "That just doesn't work out with these boats. You have to 'win' the races to win the races. Even if you are close behind, you get hammered and you get pushed back and you don't realise how far you get pushed back."
Elsewhere American George Sakellaris' Shockwave is already in Palma having been shipped across from the USA ready for Menorca Maxi and the rest of the Mediterranean circuit. Rumour has it that Sakellaris is contemplating upgrading, with the acquisition of Rán 5.
Meanwhile the other US Maxi 72, Bella Mente, owned by Class President Hap Fauth, is heading for the UK this summer to take part in the Royal Yacht Squadron Bicentenary International Regatta, Cowes Week and the Fastnet Race before hightailing it south to Porto Cervo for the Maxi Worlds. MOMO and Jethou are also heading up to the Solent before returning to the Med for the Worlds.
Given the comments made above, and the direction in which the Maxi 72 class is going – in particular, going from 60-72ft to pretty much just 72ft - it doesn't take much genius to work out that at some point (probably when costs start going through the roof even more) the class will turn from IRC to a box rule, probably not too dissimilar to that of the TP52 at present.
Later this week we'll look at the latest Maxi 72 - MOMO.
Back to top
Back to top