RORC Easter Challenge concludes ashore
While the sun came out for the final day of the RORC Easter Challenge, sadly the wind failed to materialise on the Solent and at 1130 BST Principal Race Office Stuart Childerley hoisted the AP over A announcing an end to the regatta.
Fortunately the RORC Easter Challenge is a 'coaching regatta' and use was made of the lost time at the RORC Cowes clubhouse where Jim Saltonstall's seminar on the Racing Rules of Sailing, was delivered to another packed house. The prizegiving followed, held outside on the club's terrace where the main silverware being presented, along with a considerable tonnage of Easter eggs.
Winner of IRC One was once again Anthony O'Leary's Antix. However this year the Irish team faced a new challenge having exchanged their beloved silver hulled Ker 39 – which has twice taken them to Brewin Dolphin Commodores' Cup victory – for Marc Glimcher's red-hulled Catapult, the 'big boat' in their winning team last year.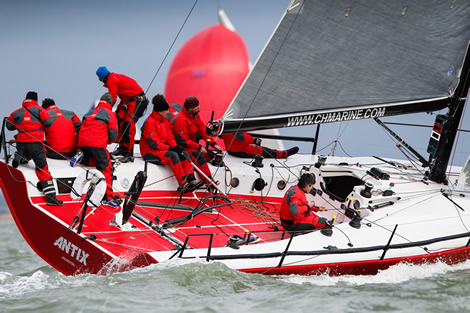 The turboed Ker 40 is an asymmetric boat, a significant change from previous Antix, observed O'Leary: "It is completely different, but we have been sail smaller asymmetric boats, the 1720s, for a long time. It goes around the track a lot faster, especially downwind."
Fortunately some of the Antix regular crew, including O'Leary's Olympic Star sailor son Peter, raced on Catapult last year and were able to show dad the ropes.
"Yesterday it was exciting , great fun to get four races and we had plenty of competition from Tokoloshe and Baraka GP," continued O'Leary. "In Class 1 there seems to be more Fast 40s than the previous generation boats now." The new Antix has a full season ahead, culminating in the Rolex Fastnet Race.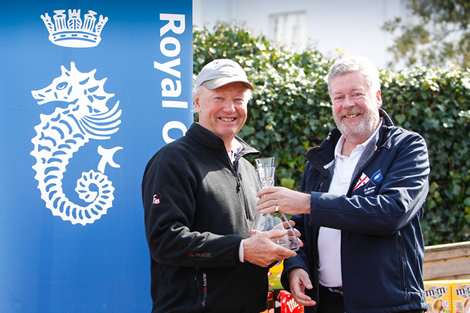 Surprisingly IRC Two was won by a 20 year old Mumm 36, albeit one that has been much tweaked and 'IRCed' along the way, including the fitting of a swept-back spreader rig. Simon Henning and his crew from Guernsey on Alice are regulars at the RORC Easter Challenge and this weekend beat Peter Morton's JND 35 Salvo to class honours.
"Yesterday was quite difficult, very shifty and up and down, so it was quite hard and I was getting shouted at a lot by my son Mike who does the tactics!" recalled Henning. While disappointed not to race today, the Alice crew enjoyed the elite level coaching from Jim Saltonstall and the North U Regatta Services double act of Chuck Allen and Andreas Josenhan. "It is very interesting to hear what these guys have to say," said Henning. "It rakes old memories and reminds you about things you should be thinking about."
A similar stand-out performer was David Franks' IRC Nationals-winning JPK 10.10 Strait Dealer, which claimed three bullets and two seconds to win IRC Three.
Strait Dealer's performance was all the more remarkable because they were 'on course side' and forced to restart in two races. "We managed to fight our way back which we were pleased about," admitted Franks. "We had some great sailors on board including Graham Sunderland of Winning Tides fame and another legend of the Solent, David Bedford, plus some very talented amateur sailors from the Etchells.
"The coaching was terrific. North Sails do a fantastic job and it is very good with the video and there's Stuart as PRO, giving his take on things and why he has done things, which was very interesting. And in the downtime today we had some really good conversation about rules at quite a high level.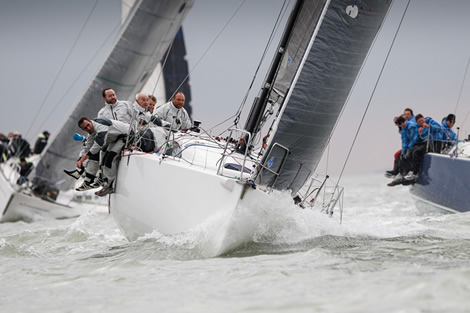 "It has been a great warm-up and it is lovely to be in the new club: I think this merger has been a huge success, helping both clubs to be that much better."
Finally, IRC Four was claimed by Sam Laidlaw's Quarter Tonner Aguila ahead of David Lees' High Tension 36, Hephzibah.
CEO of the Royal Ocean Racing Club, Eddie Warden Owen was particularly pleased at how the integration with the new clubhouse has gone. "This is the first event that we have done at the new clubhouse and it has been a great success. I think everyone loves the idea that the RORC has a home in Cowes and all the sailors have made a big effort to come here and enjoy the facility. The atmosphere has been very different to before, because we've never really had a home. It is nice to see everyone together.
"This morning we delayed the start and we were very surprised to see how many people turned up to listen to Jim and the coaching team, who have done a brilliant job. I think that the relationship with North Sails and Chuck and AJ - the guys they bring in from America, with all their experience, has stepped this regatta up to another level.
"It has been a very successful weekend and I think everyone has enjoyed it."
Back to top
Back to top