Glamour day on Grand Harbour
Today Malta laid on possibly the best ever beginning to a RC44 Championship Tour. The RC44 Valletta Cup kicked off on Malta's Grand Harbour with a day of match racing within one of sailing's most spectacular settings: The 500 year old Maltese capital of Valletta on one side and the city's giant forts on the other.
Within the confines of the bustling natural harbour, racing started for the eleven RC44s at 11:30 local time, the wind fortunately blowing from the southeast enabling the race committee to set the weather mark deep within the harbour.
For the opening rounds there were 15 knots of wind, but over the course of the day the wind dropped. Despite a delay waiting for a giant cruise ship to dock, six flights were held before Principal Race Officer Peter Reggio stopped proceedings.
At the close of play four teams were left on four wins. St Petersburg Yacht Club Commodore Vladimir Liubomirov's Bronenosec Sailing Team and Vladimir Prosikhin's Team Nika, the only two teams to finish the day with just one loss, Bronenosec winning on countback with Team Nika second.
"We had a great day of sailing. There was good wind inside the harbour – it was beautiful," said Prosikhin. "The day was very, very good – each race was a fight and tough to win. I lost one and won four which was a very good score considering the races were so close."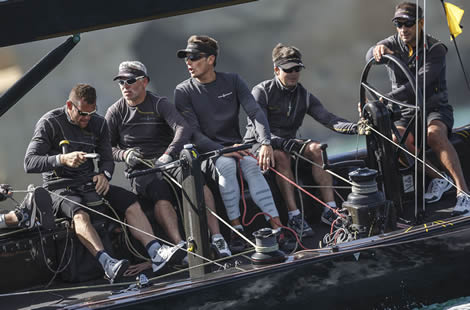 This year Team Nika has as its tactician former Emirates Team New Zealand helmsman Dean Barker, who returns to the RC44 Class after a six year absence. While in the past many of the RC44s have had pros helms for the match racing that introduces every RC44 regatta, Prosikhin observed that today many of the RC44 owners steer. He has been doing so for the last year. "I love match racing - I really enjoying it. It is great fun."
Vladimir Liubomirov helmed Bronenosec today. According to the team's Italian tactician, Michele Ivaldi, Liubomirov does this to practice for the fleet racing that comprises the remainder of the regatta. "Today the wind conditions were really tricky, but we were improving our speed, communication and crew work and in the end it was a good day. Our goal was to come back on shore still with everyone being friends! So we achieved goal number one!"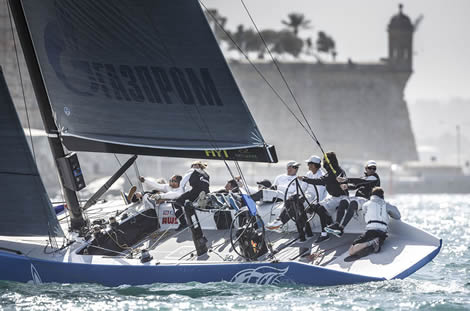 Like Peninsula Petroleum, Bronenosec has made few crew changes going into this season and benefitted from four days of training here in Valletta prior to the start.
Also on four wins are Charisma of Monaco-based skipper Nico Poons and the Gibraltar team on John Bassadone's Peninsula Petroleum. Missing the first two races, Bassadone's was deposited on board after the second flight. "It is always good to do even a few races of the match racing, to get rid of the cobwebs. Otherwise the tactician gets upset!" says Bassadone referring to his Italian second-in-command, Vasco Vascotto.
"All of our matches were very good," Bassadone continued. "It was very shifty. When we were behind we had a bit of luck and sailed quite well. We overtook a lot of times but there was chopping and changing quite in bit in all of them."
The boat-on-boat nature of match racing can make it an aggressive sport and, despite this being the first day of racing in the season, there was a spectacular bout between Team CEEREF and Artemis Racing Youth. This saw a pre-start collision in which Artemis Racing Youth was deemed to be in the wrong. Then a tacking duel immediately off the line ended when Team CEEREF came in on port, without rights, and unsuccessfully attempted to duck Artemis Racing Youth's transom, stabbing her bow into the Swedish boat's hull. Artemis Racing Youth continued and won the point but was docked three points for the two incidents, while Team CEEREF was penalised two.
"We had a bit of fun during our race with Artemis Racing Youth," said Igor Lah. "Obviously that can happen on the water. We had some damage and had to stop, so we didn't finish that race. We will fix the boat and be back ready to race tomorrow."
Fleet racing sets sail tomorrow at 11:30 local time but on this occasion the courses will be set in open water, outside of Valletta's magnificent harbour.
RC44 Valletta Cup Match Racing Results
1. Bronenosec Sailing Team - 4
2. Team Nika - 4
3. Charisma - 4
4. Peninsula Petroleum Sailing Team - 4
5. Artemis Racing - 3
6. Katusha - 2
7. Team Aqua - 2
8. Team CEEREF - 2 (2 penalty points)
9. RUS-7 Anywayanyday - 2
10. MAG Racing - 0
11. Artemis Racing Youth - -2 (3 penalty points)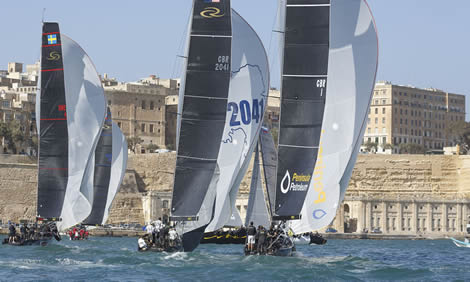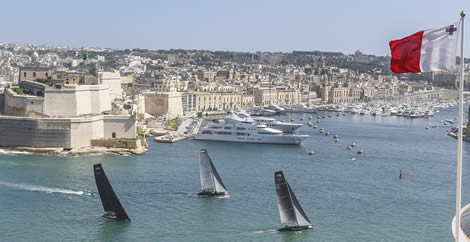 Back to top
Back to top