M32 cat racing to fire up in Miami
Racing for the high performance M32 catamarans gets underway promptly in 2015 with the first of four M32 Miami Winter Series events running over 8-11 January. At present five teams are confirmed for the first event with a range of competitors including the reigning Match Racing World Champion, two Melges 32 teams, another from Chicago Match Race Centre and a fifth best known for its offshore big boats campaigns.
Melges 32 skipper Malcolm Gefter was one of the original owners who, with North Sails President Ken Read, was responsible for introducing the Swedish catamaran to the US, where the first four boats arrived in 2013. Gefter originally bought Lift Off with co-owner Ron O'Hanley, who usually races a Cookson 50 monohull Privateer, winner of the 2013 RORC Caribbean 600. However they enjoyed sailing their twin-hulled speedster so much that they decided to buy a second M32, Escape Velocity, which O'Hanley now campaigns.
"Having been a keelboat sailor, switching to a catamaran has been a magnificent, exciting, delightful, informative and sometimes scary experience," enthuses Gefter, adding that he likes the M32's high performance, but also its simplicity, due it only using a single sail upwind and two downwind.
He continues: "It is not an accident that the America's Cup went to catamarans because they are more exciting to sail than a keelboat of any size or type. Sportsboats are fun - there is nothing more thrilling than sailing one downwind in 30 knots, holding on for dear life - but the M32 is like that 100% of the time, upwind and downwind. You constantly have to be on your game, constantly paying attention to all aspects of the boat – trimming, driving, crew weight, etc." Plus the action happens at two to three times the speed. "The acceleration on this boat will throw you off the back if you don't hold on - that thrill you simply can't get on a keelboat."
During the summer in Newport, Rhode Island, five M32s have been regularly competing in Thursday night regattas. The fleet has also been accepted by 'the establishment' and has sailed in both the New York Yacht Club Annual Regatta and Newport Race Week.
On board Lift Off, Gefter's crew includes with multihull ace Lars Guck, Max Kramer (son of America's Cup engineer/designer Dirk), ex-Tornado/Extreme 40 sailor Jonathan Farrar, and Dave Douchett, while O'Hanley's team on Escape Velocity includes multihull expert Stan Schreyer, plus crew from Privateer.
Douchett, who is the team's boat captain enjoys the crew mix. "You have big boat, offshore sailors, Tornado Olympic sailors and kite sailors plus business executives all converging and they all have an awesome time."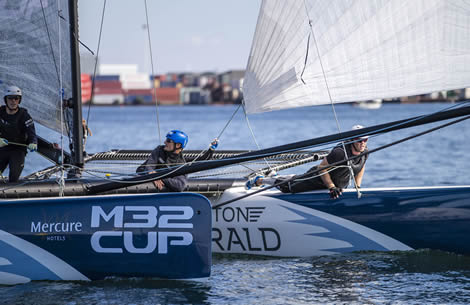 Also making the trip down to Miami from Newport is Micheal Dominguez and his Bronco team. Dominguez became hooked on yacht racing after sailing the Puma VO70. Since then, like Gefter, he has campaigned a Melges 32 before moving to the catamaran. Dominguez is an enthusiast skier and, according to boat captain Tom Loughborough, the M32 provides him with the same adrenalin rush as he gets on the slopes.
Coach and team leader for Bronco is top Moth sailor and Melges 32 World Champion Anthony Kotoun, who will sail the highlight of the M32 Miami Winter Series, the Gold Cup on 30th March-3rd April. Otherwise Melges 32 tactician Jeremy Wilmot will be calling the shots, backed up by Loughborough, US Virgin Islands Olympic Laser sailor Sy Thompson and multiple F18 catmaran US National Champion Tripp Burd.
Loughborough points out that the speed of the M32 and its ability to perform in the lightest winds makes it an 'efficient' boat to race for private owners, whose time is typically limited. "Rig up-rig down and general mucking about time is reduced, plus the time to and from the race course is nothing, because the boat moves so fast - it is quite easy to hit 28 knots when you are right at the limit of one reef, but equally you are still hitting low 20s in not much pressure.. You also get a full work out the whole time you are out there, even if it is only 5-6 knots of breeze."
Two newbies to the M32s both have backgrounds in the Chicago Match Race Centre (CMRC). Taylor Canfield is one of the most high profile skippers taking part. Despite being just 24, the US Virgin Islander is the reigning Match Racing World Champion.
Before becoming a pro-sailor Canfield was Sailing Director of the CMRC, but admits he is still new to catamarans: "Last winter I was opened to another world of sailing: I was offered the opportunity to train against the members of the Nacra 17 US Sailing Team and also to sail Mathias Rahm's M32. After that I was hooked! Obviously we have been following the catamaran movement. As a team we have to carry on our momentum and make sure we stay current, so it's exciting to be moving into faster, more action-orientated sailing."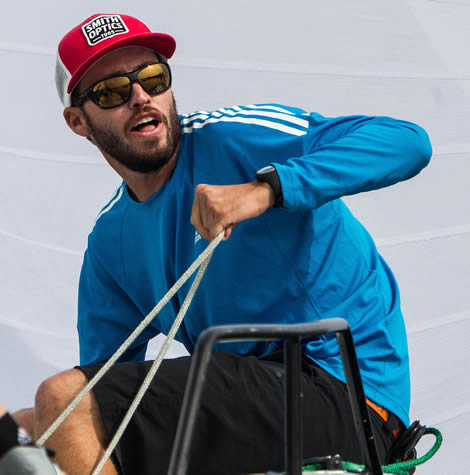 For owner of the CMRC Don Wilson, the first M32 Miami Winter Series race will be exploratory. As his boat captain Tod Reynolds explains: "Catamaran sailing is taking off and we thought it's worth giving it a try."
Wilson's Convexity Racing team has chartered the former Wallén Racing M32 which won this year's Gold Cup and its original skipper Hans Wallén is returning to help Wilson's team get to grips with the twin-hulled speedster. Also on board will be leading match racer Matt Cassidy, now with Oracle Team USA.
In Miami the M32s are based in Miami Rowing Club, located on Virginia Key, close to Key Biscayne. As usual the boats will be racing the new 'America's Cup' course on Biscayne Bay with reaching starts and finishes and windward-leeward legs between.
The US M32s are to be joined by some of the Swedish fleet in the build up to the Gold Cup, but the school remains out over which group will dominate.
Back to top
Back to top