Tour de France changes a success
It's been four months since the finish of the last Tour de France à la Voile in Nice and the annoucement of the new boat, the Diam 24 and the dramatic change in race format from being mostly an offshore race to becoming a series of inshore regattas around the French coastline.
The trimaran's builder, Vianney Ancelin, has had his order book full while the entry list for the 2015 race has filled up in just a few hours. This represents a big success for Amaury Sport Organisation (A.S.O) which aimed to gather a large fleet with the new trimaran. The 31 entries were revealed today at the Salon Nautic in Paris when Race Director Jean-Baptiste Durier announced the line-up and the venues for the 2015 Tour.
It has been more than seven years since the Tour de France à la Voile has had such a large line-up.
"This enthusiasm is reflected by the amazing momentum following the announcement of the new format," says Durier. "There will be 31 teams taking part in this first edition on a Diam 24. Beyou, Cammas, Guichard, Lemonchois, Riou, Rogues, Seguin, Stamm and Tabarly - are among the skippers who didn't want to miss out. The title holder Daniel Souben, will also be back, as will Thomas Coville. Aside from those renowned skippers, there will be some female sailors like Anne-Claire Le Berre and Laure Caucanas, specialists from some other classes (Bérenger, Moriceau, Rogues) and some enthusiastic Corinthians. Damien Seguin will lead a disabled crew. While thoughts on the change of boat were still in their early stages, A.S.O was already aiming for a varied line-up. In 2015, the whole family of sailing will be gathered together in this Tour, and it goes even beyond with the double world freeride skiing champion Aurélien Ducroz."
The spectators will enjoy some high level racing on the water, as all these sailors want to write their name in the history book of the race. And the public will be closer from the action than ever. The Diam 24 will "take the spectacle closer to the shore, and therefore to the public," expressed Jean-Etienne Amaury, President of A.S.O. "The stadium racing will be set up right in front of the beach or in front of the pier to offer a perfect grandstand. The cities where the Tour de France à la Voile will stop are very enthusiastic about the race format revolution. The idea is to make the show more accessible to the general public. In each town, one day will be dedicated to the short and spectacular stadium racing, with live commentary and music. And the other day will see some coastal expedition races to showcase some iconic parts of the French coast.
"On land, the Tour de France à la Voile will offer more entertainement than ever throughout the Race Village and beyond, with concerts, beach attractions, and event-branded cars full of goodies. Over the nine races of the 2015 edition, the Diam 24 will be either berthed in the port or lifted out of the water in a public paddock area that will give everyone the opportunity to meet the crew and get as close as possible to the boats."

The 2015 event will comprise nine races and the Diam 24 fleet will visit France's three coasts in the English Channel, the Atlantic, and the Mediterranean. The event will start in Dunkirk, which the Tour will visit for the 30th time, while the last race will be held in Nice. In between, the skippers will compete in Fécamp, Roscoff, Pornichet, Les Sables d'Olonne, Roses, Gruissan and Marseille. The Tour de France à la Voile 2015 will run over three weeks from 3-26 July.

Entry list:

- 30 CORSAIRES, skipper: Alexia Barrier
- ARMOR LUX – COMPTOIR DE LA MER, skipper: Erwan Tabarly
- BEIJAFLORE TEAM, skipper: Nicolas Bérenger
- CHEMINÉES POUJOULAT, skipper: Bernard Stamm
- COMBIWEST, skipper: Frédéric Guilmin
- COURRIER CHOC D'IXELLES, skipper: Antoine Carpentier
- DEFI YCSL, skipper: Benoît Champanhac
- DIAM IS GIRLS BEST FRIEND, Laure Caucanas
- DYNAMIQUE VOILE, skipper: Emeric Dary et Thomas Cardrin
- FONDATION FDJ – DES PIEDS ET DES MAINS, skipper: Damien Seguin
- GDF SUEZ, skipper: Sébastien Rogues
- GRANDEUR NATURE, skipper: Frédéric Duthil
- GROUPAMA, skipper: Franck Cammas
- LATITUDE NEIGE / LONGITUDE MER, skipper: Aurélien Ducroz and Laurent Voiron
- LORINA BOISSONS ARTISANALES, skipper: Bruno Staub
- MAÎTRE COQ, skipper: Jérémie Beyou
- PRB, skipper: Vincent Riou
- PRINCE DE BRETAGNE, skipper: Lionel Lemonchois
- SEA 4 SAIL, skipper: Aymeric Chappellier and Romain Motteau
- SODEBO, skipper: Thomas Coville and Daniel Souben
- TEAM LE BERRE, skipper: Anne-Claire Le Berre
- TECHNEAU, skipper: Arnaud Daval
- WEST COURTAGE – ECOLE NAVALE, skipper: Christian Ponthieu and Simon Moriceau
- Z3PHYR, skipper: Charles Hainneville
- ABSOLUTE DREAMER, skipper TBC
- AGRIVAL, skipper TBC
- OMANSAIL, skipper TBC
- SPINDRIFT BLACK, skipper Yann Guichard
- SPINDRIFT WHITE, skipper TBC
- VANNES AGGLO- GOLFE DU MORBIHAN, skipper TBC
- Sponsor TBC, skipper : Loïc Fequet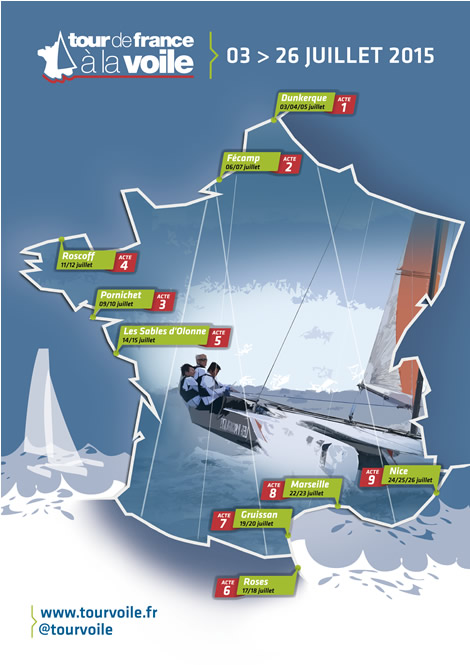 Back to top
Back to top