Plenty of bullets
Racing at the Rolex Farr 40 World Championship title got underway on San Francisco Bay.
19 international teams are vying for the championship crown, but the dominating performance on the opening day of the championship series was turned in by New York's Alexander Roepers on Plenty, with three wins in as many races run on the Berkeley Circle. The consistency exhibited today by the crew on Plenty only adds to the luster of a standout year for Roepers' crew: having been second at Cabrillo Beach in March, the team went on to win the Rolex Farr 40 North Americans in May, the Cal Cup in June and the Rolex Big Boat Series which was sailed in San Francisco just last month.
Roepers credited the crew when asked about the team's performance: the four professional sailors, Terry Hutchinson (tactician), Skip Baxter, Morgan Trubovich and Greg Gendell, along with Ted Hackney, Scott Holmgren, Matt McDonough, Dimitri Simons and Jennifer Wulff.
"I've sailed with Terry and Greg before," said Roepers who noted that he had been trying to get Hutchinson to be his tactician and to run the team for quite some time. "Everything is coming together this year, particularly with him, and with the crew we've pieced together. Hopefully we are not peaking, but we need to win a world championship; that's what I've been after for a long time and hopefully this is the year."
The breeze ranged from eight to 11 knots over the course of the day, with a few subtle shifts. While the water was relatively flat, there was a little bit of current that built up, flooding towards the third race. That created problems at the first mark rounding [of the day's final race] when several boats were short of the layline because of the current, which resulted in mixing up the fleet.
Plenty leads the overall standings with three points, followed by 2011 Rolex Farr 40 World Champion Guido Belgiorno-Nettis on the Australian-flagged Transfusion.
Racing resumes tomorrow, 16 October concludes on October 18, when a champion will be crowned.
Results

| | | | | | | | |
| --- | --- | --- | --- | --- | --- | --- | --- |
| Pos | Sail no | Yacht Name | Owner/Skipper | R1 | R2 | R3 | Tot |
| 1 | USA 60059 | Plenty | Alex Roepers | 1 | 1 | 1 | 3 |
| 2 | AUS 6422 | Transfusion | Guido Belgiorno-Nettis | 3 | 2 | 4 | 9 |
| 3 | AUS 615 | Estate Master | Lisa and Martin Hill | 4 | 3 | 8 | 15 |
| 4 | AUS 8888 | Voodoo Chile | Andrew Hunn | 9 | 6 | 3 | 18 |
| 5 | ITA 29141 | Enfant Terrible | Alberto Rossi | 5 | 7 | 6 | 18 |
| 6 | USA 60002 | Flash Gordon 6 | Helmut and Evan Jahn | 2 | 8 | 11 | 21 |
| 7 | USA 7289 | Groovederci | John Demourkas | 8 | 4 | 9 | 21 |
| 8 | AUS 8883 | Kokomo | Jim Richardson | 7 | 15 | 2 | 24 |
| 9 | USA 40076 | Nightshift | Kevin McNeil | 6 | 11 | 7 | 24 |
| 10 | GER 40 | Struntje light | Wolfgang Schaefer | 13 | 13 | 5 | 31 |
| 11 | MEX 28269 | Flojito y Cooperando | Bernardo Minkow / Julian Fernandez | 10 | 10 | 12 | 32 |
| 12 | TUR 4000 | Asterisk (Corinthian) | Hasip Gencer | 11 | 12 | 14 | 37 |
| 13 | USA 40046 | Twisted (Corinthian) | M. Tony Pohl | 18 | 5 | 15 | 38 |
| 14 | USA 51044 | Skian Dhu (Corinthian) | Dirk Freeland | 12 | 17 | 10 | 39 |
| 15 | CAN 141 | Honour (Corinthian) | Alek Krstajic | 14 | 14 | 13 | 41 |
| 16 | USA 40050 | Temptress (Corinthian) | Ray Godwin | 17 | 9 | 17 | 43 |
| 17 | USA 50060 | Foil (Corinthian) | Gordon Leon | 15 | 16 | 18 | 49 |
| 18 | USA 888 | White Knight (Corinthian) | Zoltan Katinszky | 16 | 19 | 16 | 51 |
| 19 | USA 1211 | Coquille (Corinthian) | Gary Ezor | 19 | 18 | 19 | 56 |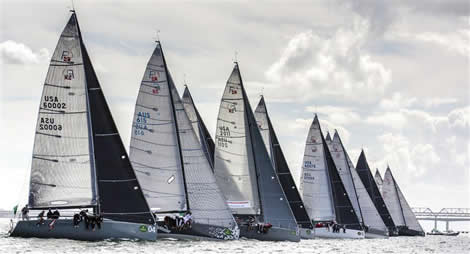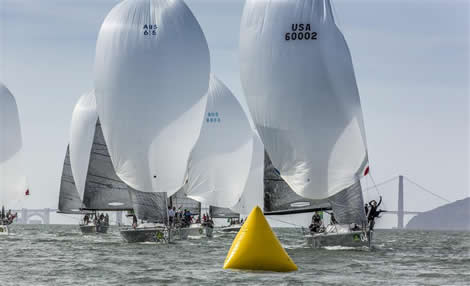 Back to top
Back to top