Williams squeaks through
Going into the final of 22 flights of Qualifying at the Dutch Match Cup, two of the big guns on the Alpari World Match Racing Tour were staring down the barrel of elimination. Either Bjorn Hansen of Sweden or Ian Williams of Great Britain would be facing an early bath in Lelystad.
If both teams won or lost their respective matches, Williams' half-point advantage on the leaderboard would see GAC Pindar safely through to the six-boat Quarter Final. To go through, Hansen Sailing Team would need to win their final match against reigning ISAF World Champion Taylor Canfield while Williams would need to lose against Mathieu Richard.
After reaching the Finals of all four Tour events thus far in 2014, it was unthinkable that Williams would fall at the first hurdle. But qualification proved much tougher than normal. It was almost a photo finish across the line between the British and French crews, although Williams was narrowly ahead and Richard, in his final desperation to win, was penalised for going for a gap between his rival and the committee boat. Williams had squeaked through to the Quarter Final.
No one has dominated the racing up to this point, although Taylor Canfield and US One topped Qualifying with a score of 9 wins and 2 losses. This puts the reigning World Champions straight through to the Semi Final, while the next six teams will battle for the other three places. US One crewman Mike Rehe was relieved to have topped the group in Lelystad: "We definitely like being at the top of the leaderboard, especially with the light wind forecast for the end of the week. It's definitely advantageous to be up the top if they start having to cancel rounds because the wind doesn't show up. We feel comfortable in the boats, and we feel light airs is our strong suit."
For their concluding match in Qualifying, US One were up against their great friends from Sweden, Hansen Sailing Team, who needed to win their final match to stay in the competition. "We spoke with Bjorn before the race," said Rehe, "and we both knew how it stood. We said, 'We want to be top of the leaderboard. So, we'll have a good race and see what happens.' It was a good race going up to the top of the first leg, then Bjorn fouled us unfortunately, and we extended from there. With the forecast and our Tour standing on the line, we wanted to make sure we were the top seed going into the next Tour events."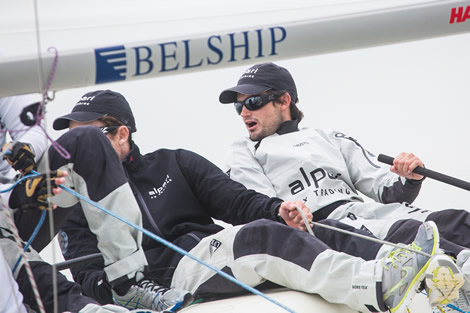 Just when it seemed that Qualifying was over, Keith Swinton appealed for a re-match against Phil Robertson after sailing to the wrong mark following a course change. The skipper of Team Alpari FX claimed he hadn't been alerted to the change of course and that he had been prejudiced. In the re-match, Robertson was leading but sailed to the finish a lap too early. Swinton won, and Robertson was far from happy.
This placed Team Alpari FX in 4th to WAKA Racing's 5th, which hardly seems significant other than the fact there is a real threat of losing racing to a lack of wind during the coming weekend. If the Quarter Final is scrapped, the top four from Qualifying go straight through to the Semi Final. No wonder the Aussie and Kiwi rivals were so keen on getting into the top four.
A curtailed race schedule could affect Williams too, who narrowly avoided an early bath today. "Nothing we can do about that," said the four-time World Champion when asked about the implications of a no-wind forecast. "It would be a shame if that were to happen after such good wind over the past three days. Today we didn't really bring our A game. Not sure why, because we're certainly trying. We just didn't have that extra bit of speed that I feel like we often have, and it just meant that a lot of the races were scrappy, with umpires involved which we never like. Sometimes if you're not clean and fast, you need to get them involved, and when they go against you it can make it difficult."
The surprise package of the event thus far has been the young French team skippered by Arthur Herreman who have plugged away on the match racing circuit over the past three years to rise from 340th to 20th in the world rankings. They won six matches including two Tour Card scalps - Hansen and David Gilmour. Next, however, Herreman faces his compatriot and occasional training partner Mathieu Richard who finished 2nd in Qualifying and therefore had his pick of opponent for the Quarter Final. "I choose Arthur so at least we have one French team in the Semi Final," was the LunaJets skipper's decision. Gilmour said he would use similar logic to pick his fellow Western Australian, Swinton, for his Quarter Final opponent. This left Robertson and Williams to face each other in their Quarter Final.
The six-team Quarter Final starts tomorrow at 1000 (CET). Follow live race updates via Twitter at @wmrt_liverace.
Stage 5 Dutch Match Cup, Alpari World Match Racing Tour
Quarter Finals
Mathieu Richard (FRA) LunaJets vs Arthur Herreman (FRA) Team Herreman
David Gilmour (AUS) Team Gilmour vs Keith Swinton (AUS) Team Alpari FX
Phil Robertson (NZL) WAKA Racing vs Ian Williams (GBR) GAC Pindar
Final Results of Qualifying
1 Taylor Canfield (ISV) US One 9-2
2 Mathieu Richard (FRA) LunaJets 8-3
3 David Gilmour (AUS) Team Gilmour 7.5-3
4 Keith Swinton (AUS) Team Alpari FX 7-4
5 Phil Robertson (NZL) WAKA Racing 7-4
6 Ian Williams (GBR) GAC Pindar 7-4
7 Arthur Herreman (FRA) Team Herreman 6-5
8 Björn Hansen (SWE) Hansen Sailing Team 4.5-6
9 Joachim Aschenbrenner (DEN) Aschenbrenner Racing Team 4-7
10 Dirk-Jan Korpershoek (NLD) Opportunity Team 2-9
11 Philip Bendon (IRL) Glenmar Racing Team 2-9
12 Klaartje Zuiderbaan (NLD) Team BSC 1-10
Back to top
Back to top