Zhik ZK seaboots
Wednesday September 10th 2014, Author:
James Boyd
, Location: none selected
Zhik's ZK Seaboots have been developed for extreme weather protection in the most demanding conditions, using a combination of neoprene, rubber and merino to provide unparalleled warmth, flexibility and total protection. Whether you are standing all day in the coach RIB, on an extending delivery or hiking on the rail this winter, these Zhik Seaboots will keep your feet warm and dry.
An immense amount of detailing has gone into the construction of these boots, which feature Hi Vis strips to help crew identification at night, as well as handy pull tabs to aid speedy kitting up.
Protective, waterproof gators are secured with a draw cord, and a clever, perforated neoprene gusset inserted in the lower section of the gator ensures they are self-draining, preventing any water collection. Silicone gator grips on the front of the uppers hold the gators in place.
The neoprene uppers are completely sealed providing 100% waterproof protection, with glued and blind stitched seams, plus additional seam tape reinforcement. A strong rubber outer supports and protects the whole foot, and the high grip, patented, non-marking ZK sole has been extended up over toes and wraps around the heel to provide additional non-slip grip when working on your knees. The combination of the soft, bendy ZK sole and neoprene uppers ensure total flexibility and unimpeded agility around the decks.
ZK Seaboots are fully lined with Hydromerino, a proprietary quick drying merino/polyester fabric for additional warmth, moisture management and, mostly importantly for fellow crew members, it provides natural odour control! RRP £219.00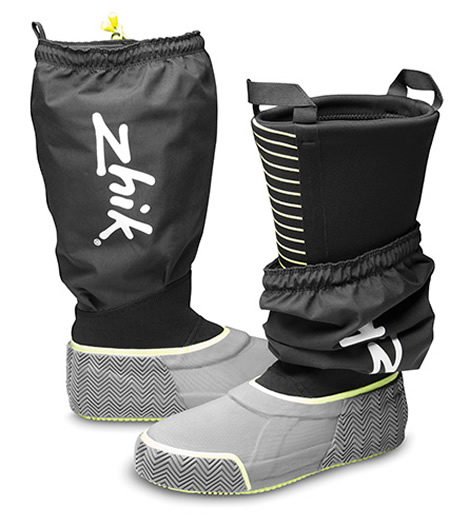 Back to top
Back to top