The fifth challenger
When the five challengers for the 35th America's Cup were revealed in August, one of the slight surprises to be among them was Team France.
Following on from the Peyron brothers' ultimately unsuccessful Energy Team campaign for the 34th AC, going into the 35th, Team France has now taken over the mantle of 'France's challenger for the America's Cup'. The campaign was launched last December at the Salon Nautique in Paris as a joint venture between three titans of French sailing – Franck Cammas, Michel Desjoyeaux and Olivier de Kersauson.
Between Cammas and Desjoyeaux alone there is a formidable collection of Vendée Globe and Route du Rhum victories. Yet, while both showed skill racing their ORMA 60 trimarans inshore back in the day, they are known primarily as offshore sailors. The same is true of de Kersauson – famously Eric Tabarly's second in command during the Pen Duick era and since the early 1990s as one of the keenest hunters of the Jules Verne Trophy (he has made more attempts than anyone else on the fully crewed non-stop around the world record).
So why are they campaigning for the America's Cup? For Cammas and Desjoyeaux as professional sailors, it is clearly because the Cup is the biggest, sailing's most prestigious competition, while de Kersauson is known to be an immense America's Cup fan. His role in the team is also crucial for while Cammas and Desjoyeaux are famous in the French sailing and sports worlds, neither holds the profile with the French general public of de Kersauson, who in addition to his sailing antics, for 28 years was a panellist on the leading news and comment radio/TV show Les Grosses Tetes (imagine an older, ruddier and substantially more dangerous version of Angus Deayton). De Kersauson's 'black book' of potential backers for Team France is also said to be impressively thick.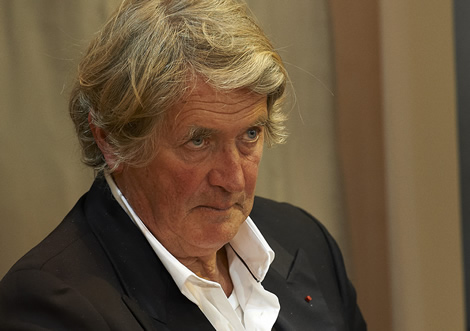 The surprise of Team France's challenge, is that they made their formal challenge before the entry deadline, despite not having the finance for their team in place. And for the 35th America's Cup, this is not something done on a whim, requiring a payment to be made upon challenging of US$ 1 million, along with two additional sums of US$ 25,000. And this was only a stage payment, with part two due before 1 December this year of another US$ 1 million plus a further US$ 1 million to be held by the organisers as a performance bond. Cammas won't divulge who paid Team France's first entry fee, although it is believed to have been a mix of individuals and companies.
Allegedly Team France is more than half way to finding its total budget, said to be around 60 million Euros - less than Ben Ainslie's published budget of £80 million. Cammas says he is some way off having any more concrete information he can share: "We are still in discussion with companies. We paid the entry fee because we have good relationships, but we don't have all the money yet. We paid because we need more time."
Cammas acknowledges that Team France is behind in its preparations compared to the other challengers and this is particularly true of their recruiting, where the most sought after designers and sailors with first hand experience of the 34th America's Cup and its first generation of foiling catamarans have already been signed up by other challengers and the defender.
Saying this, Team France has already been working on the design side for some months. From its enormous base by Lorient's Nazi-built WW2 submarine silos (where Team Dongfeng has been based until recently), Cammas' team has been developing foiler catamarans - initially the prototype 18ft Foiling Phantom, which was subsequently scaled up to become the C-Class catamaran, Groupama C, winner of last autumn's Little America's Cup. Meanwhile up the road in Port la Fôret, Michel Desjoyeaux has his own designers at his company Mer Agitée applying themselves to the new America's Cup rule.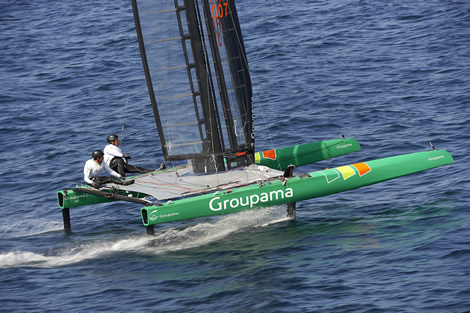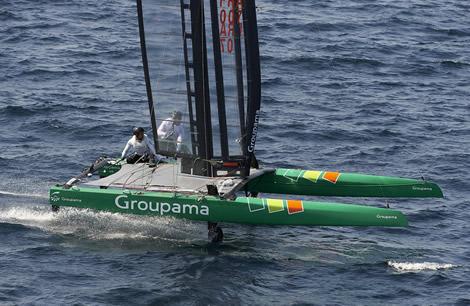 Meanwhile the hard work continues in raising the necessary war chest, for unlike all the other challenges past and present (including Team New Zealand, which in addition to its corporate backing has substantial private investment from the likes of Matteo di Nora and Sir Stephen Tindall), the aim for Team France is for it to be a 100% commercially-backed campaign.
According to Cammas this is as much because this is the way they "know how to do it" in France, as it is due the lack of a suitably wealthy individual - a modern day Baron Bic figure - stepping forward to back the campaign.
In fact while America's Cup campaigns are known for requiring the biggest budgets within our sport, the biggest commercial budgets for campaigns in sailing to date have been for the Volvo Ocean Race. For example, the budget for Groupama's campaign, that saw Cammas and his crew overcome Telefonica to win the 2011-12 Volvo Ocean Race, was 17 million Euros/year or 51 million Euros for three years (around the same as Ericsson's winning campaign three years previous). And this was in addition to the French insurance giant previously having spanking another considerable sum on the 103ft trimaran Groupama 3 (now Banque Populaire VII) which in 2011 Cammas managed to secure both the Jules Verne Trophy and then, incredibly, Route du Rhum victory, sailing the same boat singlehanded.
So while these figures remain short of America's Cup budgets, they are not that far short. "You could have four partners with a main partner and three smaller partners," muses Cammas. "It is not more than Groupama's budget or Banque Populaire's and it is something that is known in France." Groupama, Cammas' sponsor since 1997, may be one of Team France's sponsors, but he says that is currently under discussion and is by no means certain.
Cammas says they have also mooted the possibility of salary caps with the America's Cup organisers, but with little success.
Team France has as one of its key advisers (in fact Cammas describes him as 'head of the team'), Bruno Luisetti, who for more than 20 years was with Kraft Foods, ending up as its President and Director General, and who, since last year, moved across to this same position at Mondelez France (Europe's largest chocolatier and biscuit maker). He was also the person who originally agreed for one of his company's coffee brands to sponsor the Transat Jacques Vabre.
Team France is also working with the In Front sports marketing company based in Switzerland.
The funding deadline for Team France's challenge, Cammas says, is the end of this year. In reality it is most likely to be 1 December when the America's Cup organisers are demanding the second round of payments. "We have already started to work without money now because it is important not to get too far behind, but in the end we have to pay the guys [staff] and it is not possible to continue as we are."
As to the new generation of AC62 catamarans, Cammas feels they are a good size. "It is the America's Cup and the America's Cup has to be special, so the size of the boat has to be big enough. In France when we have tried to do less than 60ft in offshore races I don't think it was a good option and you now see the multihulls coming back with the 'giants' [the Ultime class] because the public like them and the TV also. So we need to be careful about that and not go too much towards smaller boats."
In terms of Cammas' sailing, at present he has a Groupama boat on the Extreme Sailing Series this year as well as campaigning for the Rio 2016 Olympic Games on the Nacra 17 (later this week and next, he will be competing at the ISAF Worlds in Santander). But the most relevance to Team France's America's Cup campaign is the continued development he and his team are undertaking with Groupama C. The boat is currently in Groupama's base having work carried out on it, ready for 10 days of training in September on Lake Geneva, where next year's Little America's Cup is due to take place.
So will Team France make it to the 35th America's Cup? As mentioned the budgets involved while massive are not unfeasible in France, but the economy there is far from recovered. However if Cammas/Desjoyeaux/de Kersauson can't raise the funds - then no one in France can.
Back to top
Back to top