Turkish team for the Extreme Sailing Series
The first-ever Turkish Extreme 40 syndicate, TeamTurx, will compete at the Extreme Sailing Series Istanbul presented by Land Rover (taking place over 11-14 September) as an invitational entry, bringing the tally of boats up to 12 . The event will be further bolstered by support from co-Host Venue partners Yandex, one of Europe's largest technology and internet companies, and Palmarina, a marina located in Bodrum, south Turkey.
The Turkish squad, supported by ARKAS Sport Club of shipping company ARKAS Holding, is made up of Olympic sailors including founder Edhem Dirvana, who have been busy training over the last few months with Extreme 40 veteran and class co-designer, Mitch Booth.
Booth and Dirvana – a world-class multihull sailor who has been instrumental in the formation of TeamTurx – will share skipper duties, with local sailors Selim Kakış, Ateş Çınar, Deniz Çınar, Cem Gözen, Cem Selçuk and Can Bayülken rotating positions onboard.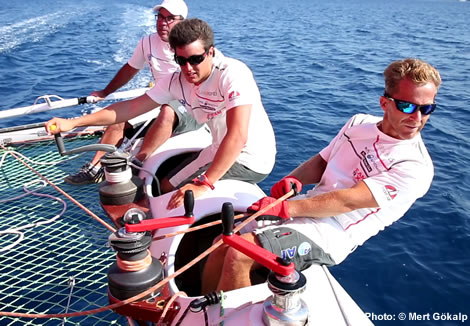 Dirvana commented on the team's long-term vision to develop sailing in Turkey: "Our coastline offers supreme conditions for water sports which provides an important opportunity to enhance our maritime culture. We are combining our Extreme 40 sailing skills as Bozburun Yacht Club with the administrative skills of ARKAS Sport Club, which is well known for its support for the improvement of water sports, to help further develop the sport of sailing in Turkey. Multihull sailing is at a very early stage in the country so we hope to raise public awareness of this type of action packed, professional level of sailing and sailing in general in Turkey."
For Yandex Turkey, their sponsorship adds to their growing sailing sponsorship portfolio, as Chairman and CEO Mehmet Ali Yalçındağ explained: "As a company developing high-end technologies, Yandex operates in a wide range of fields. Last year we announced our support for SpeedDream – a project aiming to create the fastest monohull sailboat of the world – with the expertise of our engineers and our processing power. This year, with the same enthusiasm, we are happy to be the local hosts of the Extreme Sailing Series Act 6 in Istanbul, bringing together the high-tech Extreme 40 catamarans and some of the best skippers in the world. We're inviting all sailing fans to this unique racing event and believe that we will be co-hosting a historical happening, together with Palmarina."
The Palmarina Bodrum Management echoed Mehmet Ali Yalçındağ's words and spoke of their objective of developing the sport in Turkey: "As Palmarina Bodrum we plan our actions with the aim of developing the maritime heritage of Turkey parallel to the international standards and also raising the traffic of the super and mega yachts into our national coasts by our business ventures. We are very pleased when observing the influence on the younger generations recently and feel proud of supporting marine sports races, as being sponsor of Extreme Sailing Series in Istanbul with Yandex and welcoming these high-speed catamarans and the best sailors of the world here to Istanbul. We are inviting all the marine sports enthusiasts to join us watching these extraordinary races together to feel the excitement with all of us."
Racing will begin on 11 September, on the Bosphorus with maritime traffic being shut down allowing the Extreme 40s to replace the ferries and tankers for a few hours on the morning of Saturday 13 September.
Back to top
Back to top