America's Cupdate with Iain Percy - part 2
This article follows on from part one here
Hiring

At present Artemis Racing has completed around 95% of its recruiting, leaving them at around 55 people, although this will grow to around 80 once they get into their 'build phase', with the Protocol required parts of the boat (ie the hulls) being built in Sweden and most of the rest at the team's base in Alameda.
Percy says that 55 is slightly less than last time. "A large percentage of the costs are personnel, so saving personnel saves money. It is always hard to know, because you've learned more about the type of challenge it is going to be [ie about the design of the boats] and you can be more educated in your decisions. But then with Luna Rossa announcing 83 people, it's clearly not happening for them! But we don't feel the need to do that."
While the 'design space' may be smaller with the AC62, compared to the AC72s, Percy observing other teams says this is only making a small impression on design team size, with typically around 22-25 personnel rather than 30. In addition the sailing team this time comprises eight rather than 11. "The numbers do come down, but as ever there are more teams than did it last time, so people can put a premium on their experience too, which adds to the cost. All in all, I think we aim to do it for less than we did last time as a team, but it is not going to be by a long way."
While Percy won't divulge Artemis Racing's budget for the 35th America's Cup he reckons that Ben Ainslie's estimate of £80 million to be "fairly accurate".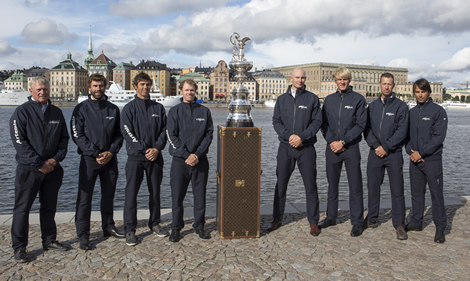 Structure

While he may be best known for his Olympic medalware, Percy also holds an economics degree from Bristol University, where he also studied organisation structures, something he has been putting to good use in Artemis Racing version 2's recruiting policy.
"We have been absolutely adamant that it is about extreme talent, but almost equally about personality, people who want to work in a collaborative way," says Percy. "The guys are really enjoying the environment we have. Take Mick Kermerac - at one point he was going to come as an adviser to our younger design group, but after a few weeks he said he'd never enjoyed anything more and 'do I mind if he comes full time?' And I said 'on the contrary'.
"So that was a big part of the recruiting policy: People have to be able to take the lead and responsibility but they also have to be able to take a supporting, back seat role in other parts of the project and that takes a certain personality, confident and skilled, but also humble enough to support others.
"In the end we didn't go with a lot of very, very skilled people, because we just didn't think the cocktail would be right. There are some very good or very nice people, but they might have been too commandeering. We want everyone to feel confident they can speak up."
There are a few 'names' in the design team such as Mick Kermarec, for whom this will be his seventh Cup having come most recently from Oracle and engineer Herve Devaux. A great appointment is that of Adam May, one of Percy's first signings, who seems to have naturally taken to the role of design team co-ordinator. Aside from having represented Team GBR in the Tornado in Sydney, May was an 'early adopter' when the Moths went foiling, worked on the coaching and technical sides of several Team GBR Olympic campaigns (including Perc and Bart in the Star) and, usefully, is an aeronautical engineer by training, who has worked for AirBus.
However Artemis Racing has also successfully recruited much young blood. "We have found four of five really talented young guys who are just proving to be exceptional," says Percy.
On the sailing team, Nathan Outteridge is back as helmsman with his 49er crew Iain Jensen and with two Swedes now required to be on board, they have Star sailors Freddie Loof and Max Salminen. "Max has a lot of potential physically, although he is keeping his weight down presently for the Finn, and Freddie has been really great since he joined - just another sensible calming voice, passionate to win. It has been great to have another sounding board and another good athlete."
Chris Brittle is back, who Percy says is "the best grinder in the fleet" while a new recruit is Luke Parkinson, "he is a physical machine, one of the fittest guys on the planet, apart from Brittle." Parkinson is currently with Abu Dhabi Ocean Racing.
Another new recruit is uber coach Rod Davis, while French ace Loick Peyron, now complete with grey goatee ready for this autumn's Route du Rhum, is back principally on the design side, but also sailing. While Peyron will be one of their back-up helmsmen, Percy says they are still looking for a tune-up helmsman for Outteridge.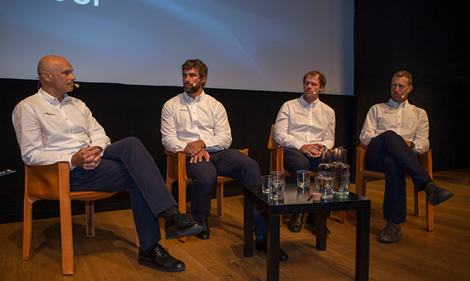 Safety

Artemis Racing didn't have much involvement with creating the Protocol for the 35th America's Cup, but the team was consulted a lot about the safety aspects of the AC62.
"It was so important to us and a lot of our recommendations were adopted, although not in all cases to the extent that we wanted, things like bow volumes, wing sizes, etc. We did quite a lot of research in the VPP about that and did some dynamic simulations. And it was pushed that way because of it."
Some of the big developments this time will be a requirement (yet to be written into the rule) for structural testing and being able to adjust the inclination of the rudder foils to alter the fore and aft pitch of the boat. This should make the boats less prone to nosedive and pitchpole, mostly, as Percy explains: "You want to adjust the rudders so that you don't go bow down downwind or in the bear away, but what happens if you have adjusted them like that and then your windward hull tips out and that is stopping your bow going down? So there is a real open debate about the safest way to control the rudders."
We put it to Percy that modern racing multihulls are more susceptible to conventional lateral capsize than pitchpoling, especially foiling when there is even less opportunity for the leeward bow to dig in. He still believes that pitchpoling is more likely and certainly potentially the more devastating way to go over.
"You could well make a mistake and capsize like Team New Zealand nearly did [during the 34th Cup], but that is less dangerous and there's less distance to fall. But when you come off the foils at 40 knots, you're pretty bow down…"
So bow volumes are being scaled up, and Percy says that the end result will be AC62s having bows more like the ones on Emirates Team New Zealand's AC72 rather than those of Oracle's.
Also significant is that the main element of the wing is more or less one design and this will play a major part in preventing AC62s from capsizing completely or at least delaying the process. "The effective one design element one is quite a big safety aspect and it has to be built quite robustly, so there is no incentive to push for twist in it which could have made it very soft when it hit the water. That has been cleverly done and contains costs as well." It has also saved the team from employing two or three additional designers.
However making the main structural element of the wing able to withstand a pitchpole at 40 knots will be no mean feat and will be particularly hard to do without making the wing so heavy that it exacerbates the problem.
The AC62 also has to have a cockpit which can't be the open deck style arrangement seen on the AC45s.
However foiling catamarans capable of sailing at more than 40 knots are impossible to make completely safe. "For me there will be always be capsizes, sadly, but the boats have to hold together and people have to stay attached. But you see in the AC45s that boats capsize, get righted and get racing again so hopefully the AC62s will be like that. We need the boat to hold together and for the crew to stay attached. From there we can get people to help to right the boat and no harm done."
Performance-wise Percy says that it is at present hard to say too much about the AC62s. With foiling boats, waterline length is far less critical a performance driver.
"We are all learning. You saw them developing speed in the last week of the last Cup so obviously we are still on the steep part of the learning curve. The AC62 has quite a lot less righting moment, it is a smaller boat and it will probably hurt more upwind than downwind.
"But the main reason we will see slower speeds is if we are racing around in 10 knots and that does come back to the venue thing, because good racing doesn't just come from going fast. It is about being fast enough to pull off manoeuvres without too much loss and as long as we can do that Russell [Coutts] is right that people won't notice that much of a difference. But I think if boats are coming off their foils and stopping and others are sailing away and pulling off manoeuvres then that is when the racing stops being close. That was one of the beautiful surprises of the last event – foiling manoeuvres, so the racing wasn't only fast but it was close. And the way to have that again is probably to have enough wind…"

Back to top
Back to top