Bronenosec the star performer
Three more races were held today at the RC44 Marstrand World Championship with a further three teams claiming race wins. Chris Bake's Team Aqua has now taken the overall lead, but is just one point ahead of today's decisive winner, Vladimir Liubomirov's Bronenosec Sailing Team, in turn one ahead of the leader going into today's racing, Dutch RC44 newbie Nico Poons and his Charisma team.
After two brisk days with strong, gusty winds from the SSW here off the Swedish west coast, there was a change in conditions for the second day of fleet racing with a lighter 10-13 knot northwesterly and a much reduced sea state.
St Petersburg Yacht Club fans were properly rewarded in the opening race, its two teams, scoring a 1-2. After a generally disappointing regatta to date, Kirill Podolsky's Gazprom Youth Sailing Challenge came out of the blocks strongly, just managed to edge into the lead at the top mark and then extended away around the rest of the race course. Finishing immediately behind Gazprom Youth was her team mate, Bronenosec.
Picking up high scores in this first race were Peninsula Petroleum, Artemis Racing and Charisma, all of whom had started prematurely and had been forced to recross. Of the three, Charisma staged the best recovery, coming home eighth.
Vladimir Liubomirov's sky blue RC44 continued the St Petersburg YC winning ways claiming race two, but it was a case of hero to zero for Gazprom Youth which was over the start line early, took too long to restart, ultimately finishing last.
John Bassadone's 2014 fleet racing championship leader, Peninsula Petroleum, started to show some of her expected form in today's second race, coming home a worthy second to Bronenosec. The Gibraltar-based team then went on to claim victory in race three today, with the race committee finishing the boats in Marstrand Fjord, next to the pretty village centre where the boats are moored.
Peninsula Petroleum's 10-2-1 scoreline today representing a trend to Bassadone's liking: "I think we sailed a bit better today - we haven't been sailing so well this week so far," he admitted. "Not being over the line helps and we had a few other little things go wrong. Hopefully we are improving and will keep on improving."
However the star performer today was certainly Bronenosec with her 2-1-3. "We are strongest in the middle wind conditions like we had today, with little waves, but first of all I have a dream team," said Vladimir Liubomirov, still kicking himself for the last race where his team had led around the leeward gate but subsequently dropped two places. "It was because probably we had two much tension after the first two races. Champions should be calm, more steady, but I am very happy today." And he should know, having won the Gazprom Swan 60 World Championship only last week.
Bronenosec's Italian tactician Michele Ivaldi praised Liubomirov's performance as well as the trimmers'. "The boat was going fast today. A couple of times we sheared off from everyone just in terms of pure boat speed and upwind in particular we were flying across the shifts."
This regatta is, of course, a World Championship so there is more at stake than any other RC44 regatta. John Bassadone is hoping to repeat his victory two years ago. "Definitely the World Championship is the most important race on this circuit and everyone has upped the level for this. More boats are winning, so it is very tough, but good fun."
However also intent on coming out on top is Chris Bake. His Team Aqua hasn't won the World Championship since 2007. It is a Trophy he'd dearly like back: "Winning would be special - it would it would round out an otherwise good season."
Despite leading overall Team Aqua hasn't won a race over the last two days and Bake acknowledges that his team's performance is down to 'not having mucked any one race up too badly'. "That was the story of today – staying out of trouble and when we were in trouble, we were able to dig our way out."
Also hoping to make a late charge is Artemis Racing's Torbjörn Törnqvist, currently lying sixth overall. As the Swedish entry, Törnqvist is effectively the regatta's host and is pleased that this World Championship is taking place in Marstrand. "It is great that we do it here. It is a nice place. I was just hoping to do a little bit better than we have done so far. It is nothing specific, just small things. We try to work on it."
Törnqvist has the added challenge this week of only being able to steer his boat with his right hand, as he is recovering from an operation on his left arm, which he is not allowed to use.
Results:
1. Team Aqua 2 4 5 3 5 4 – 23
2. Bronenosec Sailing Team 6 9 3 2 1 3 – 24
3. Charisma 4 2 2 8 7 2 – 25
4. Peninsula Petroleum Sailing Team 3 11 4 10 2 1 – 31
5. Team Nika 1 3 8 5 6 11 – 34
6. Artemis Racing 9 5 6 6 9 7 – 42
7. Bombarda Racing 7 8 10 9 4 5 – 43
8. Katusha 13/DNF 7 1 11 3 9 – 44
9. Artemis Racing Youth 11 6 7 4 10 6 – 44
10. Gazprom Youth Sailing Challenge 5 13/DNF 11 1 12 10 – 52
11. Synergy Russian Sailing Team 8 1 9 12 11 12 – 53
12. MAG Racing 10 10 12 7 8 8 – 55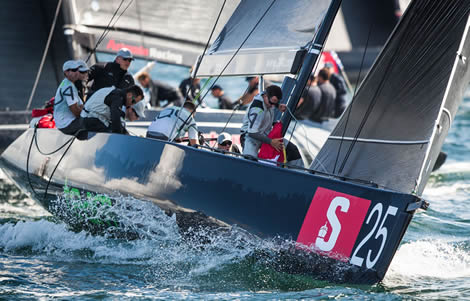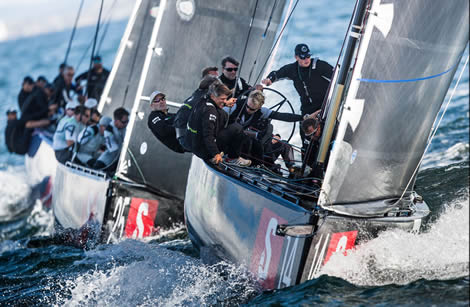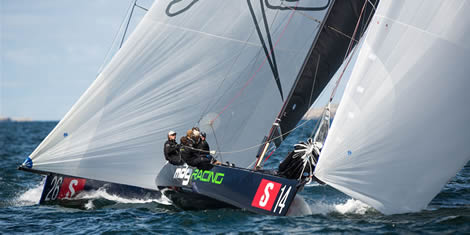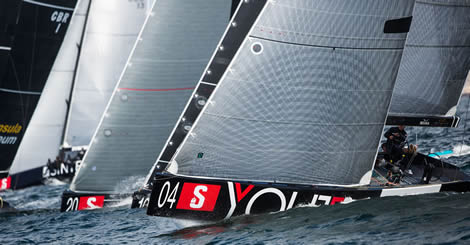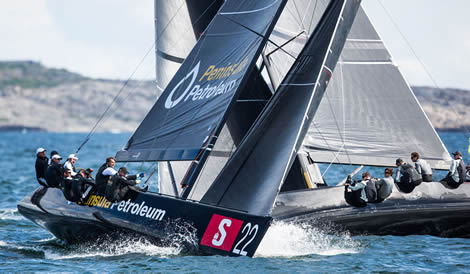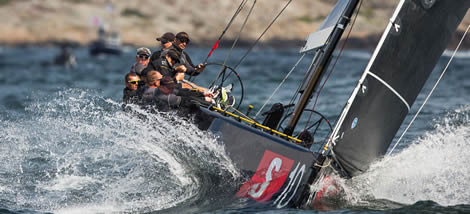 Back to top
Back to top