Early lead for newbies
Fleet racing at the RC44 Marstrand World Championship got underway today in further lively conditions courtesy of ex-Hurricane Bertha, delivering a mix of sun, occasional torrential rain, strong winds with occasional lulls, plus, in race three, a giant squall.
Today's three races has left RC44 newcomers, Nico Poons' Charisma team from the Netherlands, three points clear of RC44 class veteran Chris Bake and his Team Aqua's 11 points, in turn a point ahead of Vladimir Prosikhin's Team Nika. These three boats now hold a small advantage over the chasing pack.
Proving that consistency, rather than simply coming first, is what pays in fleet racing, neither Charisma nor Team Aqua won a race today, but their 4-2-2 and 2-4-5 scorelines were enough to leave them a cut above the rest. Charisma's race two result was particularly impressive given she was over early and had to restart.
Today's first race saw Team Nika continue her unbeaten run from yesterday when she emerged as the top boat in the match racing held off the Swedish paradise island hosting this event.
In race two it was the turn of Valentin Zavadnikov and Leonid Lebedev's Synergy Russian Sailing Team. According to the team's tactician, America's Cup winning helmsman Ed Baird, they had headed right out of the start and then played the shifts up the first beat, nosing ahead of Team Aqua and Team Nika at the weather mark, from where they led for the remainder of the race.
Despite the onshore breeze, today it was all about playing the shifts correctly, explained Baird: "Typically you think one side is better and today it was less that way than normal. There seemed to be these long shifts that you needed to be on the correct side of rather than just going to one side."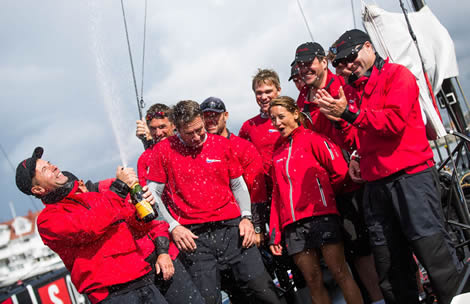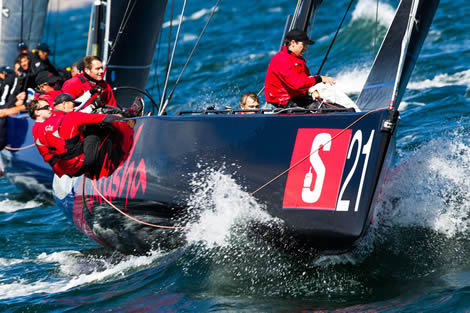 The surprise performance of the day came in the third race when Katusha managed to claim her first race win of the season. Co-owners Vladimir Sokolov and Robert Filimonov only acquired the boat this year and the RC44 is the first yacht racing they have ever done. The owners alternate steering and can still count the number of days they have raced on their hands. Today it was Sokolov's turn: "This is our first win, so I am very happy, it is a great feeling," he said. "We have been close a few times, but we've never managed a win. I am learning a lot, but I have a great teacher in Andy Horton, who is our captain and my teacher since my first regatta. It is because of him that this happened."
Race three was by far the most dramatic of the day with a giant rain cloud encroaching on the right side of the course bringing with it gusts of up to 26 knots and a 50 degree right hand wind shift.
As Katusha's tactician, America's Cup and Olympic Star sailor Andy Horton explained: "We went for the cloud and had a good couple of moments on port and were able to lead the boats to the right of us. We got around the weather mark ahead and we lost a boat on the run, but we went around the leeward mark in a huge right shift and were the first boat to tack. Then when the breeze came back about 30 degrees after the cloud moved out of the way and that sprung us pretty good."
Generally today's conditions made for great sailing. As Team Aqua's Chris Bake explained: "It felt really variable - when the gusts came through they were interesting. All in all it was great conditions and great racing, the fleet is really tight and you can see that coming around the marks when things get very exciting. It is good to get out there and good to be pushed."
Ed Baird added: "It was very bumpy: Fun for downwind, not so much fun for downwind. It certainly means you have to pay attention. There are times when you can trim hard and there are times when you have to free everything up and let the boat run. Downwind you just have to wait for your moment and when it came you could gain 10 lengths on the right wave."
Watching the action today was Sweden's most famous racing sailor, yacht designer and former America's Cup helmsman, Pelle Petterson, who's daughter's company Pelle P is official clothing supplier to the RC44 class."The RC44s are nice boats to watch and they do so well in these conditions," he said. "It is amazing, they can keep full sail. Today it was very bumpy and was a really good test for the crew and the boats."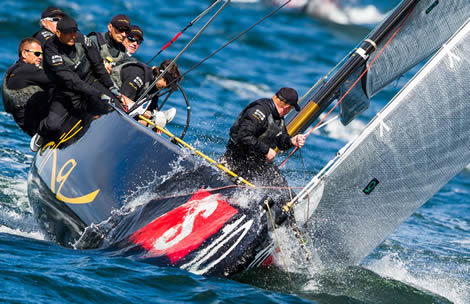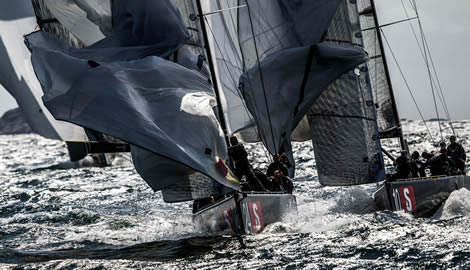 Back to top
Back to top