Jahmali claims J-Cup
After facing the very real prospect of not being able to race in the regatta, organised by Key Yachting and run by the Royal Southern Yacht Club, it was quite a turn around in fortunes for Mike and Sarah Wallis' Jahmali in the J-Cup 2014 in Partnership with B&G.
With repairs to a snapped mast only completed at 0700 on the first day of racing (Thursday, the J/109 went on to sail to victory in a ferociously competitive class, winning the J/109 UK National Championship in the process.

To cap a memorable event, boat and crew were also awarded the prestigious J-Cup 2014 at Saturday night's hugely attended Gala Dinner and Prizegiving. Ultimate success, after what proved to be challenging and tricky wind conditions across all three days, was also a personal triumph after years of competition.

'I've been doing the J-Cup as long as Paul Heys has been running them, so it's been a while,' said a delighted Mike Wallis. 'It's a great day for us and very much appreciated. It's the first time I've won the J/109 class. I won the 105 class as an owner 14 years ago, and as a tactician nine years ago. I've drunk out of the J-Cup at other people's expense many, many times."

Wallis admitted that the conditions particularly suited Jahmali and her long-standing crew: "On our boat we tend to be a lot better in the lighter and flukier conditions, so these have played to our strengths and helped us achieve this. I think if it had been blowing force 6 we wouldn't be where we are or anything like that. Going into the last race we were only one point ahead of Tigh Soluis and Jubilee, but fortunately we got the right end of the line and everything was easier after that as we had clear air and clear wind.

"Certainly it's been very much up to the wire as it always is with the J/109s. It's always very, very close, and perhaps being lighter has opened things out a little bit. When the wind's up and there's less chance of opening up gaps it's very, very close, so we are also grateful for that. I don't think there were any collisions this time, which is very unusual for the 109s!"
A win in the final race helped secure Jahmali's class and national championships victories, finishing five points clear of Tony Dickin's Jubilee with Iain MacKinnon's Tigh Soluis two further back.

In the other nationals run within the regatta - the Lombard-sponsored J/97 Championships - Charles Ivill's ETB Tyres Just Like That took four wins from seven races to finish three points clear of Nick and Adam Munday's Induljence, with Helen Hoffman's Jaslan taking the final podium place.

Also celebrating success was Guernsey's Roger Martel with his J/122 Kaya, winner in IRC1.

"We had a few good results and a few less so, which we've managed to come back from, so we're really pleased," said Roger, taking part in only his second J-Cup. We got a good start on the last race but had to tack to avoid a dredger, then fell in to a hole and a J/133 got past us. We got round the weather mark and the wind disappeared, so one minute we were ahead, the next behind. Luckily they shortened the race - everyone else had fallen into holes around us and we just managed to squeak it."

The last race win, along with three previous bullets, put Kaya five points clear of East coast-based Angus Bates' Assarain IV, which was three ahead of Ian Dewhirst's Jump.

Experience counted in IRC2 where Stewart Hawthorn's J/88 Jongleur, most of whose crew have raced together for over 15 years, almost managed a clean sweep but ended up discarding a second place.

"We worked our way round the strategy that we had set ourselves - to make nice clean starts, get in to a good lane, then watch what was happening," said Hawthorn. "The last race of the series was the high point I think as we managed to come from a really flaky start, being well down the fleet on the first beat, and from that get in to the lead. Very difficult and tricky conditions for everyone, but having sailed in the Solent for a number of years it wasn't too much of a shock."

Jongleur finished nine points clear of Richard Sparrow's J/92 Who's To Know, which was two clear of another J/92 David Greenhalgh's J'Ronimo.

Also discarding a second in a dominant performance in the J/70 class was Simon Cavey's Just4Play. She finished on a high with three bullets, 12 points ahead of Steve Northmore's Waterjet2, with Jack Davies' Jugador a further two back.

However, the regatta's comeback kid award was surely deserved by Patrick Liardet's Aqua J, whose four successive bullets - following a 4-(7)-2 scoreline - powered her to the top of the J/80 table. She finished five clear of Douglas Struth's DSP and 12 ahead of Brian Denney's Jalapeno.

The J/111s didn't get the chance to get on the plane, but a competitive class was won by Duncan McDonald's Shmokin Joe, seven points ahead of Chris Jones and Louise Makin's Journeymaker II who managed to hold off Cornel Riklin's hard-charging Jitterbug which won the last three races.
The J-Cup is organised by Hamble-based Key Yachting Ltd., an agent and distributor for J Boats, Grand Soleil, Nautitech Catamarans and Tofinou throughout the UK and Ireland.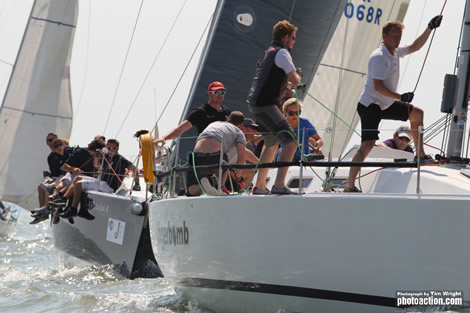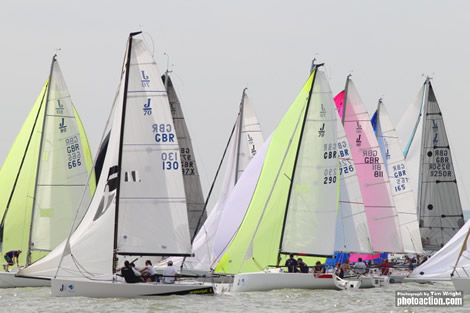 Back to top
Back to top