Francesco Bruni on the 35th America's Cup
Thursday July 10th 2014, Author:
James Boyd
, Location: none selected
Last week Francesco Bruni was taking time out from multihull-related aspects of the Luna Rossa campaign for the 35th America's Cup to get some race training in, competing at the second event in the 2014 Alpari World Match Racing Tour, Stena Match Cup Sweden.
After a dismal performance at the Tour's season opener, Match Race Germany last month, which he puts down to being out of tune with the Bavarias used at that typically light wind event, Bruni was out for blood. In Sweden he was beaten just once in the Round Robin (aka Qualifying), by Ian Williams' GAC Pindar crew, the two teams the stand-out performers of the opening stage of the regatta, finishing four points clear of their rivals. After sauntering through the Quarter Finals, Williams surprisingly picked him as his opponent in the semi-finals and finally dispatched him 3-1. Bruni felt he had been somewhat unlucky in this, losing one race on a penalty during a dial-down, while in the final race, the Italians won the start only for their port hand primary to break.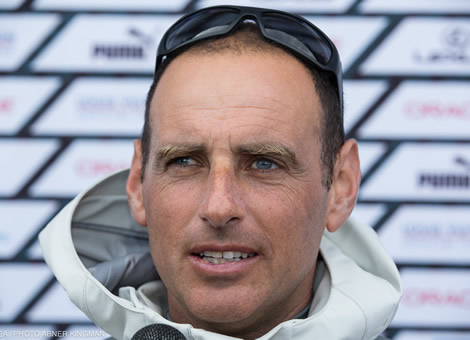 Meanwhile… back at their base in Cagliari in the south of Sardinia, the Luna Rossa team is now up to around 80% strength in terms of its personnel, says Bruni, who - although it is far from confirmed - is widely tipped to be helmsman of the team's AC62, come the 35th America's Cup.
While he was away in Sweden, the team launched the first of its two AC45s, both modified with lifting foils, that they will use as platforms for foil development prior to committing to their AC62 appendages.
The re-equipped AC45 has already been out sailing. "The first time that the boat was out was very promising with no big problems," says Bruni. "They had a good sea breeze of 15 knots and everything was working well. I am very excited to go back home to try her."
Driving while Bruni was in Sweden was the team's 34th America's Cup helmsman, Chris Draper. "We have a very big, strong team at the moment, so we are fully covered if someone is not available. It is all going well in that respect. Design-wise, shore team, sailing team – I think it is really the first time that Luna Rossa has been this strong out of the blocks." So often in the past Prada boss and Team Principal Patricio Bertelli has been slow to pull the trigger with his America's Cup campaigns (this will be his fifth) and has suffered as a result. Not so this time, where the Italian team is just advanced as Artemis Racing and the defender Oracle Team USA.
Within the Luna Rossa design team, where there are currently 25 people listed on their website. These include Britain's own Will Brooks, who returns for his third campaign with the team as Structural Engineer, while Giorgio Provinciali is back as VPP Leader along with Danish CFD guru Michael Richelsen.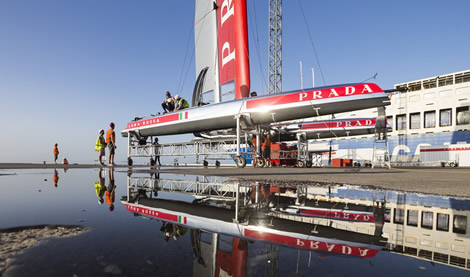 This time Marcellino Botin is on board as Chief Designer along with Botin & Partners' Adolfo Carrau, as Design Coordinator - although neither is known for their multihull designs. We're pleased to see that at last a Cup team has signed up Martin Fischer, who oddly is designated 'yacht designer' despite being better known for his foils (GC32, Groupama C, Foiling Phantom, Groupama maxi-tri, etc)
Some AC team musical chairs has been going on too. From Artemis Racing, Luna Rossa has recruited former Volvo Ocean Race sailor Horacio Carabelli as Construction Coordinator and Structural Engineer Alessandro Franceschetti. From Oracle comes CFD specialist Mario Caponnetto (returning to Luna Rossa, having been with Oracle over the 32nd to the 34th ACs), Project Manager Thomas Gaveriaux, previously the defender's structural engineering manager and Francis Hueber on CFD (ex-hull and appendage man for Oracle).
Another interesting appointment (although frankly we would have prefered to see him skipper the Turkish-backed Alvimedica Volvo Ocean Race team) is American (and of Turkish descent) Moth World Champion, Bora Gulari, who has the vital role as link between the sailing and design teams. As Bruni puts it: "He is the guy who is making sure what the designers say we do and he brings back our input to the design office. I think he is a perfect guy for it. He is a very good sailor and he has a lot of engineering knowledge."
Meanwhile on the sailing team are many of the same faces as last time - Max Sirena as Team Director and Skipper, plus Bruni, Pierluigi de Felice, Manuel Modena, Britain's Chris Draper and Alister Richardson. Returning to the Italian team after two Cups with Oracle are man mountain Shannon Falcone and grinder Gilberto Nobili. Cup newbies in the line-up are Kiwi match racer and Volvo Ocean Race sailor Adam Minoprio and Italian 49er Olympic sailor Pietro Sibello as 'speed coach/wing trimmer'.
As to the recently announced Protocol, Bruni is non-plused…mostly. "I am pretty straightforward with it. As always the defender is looking for advantages, but it has always been like that. I am not surprised. I don't think it is any worse than any other times."
Probably the biggest bone of contention is that under the new Protocol, the 'challenger selection series' (formerly the Louis Vuitton Cup) is now being split in two with an initial 'America's Cup Qualifers' open to all challengers followed 'within four months' by the 'America's Cup Challenger Play-Offs'.
Significantly the Qualifers are set to be held somewhere other than Cup venue itself. So if San Diego is chosen as the Cup venue, then the Qualifiers could be held in Bermuda or equally, given the separation time-wise between the two events, somewhere in the Southern hemisphere, such as Sydney Harbour… (remember where the Challenger of Record comes from…) This means that while the Defender can pour resource into optimising its AC62s (for they are allowed two, albeit with a number of caveats – see our interview with Tom Slingsby for more on this) for the Cup venue alone, the Challengers must develop them for two, with potentially different wind strengths, sea states, etc.
As Bruni puts it: "What could be tricky is the double venue for Qualifier series and then the Semi-Finals and Final. That could be difficult for the challengers, because they have to design their boats for two different venues. It is very hard as a Challenger to set yourself up for two venues."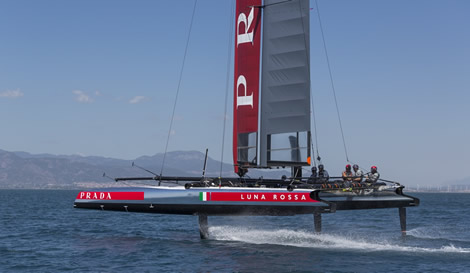 Bruni also observes there seems to be little point in having the Qualifier series unless there are more Challengers than there are at present, for controversially, only the top four Challengers will make it through from the Qualifiers to the Play-Offs at the principle AC venue. Bearing in mind that there are currently five Challengers we already know about – Challenger of Record Team Australia, Artemis Racing, Luna Rossa, Emirates Team New Zealand and Ben Ainslie Racing – then one of these will have raised the money (£60-100 million), have done the hard yards developing their AC62 and then will fall at the first hurdle and not make it to the Cup venue at all.
"Hopefully there will be more boats and more teams and it will be more interesting. Otherwise it will be a waste of time, the Qualifying event," says Bruni.
As to Oracle Team USA getting two boats while the Challengers are each only allowed to build one, there are so many limitations on what the Defender can and can't do with its second boat that Bruni doesn't see this as being a big issue: "I think the double boat for Oracle isn't a big thing. It is the same mould for both boats and they have to use one, unless there is a major on the other boat."
As to the new AC62s, Bruni says it seems to be an interesting boat: "I like the fact that we have some one design elements in it, like the wing – it is not totally one design, but a big part is. And many other small parts are one design so you can focus on more important things like the boards and the rudders. I think the boats are going to be a lot closer in performance this time, which is going to make the game more interesting on television. That was a big minus last time – there was such a big difference in performance apart from the last week."
Bruni agrees that the prime area of development for the AC62s will be with the foils – the daggerboards and rudders – and it will be interesting to see how the boats behave given that the new rule aims to promote foiling, whereas the AC72 rule attempted, unsuccessfully, to prohibit it.
"The AC62 could be more stable, but a lot of time if you are stable you are slower, so people will look for speed as well," Bruni continues. "It is a hard ratio between top speed and stability of the platform. To find that good ratio between the two things is important."
In particular given that the challenger selection serieses will be in two different venues, potentially with different conditions, this now means that Challengers effectively have half the foil allocation of the Defender, on the basis that one half of this (or thereabouts) will have to be developed for each venue. (Under the new Protocol, teams can have up to six daggerboards (complete) or six upper sections and a maximum of 12 low sections.)
Given that the AC62s can't be launched until '150 days prior to the first scheduled race of the America's Cup Qualifier', ie mid-2016 presumably, this means there is now a two year window for sailing teams to train. Under the new Protocol 'surrogate yachts' are deemed to be multihulls above 33ft LOA with the exception of the AC45, it seems likely that teams – as Luna Rossa has demonstrated - will be using AC45s for their R&D (they are after all closer in size to the AC62s) and will be using the America's Cup World Series events in 2015 (when they kick off) and 2016 to get race ready. However there are other alternatives, in particular the GC32s, which Luna Rossa and Oracle Team USA's Tom Slingsby raced in Trauseewoche in May and which Team Austria – including Big Fella (CEO Iain Murray) himself – have been trialling recently on Lake Garda.
As Bruni says: "Next year will be full on with the AC45s. We are just trying to keep our brains sharp and doing the Tour and a little bit of the GC32 events, like Austria. We don't know yet if we'll be doing more with the GC32s. It depends on our own in house program in Caglari. It is quite a busy program, so we'll have to see. Whenever we have time, we go racing – that is the plan."
So great to see Luna Rossa coming out of the blocks fast on this occasion with guns blazing like we've not seen before. Possibly this will be the Italian team's strongest challenge yet for the Auld Mug.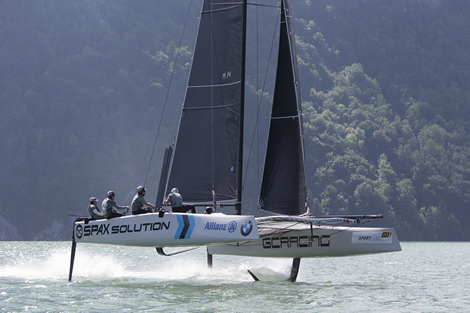 Back to top
Back to top