Williams on top in classic gale force Marstrand conditions
Stena Match Cup Sweden is known for being one of the few events where, thanks to the boats and venue topography, sailors can race in anger inshore in gale force conditions with spinnakers. Over its 20 years this has provided some of the most action-packed match racing of all time, all visible to the spectators packing Marstrand's natural sailing stadium.
Today's racing was a classic example with the winds blowing down the fjord at a solid 25 knots and gusting into the low 30s, forcing crews to hang on as they threw them around the race course. It was a day of shredded spinnakers, wrapped spinnakers, trawled spinnaker, collisions, a broach of the normally unbroachable DS37 as well as some at-the-limit match racing.
Qualifying came to a conclusion today with Ian Williams' GAC Pindar crew coming out top on an impressive 12 points, but tied with Francesco Bruni's Luna Rossa America's Cup team. Both teams dropped just one match: Williams to the 20-year-old Dane Joachim Aschenbrenner, while Bruni fell to Williams. The British and Italian teams finished four points ahead of third placed Mathieu Richard's Lunajets and Keith Swinton's Team Alpari FX crews.
"It is great to get through in the top spot, but our thoughts are now on the quarter finals," said Williams. "But we have got to bring out our A-game." This afternoon Williams picked to race Joachim Aschenbrenner in tomorrow's quarterfinals.
As to today's big conditions, Williams said they had just been under control. "It wasn't crazy, but it puts more emphasis on boat handling, setting the boat up well and getting it balanced. Boat speed differences become more marked in those conditions, so it was good to have a few old hands on board." The DS37 can withstand being raced in 30 knots due to their having large rudders compared to conventional race boats.
Even the highly experienced GAC Pindar crew suffered a twisted kite at one point.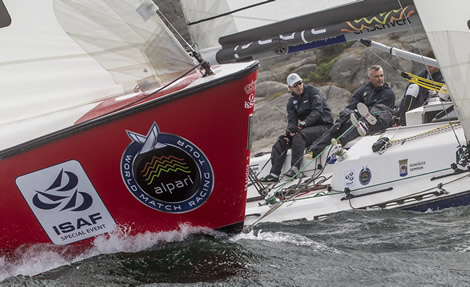 Mathieu Richard made a late charge, winning his last three key matches against Tour Card holders, Phil Robertson, Bjorn Hansen and Keith Swinton. The French team had a particularly action-packed match with Hansen: "It was a crazy match which we will remember for a while. We loved it - a dog fight with penalties, big luffs, a big fight, very physical on board and big engagement for everyone. It was very good racing."
On the first upwind Richard picked up a penalty for tacking too close, but rolled the Swedes on the run, only for them to recover the lead by the second top mark rounded. "In those conditions everything is possible with the spinnaker and we gybed twice a bit better and created a small overlap," recounted Richards. The French were then able to drop their kite and luff hard, enabling them to edge past the Swedes. "It was a very close finish at the pin end of the finish line and I managed to overlap him on port, so he had to keep clear and failed to. He got a penalty and the win was ours."
Fighting for their survival at Stena Match Cup Sweden today were the mid-fielders, Bjorn Hansen, David Gilmour, Phil Robertson, Nicolai Sehested. Robertson in particular had a disappointing day losing his last four matches to Hansen, Williams, Swinton and Richard.
Slipping through to the Quarter Finals was David Gilmour, the newbie Tour Card holder causing upset by beating Alpari World Match Racing Tour defending champion Taylor Canfield's USone team in the final match of the last flight. Proud father, Peter, a seven time winner of this event, tweeted: "Nice work TG @TeamGilmour any more points is a waste of effort!!"
Also through and keeping Swedish interests alive is Bjorn Hansen, whose team is the only one of four from the host nation to reach the last eight.
"It was a fantastic day for sailing," enthused Hansen. "I really enjoyed it, especially the second race when it really got up to 30 knots in the gusts and you started to get some waves coming in that you could surf on. All the people who came here, even if it was raining, really appreciated what they saw out there. We would have been very disappointed if we hadn't made it through to the finals."
Last year Hansen came back from the brink to claim the Stena Match Cup Sweden title. Will he do the same this year? "Hopefully! But any one of the eight quarter finallists can win now. We need to have a couple of really good days if we are going all the way. We are going to have to do better than we've done so far. We know a few things that we can improve, mostly I am very happy."
Sadly the bottom six teams are now out of the competition. This includes the two match racing 'legends' Swede Magnus Holmberg and American three time match racing World Champion, Ed Baird. Holmberg and Baird finally lined up today with the American coming out on top after a tight race.
Some of the younger sailors are also heading home.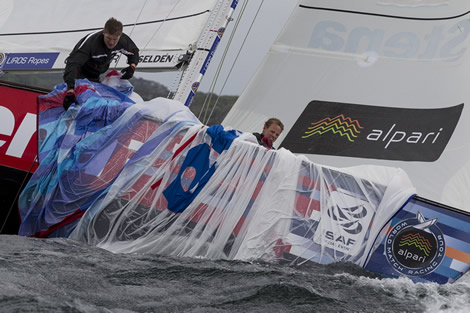 While his 20 year old sparring partner Joachim Aschenbrenner has made it though, Nicolai Sehested and his Trefor Match Racing team will be returning Denmark. "It has been a great week," said Sehested. "It is always good fun racing in big wind. Normally we race in the sun and in light to medium breeze. Today the game was on." Sehested had a particular good race against Johnie Berntsson, where after much overtaking, his Swedish opponent ended up a penalty down and with his jib wrapped around the forestay.
Sehested grew up sailing on the DS37 yachts and is very experienced on them. "They are really good boats for racing in strong winds. They have big rudders, you can turn the boats wherever you want and there is no risk of wiping out on the downwind. They have plenty of control and power, so really good for racing in strong wind."
In last place on two wins (against Ed Baird and Magnus Holmberg) was 26-year-old Swede Viktor Ogeman. "We didn't do as well as we'd hoped," he said. "We came here hoping to get into the quarters. We feel we've improved from two years ago but we had a lot of close matches and weren't quite there."
While the DS37s are difficult broach the young Swedish team managed it on their final downwind leg in their match against Aschenbrenner. "We were behind at the last windward mark and basically our goal, given that they could still have a problem, was to give it 110% down the last run. But that ended in a broach!"
Tomorrow the Quarter Finals set sail at 09:30.
Final Results of Qualifying
Ian Williams (GBR) GAC Pindar 12-1
Francesco Bruni (ITA) Luna Rossa 12-1
Mathieu Richard (FRA) LunaJets 8-5
Keith Swinton (AUS) Team Alpari FX 8-5
Joachim Aschenbrenner (DEN) Team Trifork 7.5-5
Taylor Canfield (ISV) USone 7-6
Björn Hansen (SWE) Hansen Sailing Team 6-7
David Gilmour (ASU) Team Gilmour 6-7
Phil Robertson (NZL) Waka Racing 6-7
Nicolai Sehested (DEN) Trefor Match Racing 6-7
Ed Baird (USA) Quantum Racing 4-9
Magnus Holmberg (SWE) Team Magnus Holmberg 3-10
Johnie Berntsson (SWE) Stena Sailing Team 2.5-10
Viktor Ogeman (SWE) Team Accure 2-11
Quarter-Final pairings:

Ian Williams (GBR) GAC Pindar vs Joachim Aschenbrenner (DEN) Team Trifork
Francesco Bruni (ITA) Luna Rossa v David Gilmour (ASU) Team Gilmour
Mathieu Richard (FRA) LunaJets v Taylor Canfield (ISV) USone
Keith Swinton (AUS) Team Alpari FX v Björn Hansen (SWE) Hansen Sailing Team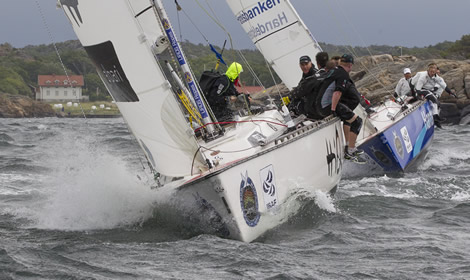 Back to top
Back to top