Peninsula Petroleum back in front after "kinky" day
Principal Race Officer Peter Reggio and his race management team made up for yesterday's single race by successfully holding four on the penultimate day of the RC44 Puerto Sotogrande Cup.
Racing was held in conditions which Nico Poons, skipper of Charisma, described as: "Quite kinky! Quite difficult with the shifts." But the final race was held in 20 knot winds and a sharp chop, making for an exhilarating last blast for the crews.
The opening two races where held in a light southerly 'wind from Gibraltar' and it was appropriate that John Bassadone's Peninsula Petroleum team, heralding from the nearby 'Rock', came out on top in the first - a good comeback after finishing last yesterday.
"John opened the window somewhere," quipped Peninsula Petroleum's Italian tactician Vasco Vascotto. "Today the most important thing was that we had very good starts, which didn't happen yesterday when we were over the line early. It is very nice to show that we are able to recover after a bad day - that is very important for our future."
The 'Gibraltar' breeze began to fade during race two when it was the turn of Bronenosec to take the win ahead of Team Nika. Slovenian Igor Lah, stand-in skipper aboard the light blue hulled RC44 this week, praised his crew, including his long term Italian tactician Michele Ivaldi. "If the teamwork was perfect, then it is easy to steer. We made one or two bad starts today, which made it a little bit hard to get back. We were always trying to be fifth or better - that was our goal."
After a break, conveniently around lunchtime, the wind died before filling in from the west, the same very shifty offshore breeze of the first two days of this regatta.
"The third and the fourth race were in fast conditions," continued Lah. "It is always nice to sail in 20 knots, because then the boat is just flying and downwind it was great. That is why we do it! It is sometimes hard to steer, because it is a pretty tight range where you can sail the optimum way, and sometimes it is on the edge."
In the offshore breeze there were plenty of opportunities, particularly on the upwinds. The first to make use of this was Torbjörn Törnqvist's Artemis Racing. "We were about third or fourth and we plugged out a bit further left," explained their multiple Olympic medallist tactician, Iain Percy, of their race three win. "But it has been a very difficult day, the wind has been all over the place - every point of the compass. When the wind came in from the west, it was fun racing and we got one right and one wrong."
After their win, in race four Artemis Racing come home a lowly ninth, dropping them from third to fourth overall. "We had a tough last one. The breeze was up and the boats were flying. All the teams were getting pretty tired by the end, so people were making mistakes. We are pretty close, in the hunt," concluded Percy.
The final race was won by Kirill Podlsky's Gazprom Youth Sailing Challenge with a massive margin. "It was nice to get a big win," said tactician Cameron Dunn. "The second beat fell into our hands - we came around [the leeward gate] in a massive right shifts and as we got to the layline we got a massive left one. That doesn't happen often."
But the team was more proud of their second in race one. "It wasn't the team's favoured conditions and we changed the rig set-up and were aggressive with the moding and the guys worked really nicely together. They showed a bit of the stuff they've learned. We hung in there, didn't make any mistakes and chipped our way through to second."
After a slow start, the new Dutch team, Charisma, with crew that includes London 2012 Olympic Laser gold medallist Tom Slingsby as tactician and British Finn World Champion Giles Scott, had a better day today and have pulled up to eighth place.
Owner Nico Poons says they are still playing catch-up. "We've had to change the rigging and we have more to do to the boat, but when we put those things in place, we are confident we will be able to catch up and get into the top five. We're up against boats that have been here for years, with the best sailors. My boys have a good reputation, but we're still a new team."
At the end of play, and with seven races now sailed, it remains close at the top. Peninsula Petroleum has managed to pull out a three point lead over Igor Lah's team on board Bronenosec, with Gazprom Youth Sailing Challenge now up to third, five points behind their compatriots.
Tomorrow racing is scheduled to start at 1100.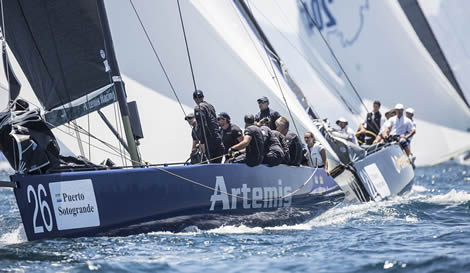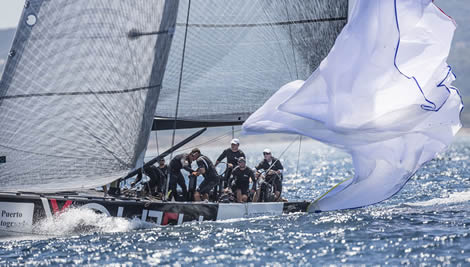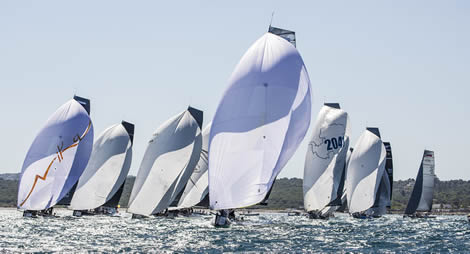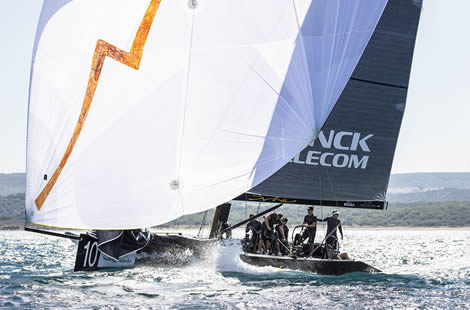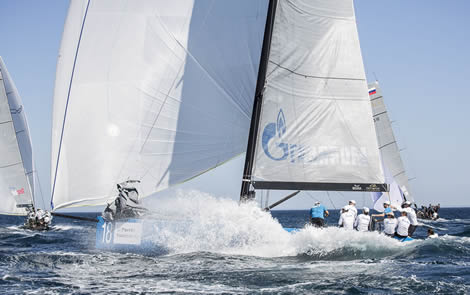 Back to top
Back to top