Antix claims IRC Nationals
Sunday June 15th 2014, Author:
Louay Habib
, Location: none selected
The RORC IRC National Championship concluded today with national champion title only decided in the ninth and final race of the series. Three yachts swapped the overall lead during the last three races. Keeping in clear air and playing the shifts were the big factors towards a top performance but maintaining concentration, in an adrenalin packed final day, was just all important.

IRC One

Irishman Anthony O'Leary's Ker 39 Antix continued its impressive display, winning the first two races of the day to secure the IRC One title, and third place in the last race of the regatta was just enough to secure the overall win. Antix was crowned RORC IRC National Champion to the delight of the Irish crew.

"Antix has been coming here for years, we have won class here before but this is the first time we have won the event overall - it is just tremendous," smiled Anthony O'Leary. "Dave Lenz did a phenomenal job on tactics and the rest of the crew have been together for many years and that understanding kept our manoeuvres clean. The combination of smart strategy and good boat handling was the key. As one of the smallest boats in our class, we knew that we would be dictated to at the starts, and on several occasions, we did have to tack away for clear air. However, our heads never went down, and many-a-time we were in good shape by the top mark. This is a confidence boost for the Commodores' Cup but our feet will be firmly on the ground and we will continue to prepare for next month's big event."

South African Mike Bartholomew's GP42 Tokoloshe II was second in class and Marc Glimcher's Ker 40 Catapult finished the regatta in style winning the last race to place third.

IRC Two

Going into the last race, Jim Macgregor's British Elan 410 Premier Flair needed to win to secure the overall IRC National title by just half a point. However, the team from Poole YC could only manage fourth. Premier Flair was class champion and second overall, winning the Jackdaw Trophy.

IRC Two produced a highly competitive fleet with seven yachts all scoring podium finishes and virtually every race was decided by seconds, so close in fact that Premier Flair and Adam Gosling's Corby 36 Yes! scored a dead heat for Race 7. Kevin Miller's Scottish First 40 Zephyr held on to second place for IRC Two. Yes! damaged its backstay in Race 8, ending any remote chance of a class win, but first in the last race of the regatta secured Yes! third in class.

"To be honest, if Yes! had not had their problems, we would have been beaten," admitted Macgregor. "The competition in our class this year was as good as I can remember and we are delighted to be taking the Jackdaw Trophy back to Poole YC. We had no idea we were in the running for the overall win, that comes as a bit of a shock for a Corinthian team. We were just taking it one race at a time, and thoroughly enjoyed every one of them."

IRC Three

David Franks' British JPK 10.10 Strait Dealer won all three races today to secure the class. Scoring six bullets during the regatta, Strait Dealer was an outstanding performer. However, the smaller class size put the team from Cowes out of the running for the overall win. Last year's IRC Three champion, James Chalmers' British J/35 Bengal Magic was second and Dutchman Willem Schopman's BH36 Intention was third.

"This is our second class win at the championship but every year it gets harder and harder," commented Franks. "The RORC have put on another excellent event, especially in difficult conditions, and that should not be underestimated. Each day was very different and all of the Solent came into play, at one stage or another, which kept us all thinking, as well as the race officer."

IRC Four

Peter Morton's Half Tonner Swuzzlebubble was the winner of the class but struggled today in the fresher breeze. Giovanni Belgrano's classic Whooper won the first race of the day and secured second overall. Sadly, Ian Southworth's Hamble-based Quarter Tonner Whiskers was unable to race after yesterday's rig damage, but after being awarded redress, ended the regatta third in class. Michael Kershaw's Half Tonner Chimp won Race 8 and last year's class winner, Nick and Adam's J/97 Indulgence finished the regatta on a high, winning the last race.

"This is the first big regatta for the boat since it was re-launched and we have learnt a lot about how to sail her," commented Morton. "We were joined this weekend by Tom Schnackenberg, who has won the America's Cup three times and knows a hell of a lot about these boats. I bought Swuzzlebubble for one euro, I have spent a lot of money on her, but about only half the cost of some of the boats racing this weekend. She definitely goes well in the light but against the displacement boats, we suffered in more breeze."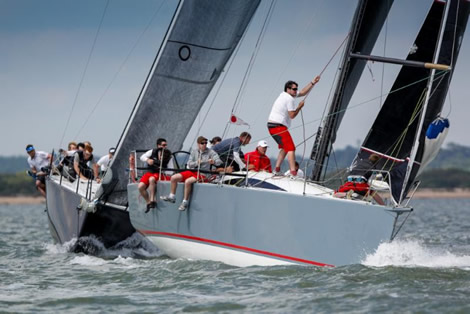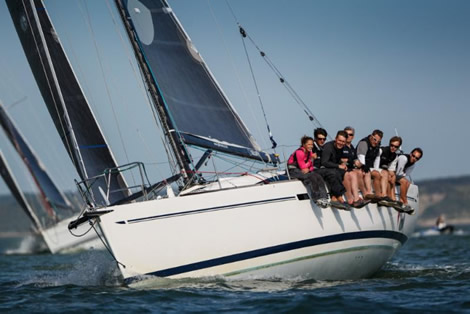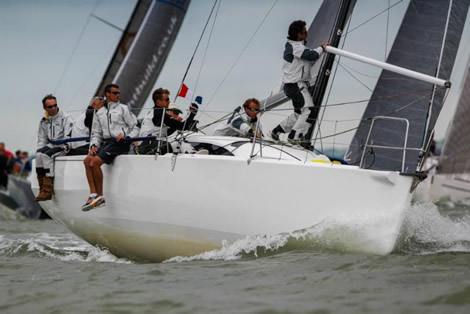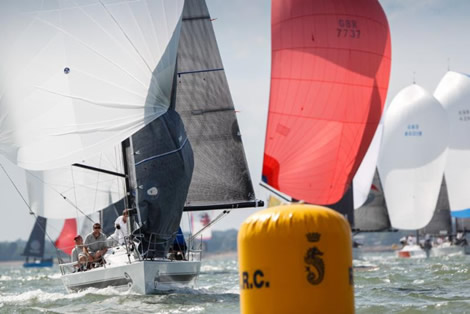 Back to top
Back to top