Ten new 52s for 2015
Thursday June 12th 2014, Author:
James Boyd
, Location: none selected
Generally when numbers start dwindling in a class, particularly when it is a top end international Grand Prix class, you know that the writing is on the wall and within a period of time it will be no more. Typically this should have happened to the TP52 (or as it is now referred, simply the '52', as it attempts to shed its mis-leading 'Transpac' origins).
Back in pre-global economic meltdown 2006-7, the class enjoyed a bumper fleet, with more than 20 boats regularly racing, new boats being constructed each year, technical innovation carrying on apace and German car manufacturer Audi backing its circuit, the MedCup. Since then numbers have plummeted, with sponsors unable to spend the money, owners put off as the game (and with it the cost) has continually risen, and ultimately Audi pulling the plug on its involvement with the class.
However luckily the 52 has been saved by its three present stakeholders - Argentinian owner of the Matador team, Alberto Roemmers, Amway's Doug DeVos with Quantum Racing and Rán Racing's Niklas Zennström - who have taken over ownership of the class, something they feel they were lacking under the old MedCup regime.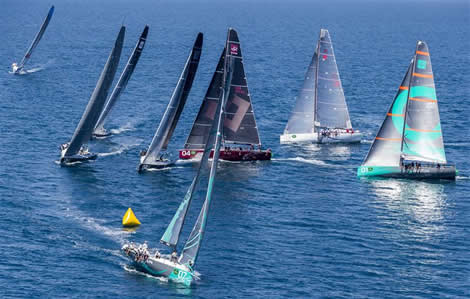 In 2012, they established the 52 Super Series and some rule changes later, including a turboing of the boats, the circuit is now definitely turning the corner.
The 52 Super Series now has a title sponsor in Barclays, nine boats regularly competing and most incredible of all, as many as ten new boats – 10! – are expected to be built for the 2015 season.
The new builds are coinciding with the latest iteration of the 52 rule coming into effect next year, although one example has already been launched this year for Brazilian former Olympic Star sailor Eduardo de Souza Ramos in the Botin & Partners designed Phoenix.
Back in the bad old days, some of the better built TP52s were racing with as much as 1000kg of lead correction weights, so a key development with the latest generation boats has been their shedding weight. To this end the new 2015 rule boats will see be lighter by a further 200kg (This year Phoenix is sailing with ballast which will be removed for next season).
Rob Weiland, the towering wily Dutchman who is the 52 Class' Manager, expands: "This year the weight correctors are down to almost nothing, but next year, because of the changes we'll make, the new ones I expect will have around 150-200kg inside. Then in the future we aim to go down by another 100kg to 6.8 tonnes. So the sail area to weight ratio gets better, but after that 6.8 tonnes is about the limit - less than that and you would have to change a lot of things again."
Draught is also marginally deeper, increased by 150mm, or up to 3.5m – to make up for (and in fact to exceed) the decrease in stability due to the reduced displacement. In addition, carbon fibre rigging is finally being permitted and the boats will enjoy an increase in sail area – with 4sqm more upwind and 13sqm downwind, including an extra 3.5sqm in the mainsail (while the larger jibs and kites have already been introduced for this season). Similarly higher modulus carbon fibre will be permitted in the construction of the masts.
"It should make, altogether, a faster boat," acknowledges Weiland, modestly.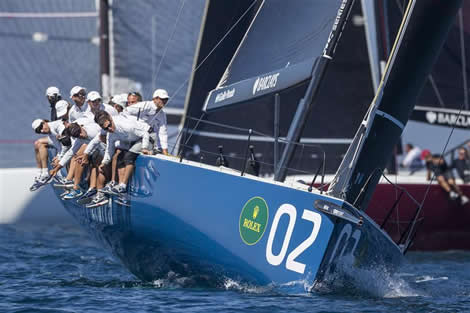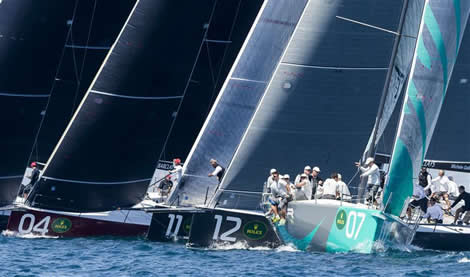 Currently racing on the 52 Super Series, the majority of boats are compliant with the dimensions of the present 52 rule, but two - American Jim Swartz' Vesper and Italian Michele Galli's B2 - were 'IRCed' before they returned to racing on the 52 Super Series. However they are technically 'in class' having been grandfathered due to being more than three years old. The most noticeable difference with the IRCed boats is that they have a 60cm taller rig and are already fitted with composite standing rigging.
Weiland explains: "We adapted the rule to make that possible, because ISAF was saying 'you cannot have those boats racing the Worlds', so we said 'well then, we will make it possible for them to sail the Worlds'. It's a bit childish maybe from both sides, but we need those guys, and that kind of boat is being phased out, because next year we are going to have a lot of new TPs, that are totally rule compliant. So in one or two years' time, you won't see that kind of boat participating in 52 events."
In the past, for boats built to the original incarnations of the TP52 rule, considerable work had to be carried out subsequently on the boat to make IRC 'like' them if they were to leave the MedCup to be raced under handicap. However, with the latest iteration of the rule, they are now no longer going down this path.
Weiland explains: "We've streamlined a lot with IRC, but now we are speeding up, which technically does not favour us under IRC. However I've got a sneaking suspicion that IRC this time will follow us, because people are buying faster boats, which means lighter. So this time Mohammed may come to the mountain (or the other way around) while before the mountain came to Mohammed!"
As to the new builds for next year, according to Weiland, five are so far confirmed (including a new Quantum Racing, Rán Racing and Azzurra/Matador – while Alegre owner Andy Soriano is also planning one) while Weiland adds that he is "quietly confident" of doubling that figure. "Once the train goes, you've got to jump on it, otherwise you have to wait for the next one."
Not exactly a new trend, but what seems most likely to help make this happen is if two or three boats come out of each set of moulds. "That saves you a lot of money and research, so I think that is what you will see," agrees Weiland. "There are also not 10 builders in the world and it speeds the process up, so if you start now, you can build three boats out of a mould and still race in Palma Vela next year."
We put it to Weiland that it is perhaps surprising that no one is attempting a slightly larger production run of turn-key 52s that owners can just step into and be competitive straight out of the box. However with the 52 rule becoming ever tighter, it nonetheless remains a limited development class and there are speed gains to be made through R&D, design and technology.
"The game is of course to be more clever than anyone else and you put a lot of effort into that," Weiland continues. "So even though some boats come from the same mould, that doesn't mean they are the same - they may have different sails, different masts, have deck gear in different positions. Plus there will be slight weight differences always and you can play with the profile of your fin and build, etc. So if you want to race one design - go to another fleet!"
With 10 new boats anticiapte, there is also presumably the prospect of some new designers getting involved in the class. While Botin & Partners have designed the two most recent 52s, Judel Vrolijk definitely has commissions for next year and there is also a proposal for a Premier Composite Technologies-built boat to a Shaun Carkeek design.
Weiland hopes that more designers will get commissioned in the future, although this comes with risks: "There is nothing as good as competition to get the best out of people and their products." And he observes that designs from the two dominant naval architects in the class have over recent years been converging. "They are maybe not focusing enough on making a radical difference, because that is a gamble and it is an expensive gamble of course. But it would be really nice to have more angles."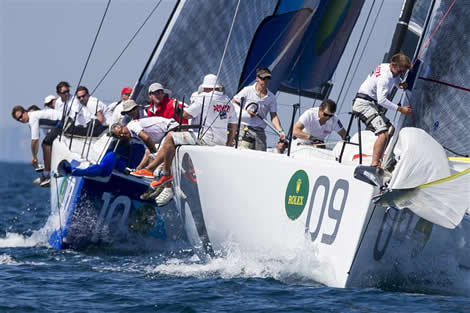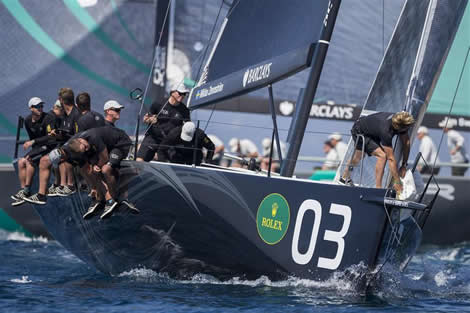 $$$$
In terms of prices, entry to the 52 class and 52 Super Series campaigns does not come cheap. A new boat from a top builder is in the order of 2 million Euros, with a residual value of around 500,000 Euros after three years.
Running costs start at around 500,000 Euros for five events with a few new sails. "But I would say it starts from a million, or for a good campaign with a full pro crew,1.5 million, with a container and tender." So around 1.5-2 million Euros/year will get you a campaign which, if the right pieces are put in place, has the potential to win. "Of course you can spend more if you come with your private jet and your superyacht!" Weiland advises.
And he is of course not joking: Niklas Zennström, Gladiator's Tony Langley and the Roemmers family typically bring their superyachts with them for regatta and the Rán set-up is particularly impressive in its practicality - it is used to accommodate all the crew (52, not Mini Maxi…)
For those looking for a less all-guns-blazing approach to a 52 campaign then it is possible to buy a recent second hand boat. While the present Rán 52 has been sold to French owner Jean Luc Petithugenin for an undisclosed sum (with a caveat that it continues to be raced on the 52 Super Series in 2015) to be next year's new Paprec, Quantum Racing and Azzurra – at present the two most successful boats on the circuit - will be for sale with price tags in the 600-700,000 Euro mark, with a further 125,000 Euros required to bring them into class for 2015.
While the majority of the 10 new boat will be for existing teams, Weiland reckons that four will be going to new teams.
Some owners such as Andres Soriano look set to be joining Niklas Zennström in running simultaneous 52 and Mini Maxi campaigns. Steps are being taken to make Mini Maxi racing 'fairer' in the future, according to Weiland. Aside from the obvious size and cost implications, the principle differences between the two are that 52 racing is for the most part windward-leewards (this week's Audi-backed Worlds being the exception with some coastal races), while the larger more robust Mini Maxis compete round the cans and offshore. Significantly the Mini Maxi is also owner-driver.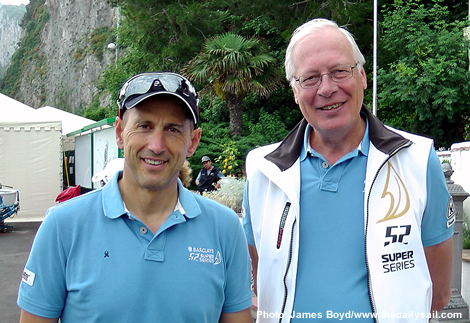 Above: Augustin Zulueta (left) with Rob Weiland
The commercial view
While the 52 Super Series at present lacks the corporate razzmatazz, the giant shore-based presence and accompanying media-fest of the Audi MedCup as was, the wheels have been in motion for some time to re-kindle the commercial side of the circuit.
This year, the 52 Super Series has new sponsorship from Zenith Watches and plus a welcome title sponsor in the form of Barclays Bank.
In addition to Lars Böcking, the Valencia-based MD of Jacaranda Marketing, leading the charge on this front is Augustin Zulueta, formerly Team Principal of Desafio Espanol, the Spanish challenger (and host) for the 32nd America's Cup in Valencia and since May 2013, CEO of the 52 Super Series.
Zulueta comes from a background as an accomplished sailor, most recently with the Spanish Iberdrola Soto 40 campaign. "I have been on the competition side for the last 25 years so it has been a bit hard to change to the organisation part, but I'm really happy," he admits. "I managed Desafio Espanol in 2007 and my life and sailing career has been more connected to the America's Cup, but I would say this is a very good fleet and Barclays 52 Super Series is now looking forward to being one of the best monohull sailing circuits in the world."
In terms of where Zulueta would like to see the 52 Super Series going in the future, the ultimate vision lies with the owners. A primary goal of 'more boats' looks set to be achieved handsomely next year.
But does he want it to return to the giant jamboree of the Audi MedCup? "I wouldn't say our goal is to create another Med Cup. I would say this is an owners' circuit and it is heading more towards creating an enjoyable platform for the owners with very professional and a high quality circuit."
So it would seem that the straight answer is 'somewhere in between', allowing the stakeholders to cover their costs rather than turn a substantial profit from their circuit, MedCup-stylee. Zulueta agrees: "We are aiming to cover costs with our sponsors. But the ones who decide what happens on the circuit are the owners and we work just for them, to make them happy and to enjoy this fleet."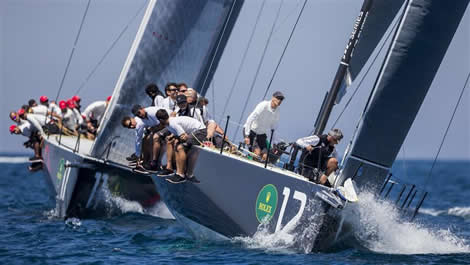 And with their two new brands on board for this year, clearly the circuit is on its way to cleaning its face. Zulueta continues: "I think Barclays is a very good sponsor in terms of image, it is an international brand and we have signed a contract for the next three years. We are very happy to have these very high level, high profile brands supporting us."
The hunt is currently on to secure backing from two more corporate sponsors. "We are not here to do something like the MedCup. Our vision for the next two or three years is to have a large and very competitive fleet of boats and I think with the current economic situation the chance of that is very, very good."
If Rob Weiland's predictions are correct and there are ten new builds for next year, then that combined with the existing circuit bodes well.
"We already have conformation from some America's teams that they are going to join us next season, so I would say we are in very good shape."
While for the last couple of seasons the 52s have sailed three regattas in the States over the northern hemisphere winter months before returning their more familiar stomping ground of the Western Med, for 2015 the circuit will be purely Med-based with five events, including one probably in Porto Cervo and possibly a new event in France. "We trying to involve some other countries on the circuit," says Zulueta.
We put it to him that there is a relatively active 52 circuit in Australia. Would there be a chance of somehow incorporating that? However that is not something that has been entertained apparently. More likely teams from down under will come to Europe to sail the World Championship, he anticipates.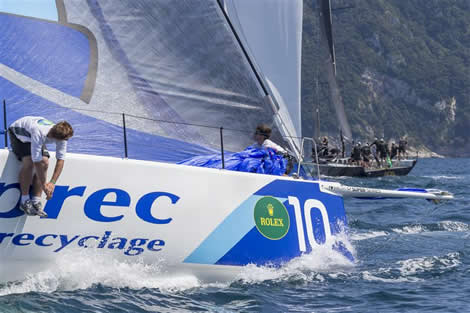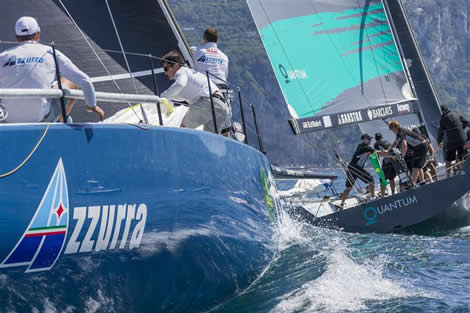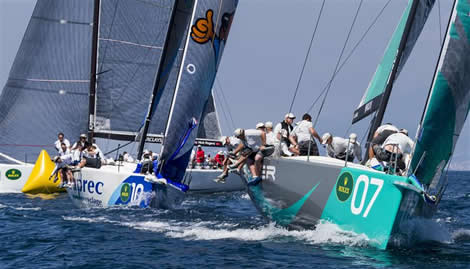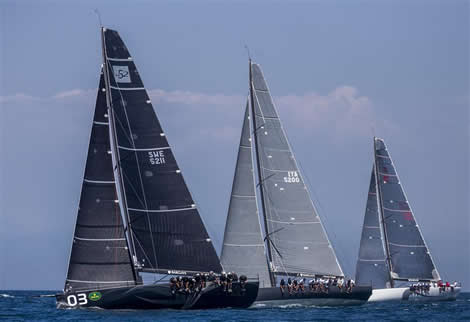 Back to top
Back to top