First point to Quantum Racing
Two weeks of pent up frustration at their disappointing third place result in Capri's first regatta of the Barclays 52 Super Series, not to mention two hours waiting this afternoon for a decent racing breeze to arrive on the beautiful blue waters off Porto Cervo, Sardinia, almost certainly contributed to the speed that Quantum Racing sling shot themselves off the start line for the first race of the Audi TP52 World Championship.
The black and green hull of the American-flagged three times world champions came off a strong mid line position with clear air and speed, to jump out to a clear lead at the start of the 15 miles coastal race but even so there was very, very little in at the top turn.
The margins were tiny at the windward mark of a 1.5 mile 'pipe opening' sprint leg, but they really set the hierarchy there and then. Local favourites Azzurra had to duck leader Quantum Racing on the very final approach to the turn downwind, and simultaneously Niklas Zennström's title holders on Rán Racing had to duck them both, but that the was the order emerging at the first turn, and so it was too at the finish line two hours later.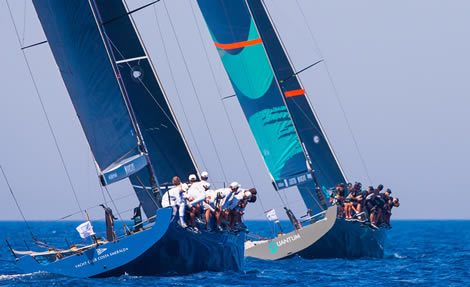 In the light, seven to nine knots easterly breeze, there were some small options on the five miles downwind leg to a turning mark by the little Tre Monte isle. But from there it proved to be the proverbial 'soldier's course', marching in file, following the wake of the boat in front on a speed test which saw few changes through the nine boat fleet from seven different nations. From the leeward turn it was a one tack beat or very tight reach to turn for a six miles fetch to the final corner and a short downwind in the fading breeze to the finish line.
Azzurra, winners in Capri last month and victors when the 52 Super Series was here last September, kept the pressure on Quantum Racing to the finish, but the crew which represents the hosts the Yacht Club Costa Smeralda had to be content with second. Rán Racing took third and Eduardo de Souza Ramos new team on Phoenix fourth.
Terry Hutchinson tactician on Quantum Racing explained: "It was a very interesting coastal race. Hats off to the race committee for persevering and waiting and waiting and waiting to make sure we did not have a bogus coastal race. And it paid off. There was a time when it did not look very promising and they continued to patience it out and here we are with one race under our belt. Ed and Foxy and Juan did some really nice work on our time and distance. We went upwind and just at five minutes and changed our game plan from wanting to be the left most boat to starting exactly where we did. It was a balance between pressure on the left hand side and the beat being short enough that we could control from that windward position.
"As you would imagine we were all quite critical of our performance in Capri. And to be quite honest one race does not justify the six that we did not do very well in in Capri. A win is a great start to the regatta, but there things we can do better boat handling wise and some things we can do better tactically. Without question we are going to keep forging ahead.
"When Azzurra's breathing down your neck on their own home waters you know it is never over. And right up to that last mark when we went from a 95 deg wind reaching across to a 130 true wind, you are just thinking 'well Vasco has one more rabbit in his bag of tricks there'. The mistake would have been to think it was over. It was a bit of a procession after we got around the leeward mark in 'bomb alley' down there so we had a straight upwind reach and a six miles reach to the last mark, Azzurra were right there and always ready to capitalise on any mistake."
Rod Davis coach for Azzurra added: "The course was a bit of a soldier's course. Passing was very difficult to do. But we are happy to take our second from it. That was kind of in our game plan in the first race, to finish in the top three. After a decent start you don't want to double bogey the first race. There were not really any opportunities after the top mark. You could have forced something, but it was too big a risk. So after the first mark it just stayed in that order.
"It adds a little bit of pressure on the guys to be here on home waters, really. But, that is okay, we are just going to keep sailing the boat the way we do. We sailed a good regatta in Capri. We need to keep that momentum going here. We made some changes to our sail programme in Capri, a change in philosophy in mainsails and stuff. That was definitely an improvement since Key West and Miami. We feel like we have come a long way since then. Things are rumbling along."
Up to three coastal races are planned at this Audi TP52 World Championship with light winds due to continue for the next couple of days.
Results after 1 race
1. Quantum Racing, USA, (Doug De Vos USA) (1) 1pt
2. Azzurra, ITA, (Alberto Roemmers ARG) (2) 2pts
3. Rán Racing, SWE, (Niklas Zennström SWE) (3) 3pts
4. Phoenix, BRA, (Eduardo de Souza Ramos BRA) (4) 4pts
5. Gladiator, GBR, (Tony Langley GBR) (5) 5pts
6. Provezza 7, TUR, (Ergin Imre TUR) (6) 6pts
7. Hurakan, ITA, (Giuseppe Parodi ITA) (7) 7pts
8. Paprec, FRA, (Jean Luc Petithugenin FRA) (8) 8pts
9. B2, ITA, (Michele Galli ITA) (9) 9pts
Back to top
Back to top