Road to the 35th America's Cup part 1
As a demonstration that winning an Olympic medal is the best way to launch yourself into a career at the most elite end of pro sailing, so Australian London 2012 Laser gold medallist Tom Slingsby spent last year as Oracle Team USA's AC72 strategist and last week in Capri was competing as tactician on board Tony Langley's Gladiator in the Barclays 52 Super Series, a role he's committed to for the rest of this season.
Slingsby says he has sailed a lot on TPs before – he was a long term crew of Marcus Blackmore's Hooligan (formerly the Emirates Team NZ Audi MedCup winner, now sold to American Gunther Buerman) – but last week was his first experience racing one in the Barclays 52 Super Series.
"It is great," says Slingsby of the Super Series, "and there's great venues - the whole circuit is around the Med at a nice time of year. And the racing is excellent - you have the best tacticians from around the world and some of the best crews. So it is great coming to this from different types of sailing, whether it's one designs or the America's Cup. This is definitely an up-there fleet."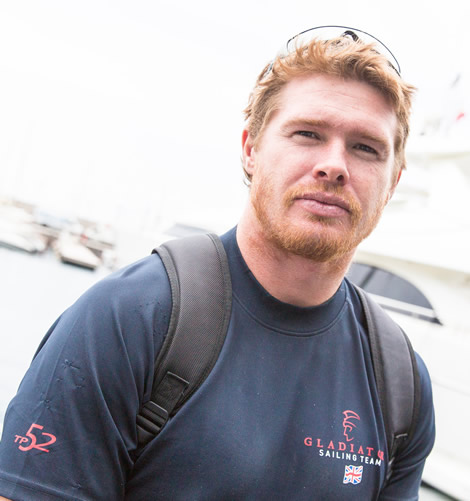 Obviously after sailing AC72s in anger for many months, any other water-borne competition is likely to seem pedestrian, however Slingsby says he's been used to making this type of transition, having moved from fast boats to slower boats, cats to monohulls, and back, for many years. "I used to swap between my Laser and my Moth pretty regularly. It takes you 20 minutes to re-adapt, but then you're off again. The AC72 is definitely a different type of sailing, but it just means you have to be looking for different things and your priorities are different: It is not as much about crew manoeuvres with staysails going up and down and jib changes, it is about being at the right place at the right time, balancing the foils, the crew working as one unit. It is different sailing but really exciting…"
Now into Oracle Team USA's defence of the 35th America's Cup, Slingsby has taken an even more key role with Larry Ellison's team, working alongside Skipper and fellow Australian, Jimmy Spithill. The management has changed slightly within the team with Russell Coutts currently fully focussed on the 35th AC 'event' and its long overdue Protocol, the minutae of which is still being hammered out with the Oatley family's Team Australia, the Challenger of Record.
Day to day running of the team is now in the hands of wise General Manager Grant Simmer and Spithill, with Slingsby now managing the sailing team. "I am scheduling our training and getting the guys we want to get and trialling a few new people. Russell's obviously busy at the moment, but when we have him with the team it is great. He comes in, and often he doesn't see everything that's been going on, but he brings an outside point of view and can set us straight, which is what he did during the last Cup."
While Oracle still has its base in San Francisco, manned by a skeleton staff, the team is currently of 'no fixed abode' and most activity within the team has recently been taking place in Sydney where the team has held two training camps in its AC45s over the last few months. This has allowed Slingsby to move back home, north of Sydney.
While Artemis Racing remains fully committed to its base in Alameda, Slingsby doesn't reckon that Oracle will be back in San Francisco until later in the year. Mostly like, once the venue for the next Cup has been decided the team will then move (or not move) to wherever that proves to be. "We'll probably move our operations there, but the sailing team moving there full time won't happen probably until sometime in 2016."
At present Oracle is up to 15 on the design team and has eight sailors signed. They are looking to get two of their AC45s foiling to start development work there, while their design team starts cranking up. "I'd say we are at 60% strength on that side. Obviously the design team, they have to start working now and getting an eye on what's going to happen with these new boats. Whereas with the sailing team, we can slowly build into it."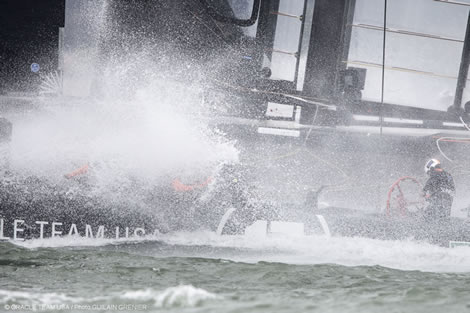 Tom Slingsby – yacht designer

In addition to running the sailing team, Slingsby has also been heavily involved in working on the rule for the new AC62 foiling cat, set to be the weapon for the 35th America's Cup. An obvious thing for a former Laser gold medallist to do...
Unusually this time around – probably due to the delay in its publication – many details of the Protocol for the 35th AC have already been revealed.
"The AC62s will be a smaller, more refined, more advanced version of the 72," states Slingsby as we start looking at the nuts and bolts of this.
Particularly significant is that while the rule for the AC72 attempted to prevent the boat from foiling, until those cunning folks at Emirates Team New Zealand found a way around it, instead the AC62 rule will promote foiling. As a result the boats will be able to foil in lower wind strengths and will be able to do so with much improved safety.
As Slingsby confirms: "We are putting in systems to promote foiling, foiling upwind in 12 knots or so, foiling downwind in 8 knots. Just with foiling upwind, it opens up a whole new element, so foiling tacks might be possible and VMG-gaining tacks. And downwind it will only get faster and faster as we learn more about foils and cavitation speeds. It is really exciting – there are so many areas we can improve and, as we saw from the last Cup, the learning curve is still extremely steep."
Specifically the big change compared to the AC72s when it comes to reliable foiling is that on the new boat, the crew will be able to adjust the rudder rake while sailing, which was prohibited last time around. "That will promote earlier flying upwind, so you can get the boat out of the water and it opens up a lot more pathways with foil tacking and things like that. No one has seen a catamaran do a foiling tack before, so it will be interesting to try and make that happen."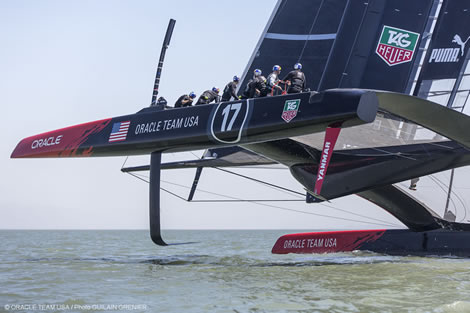 A rule that will promote foiling is also likely to mean that it will be possible for the America's Cup to be held in venues with less boisterous conditions are found in San Francisco. Obviously teams will tailor their foil packages to the wind conditions anticipated for the chosen venue.
Interestingly, Slingsby says there will also be some flexibility in the rules, allowing teams to investigate foil configurations other than J-shaped ones, of the type fitted on the AC72s and subsequently on the C-Class, SL33, GC32 and Flying Phantom foiling cats. "It became pretty uniform last time with how the foils work, so there is a little bit of tolerance in the rule so you can do some experiments and try some new things. People could try all sorts of different tips, but a lot will depend on the venue. In general if you want to fly earlier, then you'll go for a bigger foil, but that will lower your top end speed, or if you want top end speed, you go for a small foil and you'll take off a little bit later."
One issue will be over whether or not foils can protrude outboard of the hulls. For safety reasons in the AC72 rule this precluded the fitting of Moth-style T-shaped main lifting foils and was also the reason there was a requirement for the T-shaped rudder foils to be fitted inboard of each hull's centreline. Clearly if a crewman fell out of the side of the boat, their next encounter after the water could easily be with the T-foil rudder…with potentially lethal consequences. While the crew is typically aft of the main lifting foil, having these protruding outboard could result in boats locking foils when in close contact, Slingsby muses.
Given that the AC62 will be purpose-built foilers, it seems likely that they could be as fast, if not faster, than the 72s, despite being shorter and smaller. According to Slingsby they will be slightly slower than the 72 foiling upwind, while downwind they will be much the same speed. But given that there is three years of R&D to be done before the next challenger selection series and America's Cup in 2017, there is every chance the performance of the shorter boats will eclipse that of their predecessors.
The reason to go smaller is obviously mainly due to manageability, but also cost. As Slingsby observes, typically to launch the AC72 took 40 people two hours and the same number another two hours at the end of each day to retrieve it…"which was just a bit too much." In comparison the AC45s took around the same time to get in and out of the water and assemble and disassemble, but for only for seven or eight people. "With the 62s, the way it is going to be set up it will be closer to the 45 than the 72, so maybe 15-20 to launch the boat and hopefully it will be quicker than two hours as well. Maybe an hour and 15 people is the goal."
The major headache with operating the AC72s was stepping and unstepping the wing, although shore teams became very adept at this with clever removable water ballast systems to keep the bottom end of thing from blowing away when it was breezy. According to Slingsby, getting rid of the wings was discussed for the new boats, but their nightmare handling was felt to be a price worth paying for what has become the catamaran's principle billboard. "And they are so efficient. The America's Cup is the Formula 1 of sailing, so you have to have the best boats and be right up there with the technology and that is what the wings are."
In part two Slingsby discusses the nationality rule to be introduced as well as more thorny subjects such as the limitations on challengers and how Oracle will be allowed to build two boats...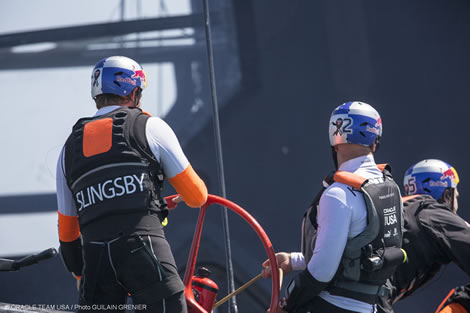 Back to top
Back to top