Brazilian newbies claim debut race
While the Barclays 52 Super Series' newest owner, Brazil's Eduardo de Souza Ramos may have been the owner-driver wearing the biggest smile around Capri's Marina Grande this evening after he and his Phoenix team won their first ever race - Day 1 Race 1 of this year's four regatta circuit - it is Quantum Racing which tops the 52 fleet on Rolex Capri Sailing Week's standings by scoring a fourth and first from today's light airs races.
De Souza Ramos, a past Star Olympian who last raced in Capri in 1986, nailed a perfect start and he and his brand new Botin-designed 52 were able to lead around the first windward mark of the season with a slender lead over Quantum Racing and Azzurra, which had both slightly overstood due to their brinksmanship to control the left side of the course.
On the first run the second and third placed duo traded simultaneous gybes which allowed Rán Racing through to second.
Quantum Racing's Terry Hutchinson, ever the perfectionist, blamed a few seconds of jet lag induced tardiness to dull his decision making on the first two legs, contributing factors to their fourth in Race 1, but the upwind-downwind track in the light seven to nine knots breeze, placed a big premium on starting well.
Any compromises made off the start line made it hard to find passing lanes. Indeed the brightest stars of Race 1 struggled in Race 2, Phoenix plummeting back to a hard reality with a bump in seventh and Niklas Zennström's Rán Racing finished eighth.
Appropriately Quantum Racing was probably the best starters on this opening day, Matt Cassidy doing a great job on the bow as stand-in for injured Greg Gendell, working well with skipper-helm Ed Baird.
Quantum's second start was a peach, executing at the pin end of the line to earn the preferred left side of the course. She was forward of the pack early to challenge for the pin, Baird brought the bow down and accelerated hard to pressurise Gladiator. The resulting slingshot effect gave Quantum Racing a crucial early jump. To be fair the US team felt the hot breath of Vesper, formerly the 2008 generation Quantum Racing, on the first beat, but they were able to extend with Jim Swartz's Vesper crew - competing at its first Barclays 52 Super Series regatta ever- taking second across the line.
Terry Hutchinson commented: "The first race (fourth place) was a bit of a disappointment Ed [Baird] and the guys did some great work with two cracking starts, really, really nice. The first beat of the first race we finally got up to Phoenix and they tacked away and we went another 30 seconds and that was basically it, we overstood on the beat and speaking to my counterpart on Azzurra and he said we should have gone straight away and he is right, we should have gone. But we didn't and we got around the top mark second and again a bit of jet lag, we did not play the first run properly. Azzurra did a nice gybe and rolled us and Ran got us both but we bounced back and won the next one which was good.
"Ed and Matty gave us a really nice second start. We wanted the leeward spot, but Gladiator was there and Ed forced them into a compromise position, they were downspeed to own the spot. We sailed all the way down to them, sheeted on nicely, rolled over them and got a slingshot out of it. And I tell you the old 2008 Vesper was hanging tough for a while, she goes well in that flat water. She had us pinned for a while. Azzurra tacked away, we tacked and they tacked and we put the bow down and got away from them and that was enough. It was good to bounce back. I am kicking myself for the first one, with hindsight it should have been third at least."
Gavin Brady tactician on Vesper added: "It is the first time we have been part of the Barclays 52 Super Series and we had some fun with the breeze, it was a bit of a one way course and so it really came down to the starts and our owner Jim Swartz did a great job getting off the line in the second race, getting second and so that is a huge up from where we were racing in Miami where we were struggling a bit at times.
"I think the flat water here makes a bit of difference and a bit of current is changing a lot. It makes Capri a pretty special place to sail. It was a cool race track with a lot going on. There were passing lanes, shifts current and then you come ashore to one of the best venues in the world to be in Capri at this time of year.
"It was good to be pushing Quantum Racing, they are a class act, they are fast and so you have to be sailing well to be close to them. They are the benchmark and to be near them is good. They sail so smooth, they did not leave any passing lanes out there. We tried to get to their left hand side a few times but they were not letting us. And there are always little battles going on in the fleet. I guess they are watching Azzurra and Rán Racing a little bit and those little gaps open up as they forget about us."
With nine boats racing here in Capri, representing seven nations, the fleet is certainly as tough and even as it has been in Europe for four years at least. De Souza Ramos was predictably delighted to win his debut race, but he is old enough and wise enough to know that theirs will be a steep learning curve.
The owner-driver of Phoenix commented: "It was such a fantastic experience. I never thought it would ever be like that, for it to be possible. But we made a very good start and got in a good position. We had a gift and I was so happy. It is an experience I am never going to forget. The conditions were very similar to the Star worlds when I was here so many, many years ago. It is light airs between seven and nine knots it was sunny and so nice. I sailed here in 1986. The Caprese salads here are so good and the views spectacular. But the second race was a return to a reality. It was the very opposite. We made a bad start and it was necessary to make three or four starts on the first leg. The course does not give you to many options. But it was still nice to arrive close with other boats and it was still very good, we learned a lot."
Results
Quantum Racing, USA, (Doug DeVos USA) (4,1) 5pts
Azzurra, ITA, (Alberto Roemmers ARG) (3,3) 6pts
Vesper, USA, (Jim Swartz USA) (5,2) 7pts
Phoenix, BRA, (Eduardo de Souza Ramos BRA) (1,7) 8pts
Rán Racing, SWE, (Niklas Zennström SWE) (2,8) 10pts
Provezza 7, TUR, (Ergin Imre TUR) (6,4) 10pts
Paprec Recyclage, FRA, (Jean Luc Petithuguenin FRA) (7,5) 12pts
Gladiator, GBR, (Tony Langley GBR) (9,6) 15pts
B2, ITA, (Michele Galli ITA) (8,9) 17pts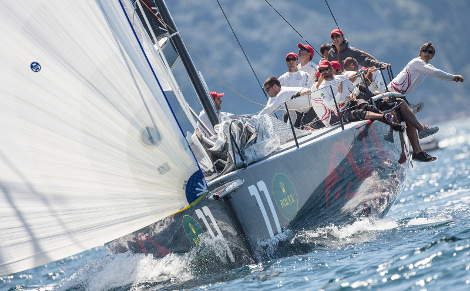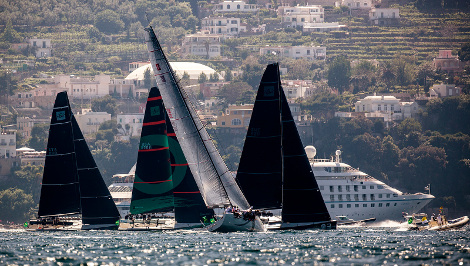 Back to top
Back to top