Crunch time for Alinghi
On the final day of racing at the Land Rover Extreme Sailing Series in Qingdao, the Olympic sailing city lived up to its reputation as a notorious and unpredictable racecourse.
Racing today saw one of the biggest crashes in the Extreme Sailing Series' eight-year history, when Red Bull Sailing Team T-boned Alinghi knocking the Swiss out of racing. However this wasn't enough to stop the Alinghi team of Morgan Larson, Anna Tunnicliffe, Nils Frei, Pierre-Yves Jorand and Yves Detrey, who took victory despite watching the final races from the dock, after the international jury awarded the Swiss boat redress, much to helmsman Larson's relief.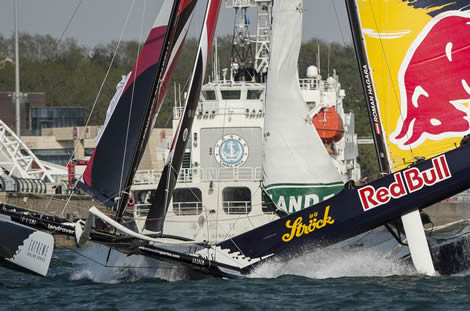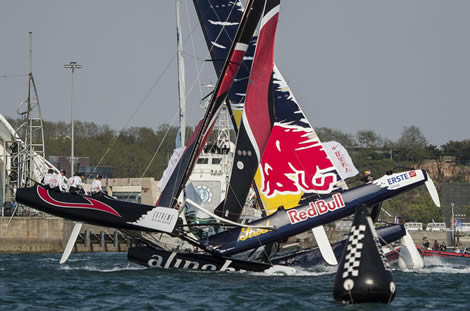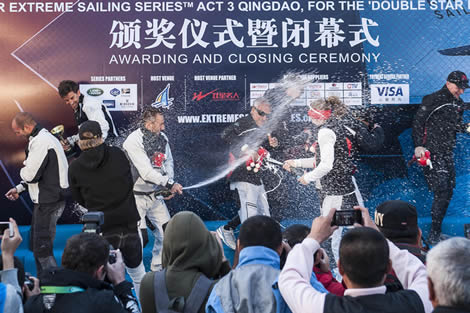 Larson explained the incident: "We were lining up at the start, and approaching the line with ten seconds to go and most of the fleet was on port. Red Bull ducked behind us, the winds were shifty and up and down, there was too much of a puff and they couldn't get the bear away and T-boned us – it happens. It's great to have won, we had such a great regatta that it was bittersweet to end that way, but I think we earned it so it feels good. We're just glad that no one was hurt and that the boat is repairable – it will take a week in a good boat yard, but it will be back and ready to race."
A change in race format saw the fleet race in groups of six for safety reasons as the wind was gusting up to 25 knots.
Realteam has been the model of consistency this week, staying out of trouble and keeping its nose clean to take a well deserved second place. Skipper Jérome Clerc was beaming with confidence after racing, as he looked ahead to the rest of the season: "It's a great result – it's our best result since starting in the Extreme Sailing Series. The team was strong from the beginning of the event and we finished very well in these crazy conditions! We sailed the boat well, had good boat handling, good starts and we finished well. We have some stuff to improve on, we need to look to beat Alinghi who have taken the lead over everybody, and we want to reach the podium again."
The young guns on Emirates Team New Zealand have kept in touch with the top of the leaderboard all week, and Peter Burling, who took over the helm from Dean Barker in Qingdao, kept a cool head today to hold off the defending Series champions The Wave, Muscat to take third place – the Kiwis now positioned nicely to topple the old order on the overall Series leaderboard.
Burling commented: "We're pretty stoked to get on the podium. I think going into today there was a bit of a battle between three of us to get into second position, and I suppose there's a little disappointment that we couldn't get there. Coming into the start of the week we would have been pretty happy getting a third, so as the week goes on you seem to up your expectations – but overall we're really happy to come away with a podium and keep in contact with the top guys on the overall Series rankings."
By most teams standards, a fourth place in a fleet of this calibre would be cause for celebration, but Leigh McMillan and The Wave, Muscat, who have been a dominate force in the class for the last two seasons, were left feeling despondent after missing out on the podium by just one point – the first time since Singapore in 2013 when the team haven't been on the podium. The pressure is now on McMillan when the fleet head to Russia, with Alinghi now two points ahead on the overall Series leaderboard.
Gazprom Team Russia has been steadily improving, and today mastered the challenging conditions and bigger gusts with ease, enabling them to pick up another place on the leaderboard to finish in fifth place. British helmsman Paul Campbell-James commented: "We took opportunities when they arose and we are still banging in second and thirds so it gives us confidence moving forward. It's a nice position to be in and with Russia being the next event, being the home team it will be very exciting, and hopefully it won't take us three days to warm up! Bring on St Petersburg."
The battle mid-leaderboard was fierce, with Oman Air leading the second half of the pack to wrap up the week in sixth place, despite missing the first day's racing after a collision with GAC Pindar. In recognition of their effort get the boat back on the water, and their expertise in boat building, the Oman Air shore team became the first recipients of the Land Rover Above and Beyond Award this week, demonstrating a fine example of skill and sportsmanship.
Today Ben Ainslie and his crew showed the gold medal winning form that they have struggled to find this week, with two race wins for the British crew, who between them boast six gold medals, upgrading their position to seventh overall. Looking back on the week, and ahead to the rest of the season, Ainslie commented: "Every day there has been a completely new set of conditions to race in, the wind was always slightly different which made it a real challenge for all the teams. It is intense racing with the short races and courses and we are working together to master the style of racing. Overall this event we had some good days and some not so good days, today was obviously a really good day for us. We feel like we are slowly making gains and moving forward, which is what we want to do to be in the top half of the fleet at the end of the season."
Arguably the best offshore sailor in the world right now, Franck Cammas, showed great form at the first two events of the Series in Singapore and Oman, but couldn't replicate that this week in Qingdao, his Groupama Sailing Team finishing the regatta in eighth place, just one point behind J.P. Morgan BAR.
It was a tough end for the Austrians on Red Bull Sailing Team too, and after knocking themselves out of racing following today's collision, the team had to settle for ninth place. SAP Extreme Sailing Team also struggled to master the tricky and challenging Qingdao racecourse this week, and never really got out of the starting blocks, finishing one point behind the Austrians in tenth place, while David Gilmour the young Aussie team on GAC Pindar had a baptism of fire in their first full event racing together as a team to fill the bottom spot.
The local boat Team Extreme Qingdao more than earned its Extreme 40 stripes this week, drawing in the home crowds and impressing, particularly on the opening day, where they held third place, and skipper Mitch Booth was pleased with his teams performance: "The crew did a really great job considering we had limited training together. They were really mixing it up until the end, so we're pretty happy with our result although we were in the middle of the fleet for most of the regatta, we finished down the back end – but still not out of reach. So all in all we're very pleased with guys performance this week."
Next stop for the Extreme Sailing Series is St Petersburg, Russia over 26-29 June.
Results

1st Alinghi (SUI) Morgan Larson, Anna Tunnicliffe, Pierre-Yves Jorand, Nils Frei, Yves Detrey 178 points.
2nd Realteam by Realstone (SUI) Jérôme Clerc, Arnaud Psarofaghis, Denis Girardet, Bryan Mettraux, Thierry Wassem 168 points.
3rd Emirates Team New Zealand (NZL) Peter Burling, Glenn Ashby, Blair Tuke, Jeremy Lomas, Edwin Delaat 160 points.
4th The Wave, Muscat (OMA) Leigh McMillan, Sarah Ayton, Pete Greenhalgh, Kinley Fowler, Nasser Al Mashari 159 points.
5th Gazprom Team Russia (RUS) Igor Lisovenko, Paul Campbell-James, Alister Richardson, Pete Cumming, Aleksey Kulakov 140 points.
6th Oman Air (OMA) Rob Greenhalgh, Tom Johnson, Kyle Langford, Hashim Al Rashdi, Musab Al Hadi 133 points.
7th J.P. Morgan BAR (GBR) Ben Ainslie, Nick Hutton, Paul Goodison, Pippa Wilson, Matt Cornwell 129 points.
8th Groupama sailing team (FRA) Franck Cammas, Sophie de Turckheim, Tanguy Cariou, Thierry Fouchier, Devan Le Bihan 128 points.
9th Red Bull Sailing Team (AUT) Roman Hagara, Hans-Peter Steinacher, Mark Bulkeley, Nick Blackman, Stewart Dodson 126 points.
10th SAP Extreme Sailing Team (DEN) Jes Gram-Hansen, Rasmus Køstner, Thierry Douillard, Peter Wibroe, Nicolai Sehested 125 points.
11th Team Extreme Qingdao (CHN) Mitch Booth, Zhang Yiran, Liu Xue, Nick Moloney, Freddie White 111 points.
12th GAC Pindar (AUS) David Gilmour, Troy Tindill, Ed Smyth, Sam Newton, Alexandra South 98 points.
Extreme Sailing Series 2014 overall standings
1st Alinghi (SUI) 28 points.
2nd The Wave, Muscat (OMA) 26 points.
3rd Emirates Team New Zealand (NZL) 24 points.
4th Realteam by Realstone (SUI) 22 points.
5th Gazprom Team Russia (RUS) 15 points.
6th Groupama sailing team (FRA) 12 points.
7th Red Bull Sailing Team (AUT) 11 points.
8th J.P. Morgan BAR (GBR) 10 points.
9th SAP Extreme Sailing Team (DEN) 9 points.
10th Oman Air (OMA) 8 points.
11th GAC Pindar (AUS) 3 points.
Back to top
Back to top