Latest hardware at Gaastra PalmaVela
Big boat racing in the Mediterranean formally gets underway tomorrow with the start of Gaastra Palmavela. Traditionally the event provides an excellent showcase for the latest hardware and perhaps a sign of the rest of Europe climbing out of recession, there is a considerable amount on display.
Among the grand prix race boats, star of the show is certainly Niklas Zennström's brand new Rán, the former Skype boss' second Mini Maxi.
The 72 footer – which is a proper 72 footer this time (the last one was 40mm short according to skipper Tim Powell) – is another creation by Judel-Vrolijk, but this time built by Persico in Italy. We'll be covering her in depth next week but, needless to say, she is immaculate and has some unusual features such as a VO65-style chamfer gunnel from her bow back to the chainplates, an in-line spreader rig like Bella Mente and what must be the world's biggest tiller.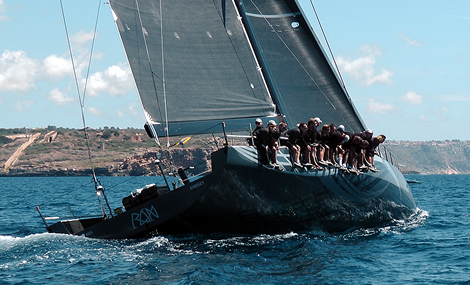 However the new Rán will face stiff competition from other older and more developed 72 footers including her predecessor, now Italian Roberto Tomasini Grinover's Robertissima, Sir Peter Ogden's new Jethou (previously Stig, but now all-black) and the only non-Judel Vrolijk boat in this line-up, the Mark Mills design launched last year, Andres Soriano's Alegre (read chapter and verse about her here).
According to Alegre's Project Manager Olly Cameron, over the winter Alegre has been back at her base (the former Victory Challenge HQ in Valencia) undergoing some modifications, particularly focussing on righting moment and sail area. "There have been a few changes to the IRC rule, which has led to pretty much all of the Mini Maxis, to change their keels and bulbs and righting moments.
"IRC is trying to calculate the ratio of bulb weight to displacement, but that leads to other problems because it is something that can't be easily check measured, so the people who decided to bring that in have put the measurers into a hard spot."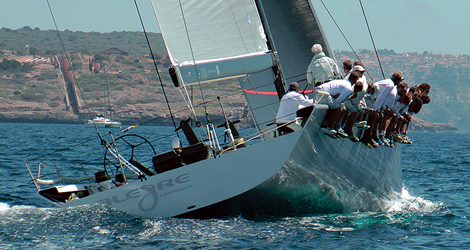 In preparation for Gaastra PalmaVela the team has spent two weeks training in Valencia with both their Mini Maxi and the Alegre Soto 40 which they are also campaigning this season. With the Mini Maxi they are competing in the Rolex Giraglia Cup, the Maxi Yacht Rolex Cup and the Middle Sea Race, while with the Soto 40 they are building up to the Soto 40 Worlds which is taking place alongside the ORCi Europeans, in Valencia over the first week of July.
As to his first impression of the new Rán, Cameron says: "From what we have seen so far she is there, on the pace. I guess they have got a long way to go yet. They are certainly not sailing away from anyone. We don't feel we are weak against them in anything. And the Jethou guys will start picking up and will be there or thereabout. We are going to see some really close racing, which is really really good."
Gaastra Palmavela is also the first outing for Sir Peter Ogden's new Jethou, which once again follows the sexy, but foot burning all-black theme of their previous Judel-Vrolijk 60.
"It is very good. I only went on it for the first time three or four days ago, so we're on a new learning curve, slowly improving things and getting better at it. But it is really good fun – a really nice boat, although there's not many mod cons on board," says Ogden, nuzzling a cup of tea gratefully.
As to it being a 12ft step up from the previous Jethou, the Computacenter founder says the new boat actually doesn't feel that different. "Obviously it is more powerful. There's been a lot of work done on the winter on it and it is going to take us three or four regattas at least before we get up to speed. It took us a year and a half to get the previous boat up to speed." The previous Jethou is now up for sale.
Ogden is impressed with the ever increasing competition in the Mini Maxi fleet. "You've got Niklas [Zennstrom] who is always on board and who is obviously very good. Then there's his old boat which has been optimised, so that is still the fastest of all the boats at the moment. Alegre – they've been sailing their boat for about a year. So there is strong competition, but there always has been in this fleet. Then there's Bella Mente and Shockwave will be here and there's a couple more boats in build – it's a really good class."
Over the winter the new Jethou (the former Stig Judel Vrolijk 72) has been undergoing a transformation in Palma and the major operation has been moving the jib tracks forward. "You couldn't really sheet the sails properly around the rig," explains boat captain, Stuart Branson. In moving it forwards they got rid of the existing structure supporting the track and instead structurally tied it in with the mast bulkhead.
"Then we painted it black and put the Jethou stamp on it, as well as ripping everything out, servicing everything, sending stuff back to Cariboni, John Williams was heavily involved sorting out the hydraulics and Tobias [Hochreutener] has been in charge of developing the furling cables and furlers. We're now using the Extreme series of furlers from KZ. We looked at every area of the boats and serviced and improved it."
Like Alegre they also spent time attempting to reoptimise the boat's IRC rating in terms of stability and bulb weight versus displacement following what are believed to have been changes in the rule. "We've pinned the boat on where we wanted it to be and we've come out of within a point of that," says Branson.
North Sails' Dave Lenz and Henrik Søderlund have been in charge of the sail wardrobe, as they did for the previous Jethou. "We have actually recut a lot of the original sails and the mainsail wasn't too bad and we've come here with a couple of new jibs," says Branson. "It is all basically development – we're trying to move forwards for the Worlds. When we go to Capri and do coastal sailing we'll go back to recut sails."
Scaling up to the bigger boat they have also had to expand the crew, but only by two. For this Jethou's tactician Brad Butterworth has got out his black boat and recruited veteran American ex-Alinghi pitman Josh Belsky and ex-Telefonica bowman Zane Gills. Otherwise, Branson says, it is still the same old team, including many crew who have been sailing with Jethou for the last 14 years. "We sail together, we eat together and drink together."
As to the Mini Maxi class generally at the moment, Branson concludes: "It is great, particularly for an early season regatta. Obviously you have got Rán working up their boat and going down a different avenue compared to the generation that we are and their old boat – they're now more like the TP Azzurra. The oldRan was the benchmark boat and it is still very quick. So I think it is a great standard: Roll on Copa del Rey and the Maxi Worlds when there will be 3-4 more boats."

There is also news from the Wally class where the WallyCento that was formerly Sir Charles Dunstone's Hamilton is now being campaigned by her new German owner, former banker and Bugatti Chairman, Thomas Bscher after being acquired for a 'very competitive price' just two months ago. The previous Open Season, a Wally 94 has now been sold to a Wally 80 owner.
Since moving into the hands of her latest owner, the new Open Season has apparently been undergoing some serious re-measurement. Her crew for PalmaVela includes Canadian double Olympic Star medallist Ross MacDonald and IMOCA 60 skipper Bubi Sansó.
Going from a shaky period around the time of the Maxi Yacht Rolex Cup last September, the WallyCento class is now looking considerably more buoyant with Bscher's plans to line his new boat up against Sir Lindsay Owen-Jones' Magic Carpet 3 over the course this season. These two are set to be joined by a third WallyCento, a Reichel-Pugh design in build at Green Marine, for an American owner due to be launched in June 2015.
"There is life in it," agrees Magic Carpet's skipper, Danny Gallichan, of the WallyCento class. "Open Season seems to be going well and it looks like we have a good fleet of boats here and for the rest of the year." At Gaastra Palmavela there is a record fleet of nine Wallys competing.
Over the winter with the boat based in Cogolin, work has been carried to improve Magic Carpet 3 as a cruising boat, including reducing engine noise, without adding extra weight, while they have also been developing the hydraulics to improve the control over the speed of their winches. The crew has been in Palma training for the last five days.
Aside from the 100 footers, the Wally fleet has been joined once again by the still impressive looking Angel Share, originally the Wally 130, notable for her giant bulwalks. Over recent years the boat has been kept in northern Europe and the Caribbean but has now returned to the Med. She is the biggest Wally competing at Gaastra PalmaVela.
After PalmaVela, the Wallys are set to compete at the Menorca Maxi Cup in Mahón, the Maxi Yacht Rolex Cup in Porto Cervo and finally at Les Voiles de Saint Tropez.
Racing kicks off for the two big boat fleets tomorrow with two windward-leewards, with the first warning signal at 12:00 local.
Other new hardware at Gaastra PalmaVela includes the Carkeek 47 Platoon for former TP52 owner Harm Müller Spreer and the latest Botin Partners TP52 Phoenix, being campaigned by a Brazilian crew led by former Brazilian Olympic Star sailor Eduardo Ramos de Souza.
More photos from Jesus Renedo/www.sailingstock.com
Back to top
Back to top