Fresh faces at the top
Newcomers are causing a mix-up in the RC44 fleet, including a change of leader going into the final day of racing at the RC44 Cascais Cup.
Conditions took on a decidedly different flavour for day three of fleet racing off Cascais with the sunshine giving way to a more Atlantic-like overcast sky and intermittent rain, as a warm front passed over the west coast of Portugal. As a result it was a particularly hard day for the tacticians, while the owner drivers once again found themselves wrestling their boats downwind in the large swell.
For the second day running it was Vladimir Prosikhin's Team Nika that shone, her 6-2-1 scoreline the most consistently good across the 12 boat fleet.
With a smile, Prosikhin paid tribute to his crew's new American tactician, Farr 40 and TP52 World Champion Terry Hutchinson: "I am really happy. It is nice to have our team brought together and to be very very solid, unlike before. The reason for this is obvious: we have a General on board! It is like a battleship, there is no democracy, there are no talks! But everyone is still willing to do his best, just at the top of what he can deliver. It is very nice to see guys happy and so active. And our boat speed was very good today."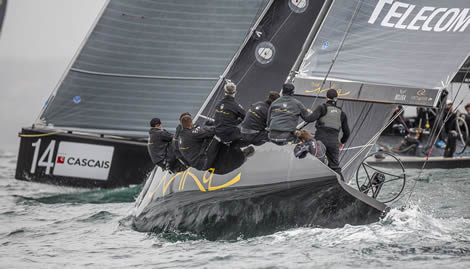 If the crew hang on to its present position Team Nika is in line to score its first ever victory at an RC44 regatta tomorrow. However Peninsula Petroleum lies just two points astern and at least two more boats remain in contention, including well known comeback kids, Team Aqua. Chris Bake's crew has been sailing solidly, if not exceptionally, all week and currently lies fourth, a very redeemable 10 points off the lead.
"We'll keep rolling," Prosikhin said looking forward to Sunday. "So far there's nothing wrong with the boat and nothing wrong with the crew. We feel pressure, yes, but not the pressure you feel when you are depressed and behind and you cannot perform better and you don't know what to do. We know what to do – we'll just continue!"
After an exemplary first two days, John Bassadone's Peninsula Petroleum came out of the blocks well winning the first race, partly thanks to a lucky shift coming into the weather mark for the first time. With this they extended their overall lead to eight points. Unfortunately with a ninth place in race two, this evaporated. Bassadone admitted they had thrown it away. "Our first run wasn't great, but the second one was where we went from third to 10th. None of us were happy about that. Maybe fourth or fifth would have been a fair result, but that is what happens if you take your foot off the pedal for one second in this class."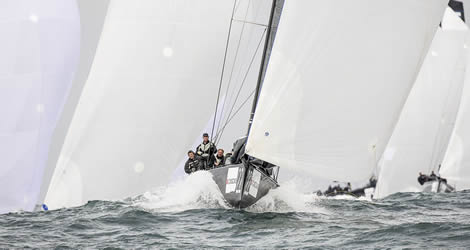 Peninsula Petroleum redeemed itself partially with a fourth in the final race. "That puts us in a decent position for tomorrow - we are pretty happy with that," concluded Bassadone. "Nika sailed better than us and is well overdue a good result, because they are a very good team and, with Terry [Hutchinson] on board, they seem to be sailing very, very well."
Today's other big climber was RC44 first timer Nico Poons and his Charisma crew. Starting the day in sixth place, 10 points off the lead, the Dutch team posted a 7-1-3 to elevate itself to third, nine points off first.
Poons admitted surprise at how well his team is doing on its RC44 debut "...especially with a rental boat. Obviously it is a good boat, otherwise we wouldn't perform that well." (They are sailing the Puerto Calero RC44). Around half his crew has emigrated from the Charisma Farr 40, but there are some new additions, in particular his Australian tactician, London 2012 Laser gold medallist and Oracle Team USA strategist Tom Slingsby. As Poons wryly described their relationship: "With results like that – you can't dislike him!"
Slingsby explained why conditions off Cascais were so tricky today. "There were storm fronts coming through and rain clouds and big shifts, but we managed to get through them pretty well."
In race two, which Charisma won, they had been over early, but Slingsby said they had seen a big rain cloud coming over. They tacking onto port and went furthest right, nosing out ahead at the weather mark. "We got the perfect layline from a mile away and no one tacked on us the whole way in – a bit of luck never hurts."
Slingsby had expected a mid-fleet result here in Cascais and is pleased with Charisma's first RC44 performance. "Every day we are getting better. Scoring 10 points a day is going to put you up there in any fleet in the world. We have lucked out a few times but we've sailed well in certain parts and we are in the hunt."
The final day of fleet racing is scheduled to start tomorrow at 11.30 local time (10.30 UTC).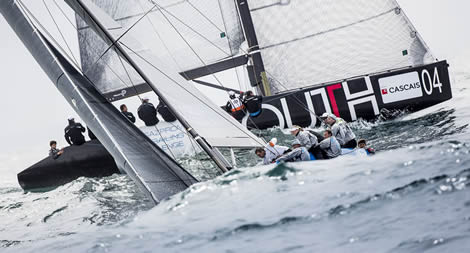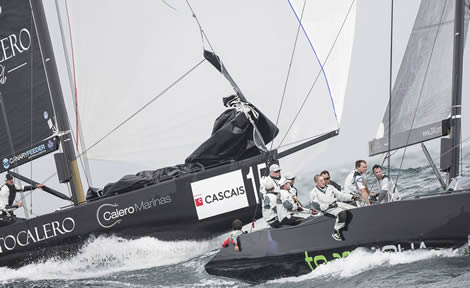 Back to top
Back to top