Nika fantastic!
If day one of fleet racing at the RC44 Cascais Cup belonged to John Bassadone's Peninsula Petroleum, on day two it was the turn of Russian skipper Vladimir Prosikhin's Team Nika.
In breeze that was considerably lighter than yesterday, another three races were held on the Atlantic waters off Lisbon, with Nika putting in a 5-3-1. This, plus today's last race victory being their second of this regatta, was enough to elevate them from fifth to second place, now just three points behind overall leader, Peninsula Petroleum.
"5-3-1 - the order matters, as we're climbing up, so I'm happy," beamed Prosikhin. "We had no presents from the weather, like nice wind shifts. It was hard work all the time, but we made no big mistakes. We made some bad tacks in the last race but we won that. We were doing well today."
Prosikhin said that the difference today compared to yesterday was that conditions had abated, but even so you had to change mode during the day - including boat set-up and helming style - as the wind increased from 8 knots to 14-15 for the last race.
Nika is currently in her highest position ever at an RC44 fleet racing regatta, the difference apparently the effect the team's new American tactician Terry Hutchinson is having. According to Prosikhin, Hutchinson has a unique style: "I consider Italian tactics on board to be emotional while Anglo-Saxon tactics are rational. With Terry we get both! But I like it this way. I always get something sweet from it, even when I make mistakes. He is tough, but encouraging."
Hutchinson felt that Team Nika had shown good boat speed today and he, Prosikhin and the team had made two and a half good starts, despite running into MAG Racing's transom in the first race. In the second race they started well and with the breeze going heavily right, it finally came good for them at the end of the first beat and they came home third, despite holing their spinnaker on the final run, causing the kite to explode 50m shy of the finish line
In the final race they won the committee boat end of the start line, built speed, tacked right and never looked back. According to Hutchinson, the right seems to be paying later in the day because the proximity to land caused a favourable shift to be found there.
A new American tactician to the fleet also featured in today's first race win, when Andrea Pozzi's Bombarda prevailed, featuring Oracle Team USA's John Kostecki. "We made a good start, which was very fast and John sent us to the right and it was good. Every race we were very fast and we were in a good position," summarised Pozzi, whose team is only sailing its second ever RC44 regatta, but now lies fifth. Originally a motor racing driver, Pozzi previously competed in the Melges 32 class but graduated up to the RC44, which he says is the top racing boat class, short of the America's Cup.
Another Russian team having a strong day was Bronenosec, which after a disappointing performance yesterday, posted a 3-1-9 today, the second strongest across the fleet, elevating them from last position to ninth.
Bronenosec is skippered by Commodore of the St Petersburg Yacht Club, Vladimir Liubomirov, and has Italian America's Cup veteran Michele Ivaldi as tactician. Bronenosec, in case you're wondering, is the Russian name for a pre-World War One battleship, like the Potemkin.
"We had a good day, especially compared to yesterday," said Liubomirov. "We improved a lot and I am really happy: Conditions were not as difficult as yesterday and yesterday we learned our lessons."
Their win in race two, as was the case with Bombarda in race one, involved the Russian crew making the best of the right.
Also on the ascent is Artemis Racing, skippered by Torbjörn Törnqvist, which scored a 6-2-3 today, a vast improvement over the Swedish team's scoreline on Thursday.
"We were going pretty well which helped a lot – it makes my job easy when we are going fast," commented tactician Iain Percy. "We were over on the first start, but we had good speed in slightly easier conditions and the boat was well set up and we were the same speed, if not better, than most."
Percy has been racing the RC44s for the best part of a year. "It is a fun boat and it's really good here. The standard is now up another jump as a lot of people have come from the Cup, but at the pace of the owners as well. It is fun racing, the boat is tweaky and you have got to be quick. It is proper sail boat racing."
Despite Cup duties, Percy and Törnqvist will be continuing with their RC44 throughout the year, which Percy views as a pleasant distraction from the AC, as well as providing an opportunity to catch up with his Team Principal.
Day three of fleet racing continues tomorrow with the first warning signal scheduled for 11.30.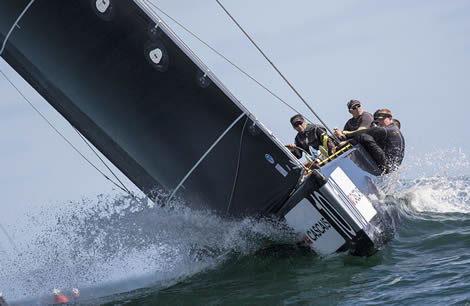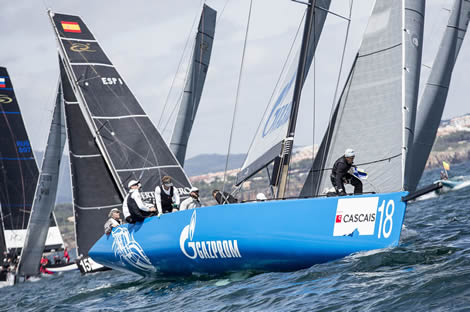 Back to top
Back to top