Espada the star performer
Spring was definitely in the air for the opening day of racing at the RORC Easter Challenge, with a warm sun, but a chilly, very shifty northeasterly blowing off the mainland shore at Lee on Solent.
For many teams the RORC Easter Challenge is their first regatta of the year, a chance to blow off the winter cobwebs and to get both boat and crew back up to speed. To assist in this process, the event is unique in the RORC calendar for being a training regatta where on hand to offer advice is a giant coaching team led by Jim Saltonstall, Barry Dunning and RORC CEO Eddie Warden Owen, this year supplemented for the first time by the North U Regatta Services team, which has flown in from the USA especially.
Today two races were laid on for the four classes by the event's new PRO, well known yachtsman and former Olympic sailor, Stuart Childerley.
In IRC One, James Gair's Cowes Race School team on their Mills 39, Zero II claimed the first race while Michael Bartholomew's new turbo-charged GP42 Tokoloshe II claimed the second, but now lies seventh overall after she was forced to retire the first race after an ugly incident that saw her run over her spinnaker. Overall, tied on points for the lead, are Jeffrey Blue's Farr 45 Expresso Martini and Antix, the familiar Irish Ker 39 of former Brewin Dolphin Commodores' Cup winner, Anthony O'Leary.
The RORC Easter Challenge is Antix's second outing this year. "It was good fun today – very shifty. It was great to be out sailing in Easter weather where we aren't frozen," said O'Leary, who is this year hoping to repeat the Irish Commodores' Cup success of 2010. In anticipation of this he has returned his silver Ker 39 to her original 2010 configuration with a heavier bulb. "She should have been left well alone, but if you don't experiment, you don't find out. And she is going fine now," O'Leary admitted.
Another former Brewin Dolphin Commodores' Cup competitor making use of the RORC Easter Challenge is German Christopher Opielok, campaigning his latest yacht, Rockall IV, a Corby 38, formerly Colm Barrington's Gloves Off. "It was a brilliant day – lots of sun, very shifty but it was really good racing," said Opielok, who ended the day fifth in IRC One with a consistent 5-5.
Three quite dissimilar boats are on equal points at the top of IRC Two with James Neville's Corby 36 Ino, Simon Henning's Mumm 36 Alice and Cornel Riklin's J/111 Jitterbug all on five.
In IRC Three the sole French entry, Benoit D'Halluin's A-35 Dunkerque Plaisance-Gill Racing Team holds a slender one point lead over Mark Devereux's Ker 32 Raygun, in turn tied on points with David Franks' JPK 10.10 Strait Dealer and Iain Kirkpatrick's X-37 Fatjax.
The biggest lead across the four classes is that of Louise Morton's Bruce Farr-designed Quarter Tonner Espada, which with a 2-1 scoreline today lies four points ahead of Peter Scholfield's HOD 35 Zarafa.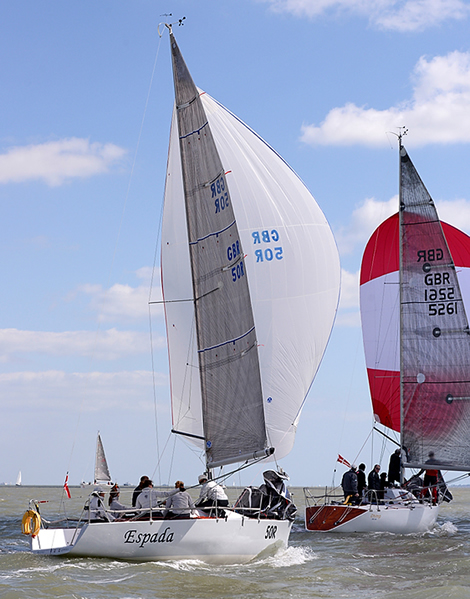 Morton praised her crew including former 420 World Champion Annabel Vose, who is calling tactics. Now 19, Vose first sailed with Morton when she was just 13. "When it is all flukey out of the north, she loves it and her course management is amazing," says Morton, adding that with the exception of Nick Butt, the only male on board, her crew at the Easter Challenge all sailed with her last year.
"Today it was all about which way you went because it was so shifty with the wind off the north shore. Plus there was a strong tide and we hit a mark in the first race."
According to Morton, the Espada crew was able to make use of the coaching on hand with one of the North Sails experts advising about which jib sheet lead they should use.
In Class Four there was a surprise winner of the first race, when Giovanni Belgrano's Whooper knocked Espada into second.
Belgrano explained: "We went the right way and no one else did. We thought with the leebow to stay uptide and we don't like to do too many tacks because it is too hard."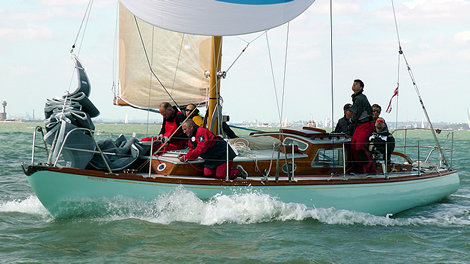 Belgrano is well known in elite racing circles and for the last nine years via his company Pure Design & Engineering has been carrying out engineering duties for Emirates Team New Zealand, including work on their state of the art foiling AC72 catamaran that lined up against Oracle Team USA in last year's America's Cup.
In stark contrast, Whooper is by far the oldest boat in the RORC Easter Challenge fleet, a Laurent Giles design built by Woodnutts in Bembridge and launched in 1939. "She is a lot of fun. She is 75 years old and I've had her for 20 years." says Belgrano, who has recently moved back to the Isle of Wight and is planning a 'big campaign' this year with his boat. "In the right conditions she does okay. She sails exactly like a Quarter Tonner, except if it is light and upwind they are way better and if it is reaching and windy, we are way better, so there is a massive weather and course dependence."
Four races are scheduled for tomorrow at the RORC Easter Challenge with the first warning signal at 0955.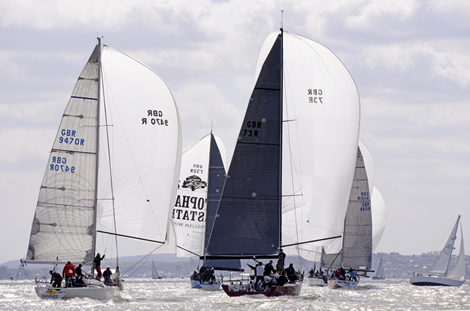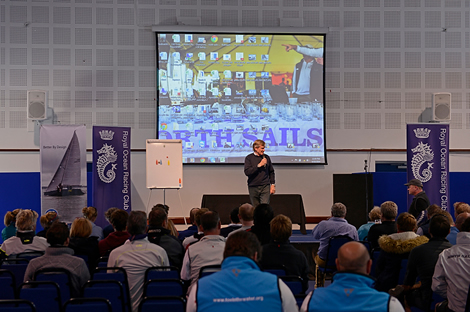 From ourselves...

Back to top
Back to top