Winners decided
Sunday March 9th 2014, Author:
James Boyd
, Location: none selected
In one of the closest concluding days in the long history of the St Maarten Heineken Regatta, 20 division winners in a fleet of 210 boats were crowned this afternoon. The winners represented a wide cross-section of international sailors who saved their very best for the last day of racing Marigot to Simpson Bay.

For a day with so much riding on the event's last race, it proved to be an especially challenging one for the race committee as well as the racers. After two days of solid breeze and outstanding sailing conditions, Sunday dawned with gentle, shifty and patchy winds of 6-8 knots or less, accompanied by cloudy, squally skies. It would be a day that rewarded light-air sailing skills and the ability to find wind and capitalise on the persistent shifts.

On the Class A circle, the race committee used three of the possible four courses available to them, sending the big boats in CSA1 and CSA2, and Multihull1 and Multihull2, on a 23 nautical-mile race that took them on a long windward leg up the Anguilla Channel, then downwind under spinnaker to Blowing Rocks, followed by another beat to the finish in Simpson Bay. The CSA3-7 fleets sailed a slightly abbreviated 21 mile race on a similar course, while the CSA 8-9 divisions raced on a 13 nautical-mile track that bypassed the leg out to Blowing Rocks.

The CSA classes that rounded Blowing Rocks had an especially challenging time of it, for after a picturesque run under colorful spinnakers down the Anguilla Channel in good breeze, the proverbial air escaped from the balloon once the boats were around the rocky reef. The last miles back to Simpson Bay, often in breeze of three knots or less, proved to be difficult ones.

Meanwhile, on the Class B circle, race officials sent the Bareboat, Multihull 3-4 and Lottery classes on a pair of racecourses, one measuring 8.5 miles for the smaller boats and 12.5 miles for the larger ones. At one point the race committee postponed action when the wind died altogether, but everyone persevered and, perhaps miraculously, none of the races on either circle were abandoned.

On a day with many worthy winners and countless wonderful stories, one of the best of the entire regatta unfolded in CSA9, where not one but three boats crewed by local youth sailors were in the mix going into the final day. It was the second year in a row that local kids from the island participated in the St Maarten Heineken Regatta, and their improvement in just a year's time has been outstanding. Fittingly, with a win in the last race, the Sint Maarten Yacht Club Youth Sailing Team, sailing a Beneteau First Class 10, edged the crew from St Maarten Sailing School 1, who earned a second in class. The future is bright for these young and talented St Maarten sailors.

In CSA2, Californian Jim Madden's team on Stark Raving Mad IV launched into an early series lead, but that changed on Saturday when Ian Hope Ross's Melges 32 Kick 'em Jenny scored a first and a second to vault into second place. But Madden's J/125 took care of business in the final race, winning both the day's contest and the top spot in CSA2.

One of the two marquee monohull classes was CSA1, where over the course of the regatta an intense duel was waged between two of the sleekest, prettiest, best-sailed boats in the entire field: Irvine Laidlaw's Reichel-Pugh-designed 52 footer, Highland Fling XII and William Coates's Ker 43 Otra Vez. On Sunday, Otra Vez sailed a near flawless race to win the division's final clash, but by holding on for second - in addition to their two victories in the earlier races - Highland Fling XII won the class by a single point.

The other true Grand Prix monohull division, CSA2, was a class that included 100ft beauties like the Swan 100S Varsovie and the Oyster 885 Clare. This was the most jaw-dropping class of them all, especially when flying downwind under acres of sailcloth. But it was also one with a dominant player: Youri Loof's Swan 82FD Alpina. With its third win in as many races, Alpina was the clear, runaway winner of CSA2.

In CSA6, after day 1, the Oyster Lightwave 48 Scarlet Logic looked to be in control. But from that point on, Great Britain's Swan 48 Zen skippered by John Bainbridge, went on an absolute tear, winning all three of the remaining races in the series to put a winning stamp on CSA6.

CSA5 was also nearly a foregone conclusion from the very outset: The five boat Melges 24 class belonged to Andrea Scarabelli's well-honed crew aboard the bright red Budget Marine/Gill, which started all four races, won them all, and took CSA5 going away.

In CSA7, Sunday wasn't St Maarten legend Sir Bobby Velasquez's day: His Beneteau L'Esperance finished fourth, with Russian sailor Vitali Tarakanov's Dufour 45, Parma, the day's winner. But L'Esperance had enough of a cushion in the standings beginning the day to hold on for the CSA7 victory.

CSA8 and CSA4 were the event's largest classes, with 17 and 18 entrants, respectively. But they were comprised of very different boats, with CSA8 full of fast and handsome racer/cruisers, like David Southwell's lovely Morris 48 Kismet, which won today's race to put the final touches on a CSA8 division victory. CSA4, on the other hand, had more dedicated racing boats, like Robert Armstrong's J/100 Bad Girl and Richard Wesslund's J/122 El Ocaso. Bad Girl won Sunday's race, but El Ocaso's third was enough to ensure the CSA4 win, just two points ahead of Bad Girl.

Every year, the St. Maarten Heineken Regatta host more multihulls than any other Caribbean event, and that was again the case in 2014.
This year, the Gunboat Elvis, with three straight bullets, won Multihull1, and Nils Erickson's Formula 40 cat Soma matched the feat to win Multihull2. The top boat in Multihull3 was Petr Korchev's Lagoon 500 Belisima. The fleet was also full of Russian sailors this year, and yet another, Ermolenko Vlacheslav aboard the Lagoon 400 Ruby won Multihull3.

The Lottery classes are always fun, with a mix of liveaboard cruisers, classic boats and even daysailers. This year, Lottery1 was won by a Bavaria 50, Brungel Club and Lottery2 was won by a Dufour, Amideau.

Last but hardly least, the Bareboat fleets are always a big part of the St. Maarten Heineken Regatta, and really capture the spirit of the event. This year there were five class winners: Markova Julia's Gib Sea 51, Fetard (Bareboat1); Rene Von Dop's Beneteau Oceanis 50F,
Aquaholics (Bareboat2); Ukrainian Olympic sailing silver medalist Rodion Luka's Jeanneau Sun Odyssey 44i, Kiev Racing Yacht Club Team 1 (Bareboat3); Novikov Andrey's Beneteau Oceanis 43, PIRogovo (Bareboat4); and Mike Cannon and Neil Harvey's Dufour 405,
KHS&S Contractors (Bareboat5).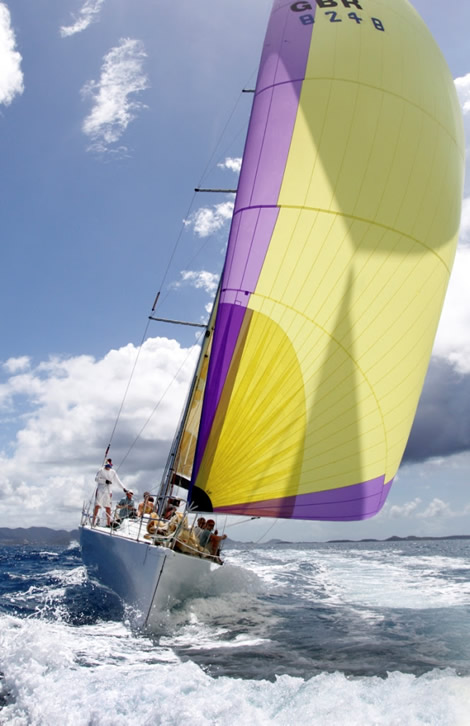 Back to top
Back to top