Another bullet for Lars Grael
While the forecast breeze of 10-12 knots may not have materialised, conditions for race three of the 87th Bacardi Cup definitely played to the strengths of three teams familiar with Biscayne Bay.
"Yesterday I said I was going to be happy with a top 10 [finish] for consistency," commented Lars Grael, Brazil's two-time ('88, '96) Tornado Olympic Medalist, after he and crew Samuel Gonzalves won today's race. "I am obviously happier with today's top spot!
"Today was a very tactical race among the top racers; it was a jibe war. Tomorrow the wind will pick up and it's going to be a difficult race for me. We are only half way through and I must say that consistency is key. If I'm able to stay in the top 10 I believe I will be in a good shape for the overall win."
Grael and Gonzalves moved to the top of the overall standings in the 55-boat fleet yesterday, and remain there after today's win. Their 2-2-1 scoreline, for five points, gives them a five-point cushion over San Diego's Mark Reynolds and Miami's Magnus Liljedahl.
"Fighting with Augie [Diaz] today I felt it was like the old days!" said Reynolds after finishing third today. "I didn't have a particularly good start; I think that's where I lost today's race. But I had good shifts and was able to keep my boat in clear air. I decided to split, it was a risky move, but worth a chance and it paid off."
Miami's Diaz crossed the finish line second today, and stands 11th overall on 42.5 points. "Lars is fast, starts well and does not make many mistakes, that is why he's on top," said Diaz who is sailing with Arnis Baltins of Baltimore, Maryland. "He needs to watch his brother [Torben], Mark [Reynolds] and Xavier [Rohart], but he is in a great spot. Unfortunately being 11th I think I'm too far behind [to win the Bacardi Cup] and will target the top-three overall and daily wins."
Torben Grael, older brother of Lars, is also displaying a consistency that has kept him in the top-three thus far in the series. Sailing with Guilheme Almeida, the Brazilian teammates have a 3-5-4 scoreline for 12 points.
Florida's Brad Funk, with crew Mark Strube, dropped a spot in the overall standings after finishing 13th today. They have 20 points and are five points ahead of another Florida team, Arthur Anosov and Brian Fatih, who are fifth in the overall standings with three races left in the series.
Paul Cayard reports:
Tough day on the race course for Rodney and I, definitely our worst race of the season. We were too conservative on the starting line and we did not seem to have enough speed to dig our way out of the traffic.
The wind was 7 knots from 145 for the entire race. It was a pretty steady breeze as compared to Tuesday's northerly. The course was set for 160 making the first run a fetch on starboard so there were no passing lanes there.
Lars Grael continued on top and won today's race. He now has 2, 2, 1 for 5 points. Mark Reynolds and Magnus finished 3rd and are in good shape in second with 10 points. Torben Grael sailed well today to move from 10th to about 5th. Xavier Rohart (FRA) a two time world champion had his best race today finishing somewhere near 6th I am guessing.
As I am writing this the scores are not posted on yachtscoring, however I am guessing we finished about 20th.
The good news is that we can put this one behind us and look forward to tomorrow.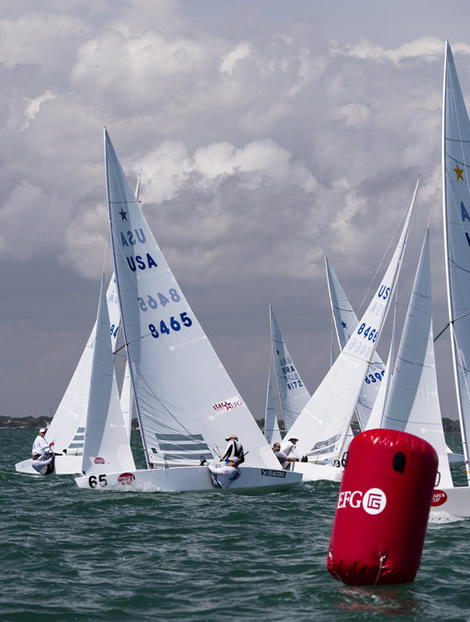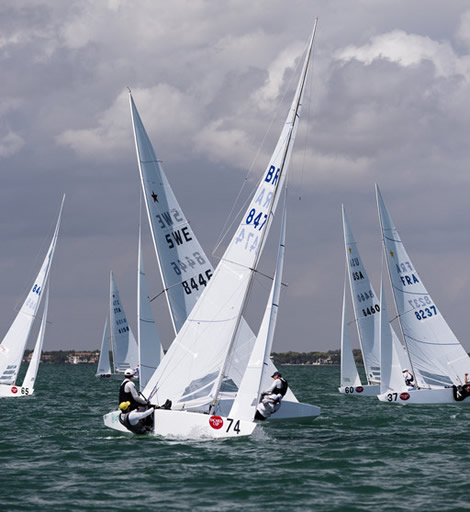 Back to top
Back to top