Larson takes an early lead
Chris Larson and his Canadian team on Cavallino/McLube are leading the Gill Melges 24 World Championship 2014 after a crackalackin' opening day on Geelong's Corio Bay. There's little comfort in their early lead however, with Harry Melges' Star tied on seven points and second on a countback.
North American crews overwhelmed the 26 boat field on day one of the five day, 12 race regatta, filling the top three places.
Larson swept to victory in the first two races, aggressively covering Star as the pair aimed at the finish line in race one, then dropped to fifth in race three.
Harry Melges and tactician Andy Burdick scored two seconds and a third, the same consistency that furnished Star with a win in last week's Melges 24 Open Australian Nationals on the bay.
Bruce Ayers' Monsoon completed the top three thanks to a bullet in the final race of the day.
Larson was the 2009 Melges 24 World Champion and he's reunited with his winning team, including five time Canadian Olympic and Volvo Ocean Race sailor Richard Clarke, for the first southern hemisphere staging of the title.
"We now have Richard our tactician on the water with us so it's the same crew as the 2009 worlds," Larson said. "We haven't sailed together since then. Today was an encouraging start to our campaign. Corio Bay has flat water and it's super shifty. It's definitely challenging. The person who ends up on top will be the most consistent, and not have a bad race."
Last night teams from Japan, Italy, Switzerland, USA, Germany and Canada were treated to a surprise at the official welcome function held at the Royal Geelong Yacht Club - native Australian animals they could touch and hold.
"We got to meet the local animals last night. We are learning there are a lot of things that will hurt you in Australia," Larson jested.
Harry Melges was all smiles at the day's end, "It felt good out there, a lot of breeze and really shifty; a lot of opportunities to gain and lose. It's good to be mixing it up at the top."
Star's bowman Federico Michetti, a five-time Melges 24 World Champion added, "It's a really tough level. We are having a great time here at the yacht club with the guys."
A 20°C temperature drop from yesterday's scorcher alleviated the discomfort off the track. On the course on the northern side of Corio Bay it was a different story; unrest at the starts, congested mark roundings with up to seven Melges 24s abreast going around the top mark buoys, and some crunching fibreglass.
Brendan Garner's Melges 24 Team Morris Finance was put together late for the world championship, one of the crew driving nearly 2,000 km to Sydney and back to Geelong last week, including registering the trailer.
Today at 12.30pm the crew stepped aboard for the first time, just an hour before the world's opening bout.
Team Morris Finance had a clean race one and two then tangled with another boat in race three and was hit. "It gets pretty busy at those marks," said Garner. "One of the other boats fell onto port and caused a fairly big pile up. We had nowhere to go. Lucky for us there's no damage."
On sailing with the world's best in the class Garner added, "A couple of times we had Harry Melges right next to us then we came around the top mark and said to each other 'where did he go?'"
Top Corinthian boat was Robin Deussen's Red Mist from Adelaide Sailing Club. A fifth and a sixth had them best-placed Australian boat overall after race two.
"To have a fifth and a sixth from such a strong fleet is pretty good," said Deussen. "We are still trying to figure out the boat, it's an older version but in good nick. It depends how you sail it. We came here to fight amongst the big boys."
Nathan Wilmot's Melges Asia Pacific Kaito is the highest ranked Australian team.
The Gill Melges 24 World Championship 2014, opened with an average 14-16 knot sou'east breeze, shifty at the top mark and puffs up to 21 knots.
It was text book race management for PRO Hank Stuart for races one and two, a conservative fleet starting on time with just one OCS each time. Then the fleet pushed hard, forcing two general recalls before race three began cleanly.
Tomorrow's forecast is for afternoon sea breezes up to 20 knots. Racing is scheduled to start with a 1330 hours warning signal.
Results

1 - 19 CAVILLINO / MCLUBE Chris Larson (CAN795)
2 - 17 STAR Harry Melges (USA841)
3 - 24 MONSOON Bruce Ayres (USA747)
4 - 21 BLU MOON Flavio Favini (SUI825)
5 - 26 ALTEA Andrea Rachelli (ITA735)
Corinthian results
1 - 22 REDMIST Robin Deussen (AUS607)
2 - 11 ROGER THAT Cameron Miles (AUS750)
3 - 07 AMIGOS Geoff Fogarty (AUS816)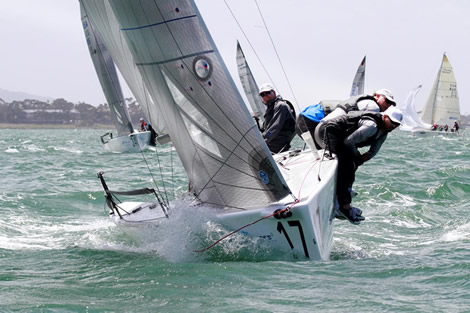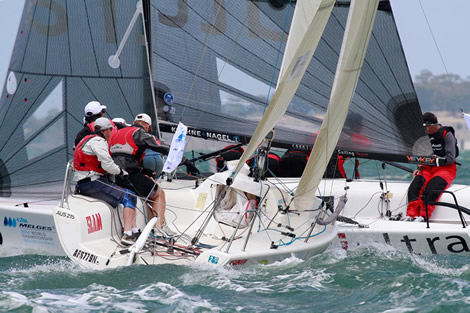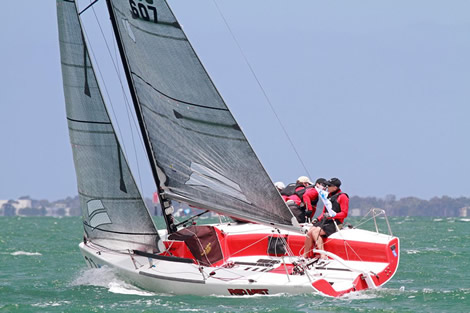 Back to top
Back to top