DeVos on a charge
Three additional races were held on day three at 2014 Quantum Key West Race Week making six in total.
Still leading overall is Alec Cutler on hedgehog, now three points ahead of Dalton DeVos on Delta. Richard Goransson's Inga From Sweden has advanced to third overall, now one point ahead of Deneen Demourkas' Groovederci in fourth. German Dieter Shoen on Momo rounds out the top five.
The racing conditions were a vast improvement over Tuesday's gloomy and rainy weather, not to mention Monday's light and difficult breeze. Instead, teams arrived to a beautiful 13-15 knots, relatively calm seas and plentiful sunshine.
DeVos had an excellent day submitting a 1-1-2 scorecard. With Jonathan McKee as tactician, and crew comprised of Morgan Reeser, Sam Rogers, Linda Lindquist-Bishop, Cody Schlub, William Sleeman and John Wallace, DeVos made races four and five his own. Battling endlessly in the first race of the day with Cutler, it was sheer entertainment to watch to the two volley the lead. In the end, DeVos took the win. Cutler delivered an impressive comeback performance for second after being called OCS on the start. Shoen had his best race yet in the Melges 32 Class finishing third.
For race five in the Key West ten race series, DeVos made all the right moves to acquire his second win of the day. Cutler stayed close to take second, while Goransson fought hard to hold off Shoen and Demourkas to finish third.
The final race of the afternoon belonged to Cutler from start to finish. Tactician Richard Clarke and crew of Max Skelley, Mike Wolfs, Eric Dorman, Alan 'Budda' Nakanishi, Chafee Emory and Sarah Callahan worked hard to take the win in race six.
Clearly DeVos gave it his all, but ended up settling for second. Goransson, with practically a brand new crew consisting of tactician Morgan Larson, Rob Greenhalgh, Rodney Ardern, Cesare Bozzetti, Marco Carpinello, Gosse de Boer and Susan Mitton proved that things are coming together quite nicely, finishing third.
Thursday's forecast is calling for winds to be around 10 knots and a little bit warmer than today. Friday, the final day of racing in Key West is calling for a little more or both. Fingers are crossed.
Results after six races
1. Alec Cutler/Richard Clarke, hedgehog; 1-1-4-2-2-1 = 11
2. Dalton DeVos/Jonathan McKee, Delta; 2-3-5-1-1-2 = 14
3. Richard Goransson/Morgan Larson, Helly Hanson Inga From Sweden; 6-2-3-5-3-3 = 22
4. Deneen Demourkas/Cameron Appleton, Groovederci; 3-4-1-6-5-4 = 23
5. Dieter Schoen/Markus Wieser, Momo; 4-5-6-3-4-5 = 27
6. Eduardo Souza-Ramos/Andrea Fonseca, Phoenix; 5-6-2-4-6-6 = 29
7. Chris Wientjes/Benz Faget, Stormvogel; 7-7-8/DNS-7-7-7 = 43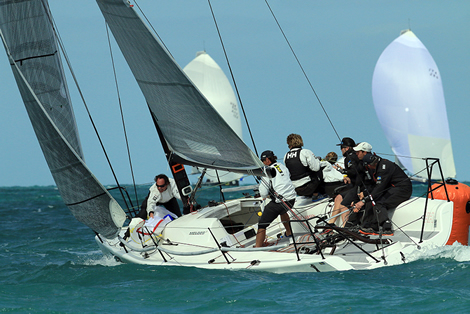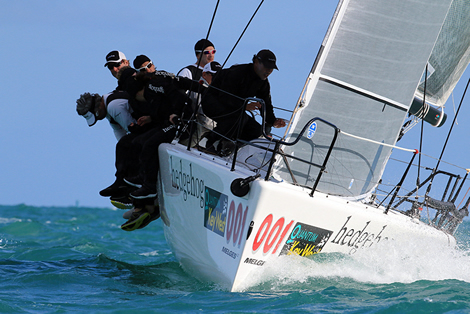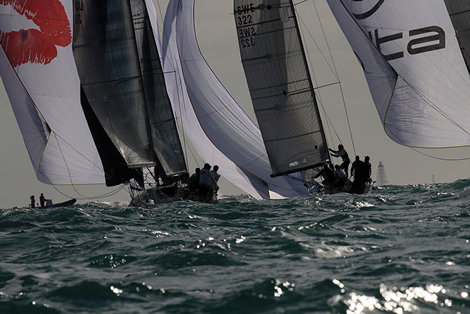 Back to top
Back to top