A record breaking year for Ian Williams?
Having narrowly missed out to US Virgin Island hotshot Taylor Canfield, who claimed the Alpari World Match Racing Tour crown in 2013, GAC Pindar skipper Ian Williams is hoping that 2014 will be the year he finally enters the history books. A fifth AWMRT win, gaining him the ISAF Match Racing World Championship title, following his victories in 2007-8 and 2011-12, would see the Lymington-based sailor outstrip Peter Gilmour's record of four wins in 1990, 1997-8 and 2006.
As usual, the 2013 Alpari World Match Racing Tour came down to the final event, the Monsoon Cup, where Taylor Canfield's third place, winning the Petit-Finals over Mathieu Richard's GEFCO team, was enough to gain him the overall title for 2013, despite Williams' GAC Pindar coming home second, ultimately losing the Monsoon Cup finals to Phil Robertson's WAKA Racing.
"It was very close," says Williams. "If you look at our scores [across the 2013 season], he [Canfield] had two thirds, whereas we had two fourths. So you could say we should have done better in the Petit-Finals. But it was close and I felt that we are certainly a very strong team. We won four out of six round robins and a second and third were our other results in the round robin phases. So we still have got what we need to win a lot of races, but for whatever reason last year we didn't continue that performance through the rest of the regattas. That's what we need to go away and figure out and improve on over the next five months."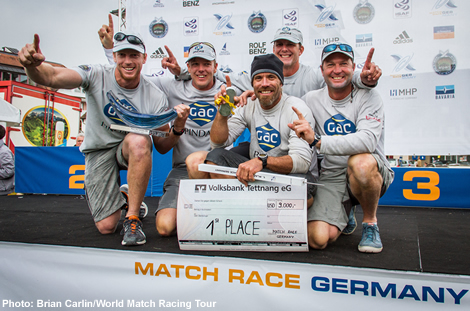 Williams says that because of this he will try and keep his regular team of tactician Bill Hardesty, main trimmer Gerry Mitchell, headsail trimmer Mal Parker and bowman Matt Cassidy together as much as he can for 2014. "I felt we were a strong team last year but it didn't quite work out, so I am not looking for any whole scale changes."
While the 2014 Alpari World Match Racing Tour schedule is due to be announced at the end of this month, the first event, Match Race Germany, is still some way off, at the end of May. In the meantime the Tour will be going through its annual process of issuing Tour Cards – guaranteeing the lucky teams that get them entry to all of the Tour events throughout the season.
The Tour Card system was introduced for the 2009, as previously teams had to enter events on the Tour individually and weren't necessarily guaranteed a place in each. Each year since this has gone through reiterations (some profoundly complex).
In 2009 Tour Cards were simply allocated to the top four from previous year, the top two from the ISAF Ranking with an additional two that the Tour chose.
For 2010, a 'Tour Bonus' US$250,000 was reintroduced and there were nine teams bidding for six tour cards, the recipients getting guaranteed event invites to six of the nine events. To add further complication this worked on sealed bid auction system, but for the 2011 and 2012 seasons, it wasn't just the money that guaranteed a Tour Card - teams had to present themselves as being media savvy and sponsor focused as well as being highly talented sailors, all of which went into a matrix that determined who were the lucky winneers.
Still with us? (If you can understand this, you can probablly understand the match racing rules...)
As Williams puts it: "They have a rather complicated formula for deciding who gets the cards. Part of their criteria is what you can give the Tour back in terms of the bringing sponsors in and media return." However the position was simpler for him as typically the top three finishers in the Tour would be guaranteed a Tour Card for the following year.
Mercifully going into last year's season, the organisers opted to go back to basics with the present system where there are eight Tour Card holders, all of whom get invited to all events. Today there is a fixed entry fee, but there remains a matrix which the Tour organisers use to determine who gets the Tour Cards, although the top three finishers from 2013 are pretty much guaranteed a place.So Williams, Taylor Canfield and Phil Robertson are fortunate in that the top three teams from last season will get a berth on the Alpari World Match Racing Tour in 2014. For the teams this makes their logistics considerably easier to organise as well as making it more understandable and an easier 'sell' to their sponsors.
With this being the quiet year after the America's Cup, there may also be some new faces on the Tour this year. Francesco Bruni is believed to be fielding a team from Luna Rossa and it will be interesting to see if any other Cup teams come to play.
"With the America's Cup changing to multihulls, the Tour is finding a new place in the sport," continues Williams. "That inevitably causes some form of transition. But I think there will be other Cup teams. My view is that the America's Cup is so far away from everything else now that there is nothing particularly relevant to it anymore. The Extreme Sailing Series and the Alpari World Match Racing Tour both have some relevance, but not a huge amount, so it is more about what you are comfortable with to get your team together - to start functioning and getting your communication going, etc - rather than specific skills."
For example Artemis Racing at present seems to have committed to neither circuit, although they will be competing with the D35s on Lake Geneva this season and in the RC44 fleet.
The invites to potential Tour Card holders goes out in February and the decision on who gets them will be made by the end of that month.
An issue with the Alpari World Match Racing Tour at present is that it is down to six events from the nine it had from 2008 until 2012, having lost events in Switerland, Portugal and France. However the organisers are gunning to bump this up as soon as possible.
"Six events is obviously not as good as what they've had before," says Williams. "I know they'd like to have more and they are working hard to get more, but they've come through a very difficult period.
"What is interesting is that, from a team's perspective, it has become more commercial. It used to be a lot of individuals and America's Cup teams that would enter and there weren't many team sponsors in the past. Now there are people like Johnnie Berntsson with Stena and Mathieu Richard with GEFCO and obviously us with GAC Pindar and there are others, which is a good thing for the Tour."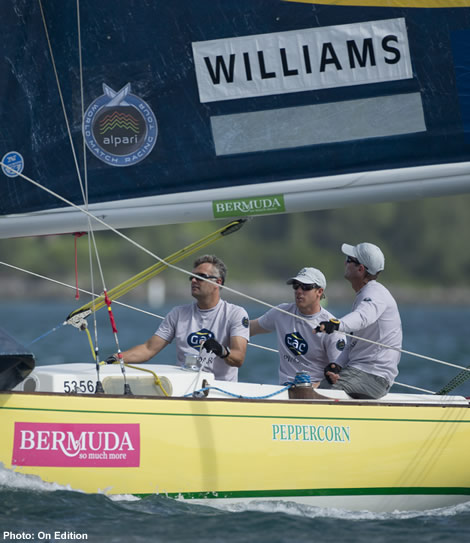 Aside from the Tour, Williams this season will be taking a greater involvement in the GAC Pindar Extreme 40 team, which in 2014 is being sailed by 18ft skiff champion Seve Jarvin and a crew representing the 35th America's Cup Challenger of Record, Team Australia. Williams sailed on board the GAC Pindar Extreme 40 for one event in Cardiff last year, but sees his future with the cats as being on the coaching side and helping out with GAC Pindar's busy corporate entertainment program.
Aside from that there are some other non-Tour match racing events that the GAC Pindar match racing team will be doing, including the Congressional Cup in Long Beach, CA, which they won in 2011 and 2012.
More interesting and closer to home is the Royal Southern Yacht Club's introduction of a new Grade 2 match racing event to be held over 12-15 June this year - it is excellent news that a match racing event with hopefully some weight will be returning to our shores. "Assuming we can fit it in with the schedule, I'd like to support that event," says Williams.
In addition, Williams is competing in the RC44 circuit, once again as tactician on board Brian Benjamin's Aegir Racing.
But his long term goal, as ever, remains the America's Cup. "It is a difficult thing to chase with a lot less sailors now than there were in 2007. It was hard before to break in and now it's even harder. But certainly I'd do it if the opportunity came along. I'd love to sail with Ben [Ainslie] if he felt I could help his campaign. I don't see myself as particularly a helmsman in a foiling catamaran. It would be more a tactician."
Fingers crossed for our lad in 2014.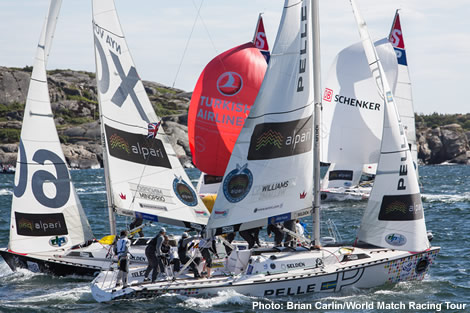 Back to top
Back to top