Principles of Yacht Design 4th edition
Principles of Yacht Design by Lars Larsson, Rolf E Eliasson & Michal Orych has established itself as the standard book on the subject for practicing designers, naval architecture students and discerning boat owners, as well as the boatbuilding industry as a whole.
This fourth edition is wholly revised and expanded and follows the design from scratch of a completely new 41 ot performance cruiser to demonstrate the practical application of yacht design theory. As such, it examines every aspect of the process of yacht and powerboat design.

Beginning with the new yacht's specifications, the authors examine:
- the geometry of the hull using lines plans and CAD techniques
- hydrostatics and stability in calm water as well as waves
- design of the hull, keel and rudder
- the aerodynamics of the sails and the consequential influence on the sail plan
- how to find the balance of the yacht
- selecting the correct propeller and engine
- the special hydrodynamics of high-speed power boats
- loads acting on the hull and rig, and ISO standards for dimensioning
- different fibre reinforced plastics, including sandwich laminates
- design evaluation using Velocity Prediction Programs, experimental techniques or computational fluid dynamics

The authors conclude by examining practical matters such as the layout of the cockpit, deck and cabin, and provide a complete weight calculation for the boat. Illustrated with many explanatory diagrams and all new computer-generated graphics, the authors have succeeded in making this complex subject remarkable clear and accessible for professionals and amateurs alike.

Lars Larsson is a naval architect and Professor of Hydrodynamics at Chalmers University in Gothenberg, Sweden. Rolf Eliasson is a yacht design/construction engineer who runs his own yacht design and production company. Michal Orych is a naval architect and CFD specialist at FLOWTECH International.
Out this month, published by Adlard Coles Nautical, the hardback version of the book costs £45.00.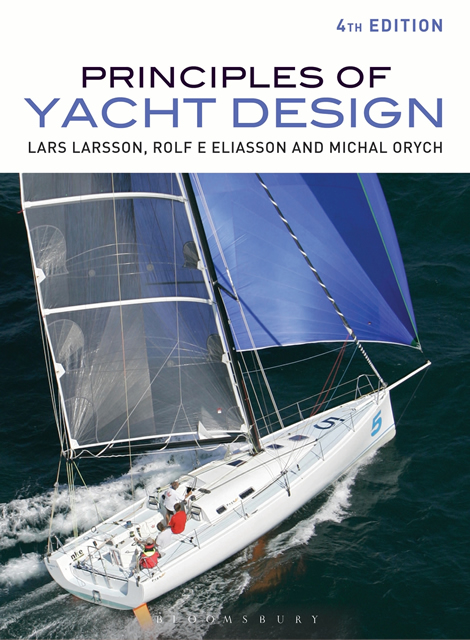 Back to top
Back to top