WallyCento no3 confirmed
The duel at the Maxi Yacht Rolex Cup between the WallyCentos Hamilton and Magic Carpet3, persuaded an American owner to join the club of these exotic box-ruled superyachts. As a result a third WallyCento has just started construction at Green Marine.
Wally and Wally Class President, Luca Bassani, comments: "Successful competition in the Wally class and the WallyCento class attracted the new owner, who is a keen sailor and racer, determined to participate in all our regattas, as well as to cruise in the Mediterranean."

Like Magic Carpet3, Reichel Pugh have designed the new boat with the exterior styling and interiors by Wally. However the third WallyCento differs from Sir Lindsey Owen Jones' boat, in both her technical and styling aspects.
She features different hull lines with a rig that has been balanced accordingly. She has one rudder versus the two of Magic Carpet3. On deck, the deckhouse and the coaming have been redesigned and will be completely clad in teak, thereby integrating into the rest of the deck. Down below, the layout and the styling are very similar to those of Magic Carpet3, but the galley has been moved to the port side and the crew cabin to the starboard side to avoid access to the engine room being via the galley.
The new WallyCento is also the first to feature a bow thruster, enhancing the cruising capability of the yachts.

"The sale of the third WallyCento confirms the success of the formula," contines Bassani. "We are confident to further expand the fleet of these superyachts, that share a similar high performance to increase the closeness of the racing and the competitive level, while remaining very comfortable and fully equipped cruising yachts.
"Cruising in comfort at the speed of a fast maxi racer and racing at the highest level of competition is the dream of every passionate yachtsman. The WallyCento is the first and only superyacht making this dream come true. By keeping the boats very similar in size and concept, the class offers the closest racing within a narrow rating range."

The construction of the third boat has already started at Green Marine, just outside Southampton where the male plug for the hull has been completed prior to the creation of the female tool mould in January, and lamination of the hull in mid-February. Her launch is set for June 2015.

The sale of the WallyCento #3 marks a great ending of to the year for Wally, currently building an array of motor boats including the 26m wallyace, 73 wallypower, 55 wallypower, 47 wallypower, Wallyone.

Technical specifications
LOA. 30.48 m
Beam max 7.2 m
Draught 4.40-6.20 m (lifting keel)
Displacement 49.95 tons
Speed (under engine) 11 knots
Sail area: 640 m2
Accommodation: 6 guests + 2/4 crew
Saloon table and seats for 10
Certification: Germanishe Lloyd
Mast and boom: Southern Spars TPT
Rigging: Southern Spars EC6
Engine TBD - 300 hp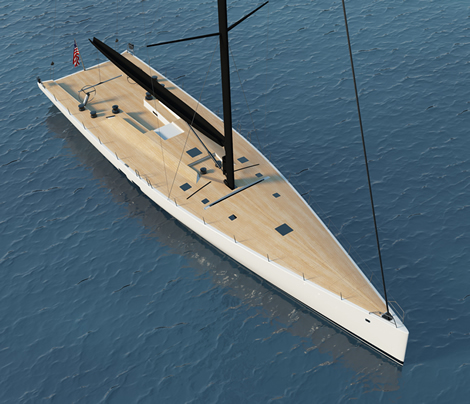 Back to top
Back to top