Clean sweep for Beau Geste
Karl Kwok's Team Beau Geste completed a series whitewash in the inaugural Australian TP52 Southern Cross Cup with a fourth and final outright win in the three-day Pittwater regatta that concluded today.
The 52-footer with the insignia of a Chinese dragon on the hull and crew gear delivered the spoils to the modest Hong Kong-based businessman, on this occasion overpowering the Tasmanian Cougar. Kwok was delighted to collect the spoils, paying tribute to his helmsman and friend of close to three decades, Gavin Brady, and consummate international crew.
Kwok and Brady were joined by regulars Rob Salthouse, Jamie Gale and Phil Jameson, among others. Winning round-the-world yachtsman Mike Sanderson and an imposing trio from Team New Zealand America's Cup challenge garlanded the long weekend line-up.
Today's three bullets and a first, second and third on IRC handicap tallied with their five previous results gave Beau Geste a grand total of 15 points for the Premier Composite Technologies TP52 regatta, six points clear of Tony Lyall's Cougar II (TAS) in second. Beau Geste also won the round on PHS.
Bob Steel's Quest (NSW), with Jamie MacPhail on the wheel and Kiwi America's Cup sailor Ed Smyth calling tactics today, finished third in the round. They lost a protest for a mark infringement in race eight and were disqualified from that race, a heavy penalty which cost them second place overall.
While his opinion of the mark infringement differed to Quest's crew, David Chapman, tactician on Cougar II thought the same vintage sistership was the best sailed of the regatta: "We really enjoyed racing against Quest, I rate them as the best sailed boat this weekend."
He praised his own skipper, Tony Lyall, and Cougar II's crew for the fine result and congratulated Gavin and the rest of the Beau Geste team.
Victory wasn't all one way in this final offshore and inshore eight-race series. Cougar II picked up two IRC handicap wins and Quest one. The rest belonged to the mighty Hong Kong and New Zealand crew who coolly and methodically picked their victim then pinned them by the wings.
Sandringham Yacht Club hosted rounds one and two in February and April on Port Phillip. The caravan moved to Sydney for round three on Sydney Harbour last month, November 2013, out of the Royal Sydney Yacht Squadron. Now the Royal Prince Alfred Yacht Club on Sydney's Northern Beaches has wrapped up the Cup.
Rob Hanna's Shogun V from Geelong in Victoria finished second on IRC overall results in the Cup, despite exiting round four prematurely with a dismasting in heavy seas off Barrenjoey Headland yesterday.
Cougar II was third in the TP52 Southern Cross Cup IRC overall results and first boat on PHS.
Brady hopes the series has demonstrated to yacht clubs that there's no need to send big boats offshore to no man's land. TP52s are capable of racing inshore on an Optimist size course and this concept has been proven.
The TPs manoeuvred safely among Sydney Harbour's boating traffic in peak hour right on their upper wind limit in round three and today they sailed a tight course north of Scotland Island chased by an impressive spectator fleet of tinnies right up to glamour power boats.
"We've raced different venues and courses, inshore and offshore, traditional and with gates in the middle. We've competed in different states from right off the deck of SYC, one of the world's premier yacht clubs to pristine Pittwater, another world class venue," said Brady this afternoon. "I think the big thing we've achieved with this concept was showing clubs that as long as there's six metres of water, we can race these boats on an Opi course."
Most of Team Beau Geste's crew now step up to Kwok's new 80-footer for the Rolex Sydney Hobart. Kwok's dark horse, his new Botin 80 called Beau Geste, is untried against another boat. Still the rumours of its mightiness persist. It will leave Auckland in the next couple of days bound for Sydney.
At this afternoon's trophy presentation at RPAYC, Speaker of the House of Representatives, Bronwyn Bishop agreed on a whim to present trophies to the placegetters.
As well as picking up the regatta and overall series trophy, RPAYC Commodore Rob Curtis presented Kwok with a half model of Beau Geste, a gift from the Pittwater yacht club and Kwok's crew.
Kwok thanked the TP52 Australian Class president Terry Wetton for "the lonely job of running the series on behalf of the owners" and generously donated part of his winnings, his weight in Coopers 62, to the crew of Mick Martin's Frantic, another Sydney Hobart contender.
Results
| | | | | | | | | | | | |
| --- | --- | --- | --- | --- | --- | --- | --- | --- | --- | --- | --- |
| Pos | Boat Name | Skipper | R1 | R2 | R3 | R4 | R5 | R6 | R7 | R8 | Tot |
| 1 | TEAM BEAU GESTE | Karl Kwok | 4 | 1 | 3 | 1 | 1 | 1 | 2 | 2 | 15 |
| 2 | COUGAR II | Tony Lyall | 1 | 2 | 4 | 4 | 4 | 4 | 1 | 1 | 21 |
| 3 | QUEST | Bob Steel | 2 | 5 | 1 | 2 | 2 | 3 | 3 | 6.0Q | 24 |
| 4 | VAMOS | Connel McLaren | 5 | 3 | 5 | 3 | 3 | 2 | 4 | 3 | 28 |
| 5 | FRANTIC | Michael Martin | 6 | 6 | 7.0F | 5 | 5 | 5 | 5 | 4 | 43 |
| 6 | SHOGUN V | Rob Hanna | 3 | 4 | 2 | 7.0F | 7.0C | 7.0C | 7.0C | 7.0C | 44 |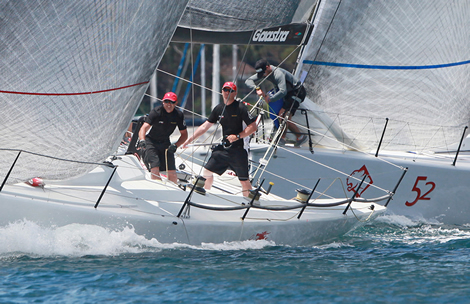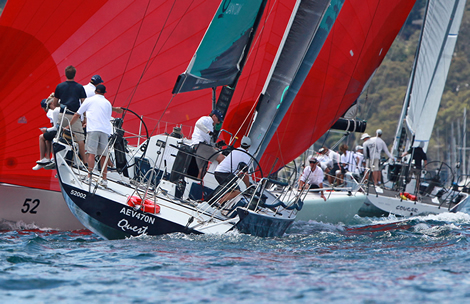 Back to top
Back to top