Lucky Dog bounds ahead
The second day of the 2013 Audi Melges 20 World Championship, hosted by the Ocean Reef Club started with a brief postponement and ended with a blast. Travis Weisleder aboard Lucky Dog/Gill Race Team still sits firmly in the lead, ahead of second overall Jason Michas on Midnight Blue by a whopping 30 points. In third overall, behold is Jim Richardson's Barking Mad.
The first race of the day, Race Four in the series, commenced under 12-15 knots of breeze, sunny skies and moderate seas. John Taylor's Ninkasi, with Bill Hardesty as tactician and Joey Mello on bow, lashed out once more rounding the top mark in first, followed closely by John Kilroy's Samba Pa Ti. Kilroy eventually edged out Taylor to take the win. Corinthian division leader Marcus Eagan on Cajun Underwriting worked his way up to finish second, just ahead of 2013 Audi Sailing Series Champion Alessandro Rombelli on Stig in third. Taylor and Weisleder rounded out the top five respectively.
As the Race Committee put wheels in motion for Race Five, the last and final race of the day, the breeze increased further to 15-18 knots at the finish with gusts over 20 knots. Rob Butler's Touch 2 Play came on strong and maintained their lead right up to the line, just before Weisleder slid in from the right to take the win by half-a-sprit. Butler claimed second while Jeff Ecklund's STAR with John Kostecki as tactician and Roscoe Halcrow on bow placed third after taking a right side flyer to advance several positions. Trey Sheehan with Curtis Florence and tactician Brad Boston on Flat Stanley Racing: Hooligan came fourth. Richardson finished fifth.
As with the overalls, the Corinthian Division remains heated with Eagan holding steady in first as he played a key role in today's top end racing. John Brown on Blind Squirrel stays in second. Paul Currie's Wild Deuces has overtaken the third position from Frank McLaughlin's CAN-254.
Five races of the ten World Championship race series is now complete. Upon the completion of a sixth, each team will discard their worst score. This truly will change the leaderboard landscape not to mention the points spread.
It is still yet to be known as to whether or not racing will take place on Friday as the breeze is forecasted to be very close, possibly above the class wind speed limit, but only time will tell. If racing commences, it is scheduled for Friday, 13 December at 11.00. If not, the Race Committee may strive for four races on Saturday and implement an earlier start time.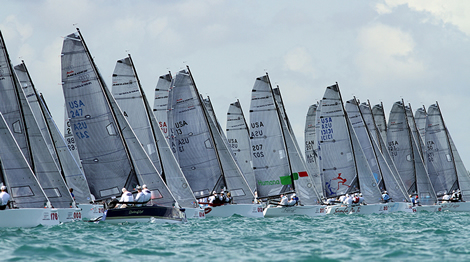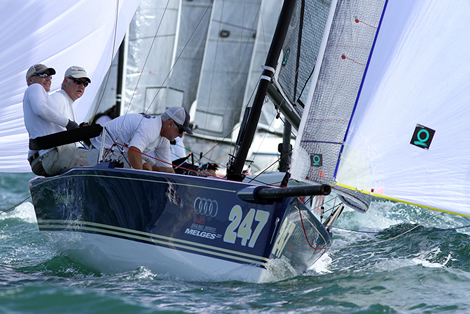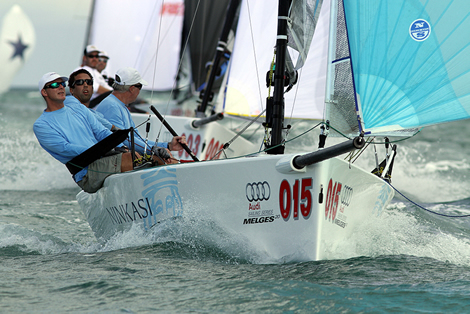 Results
| | | | | | | | | | |
| --- | --- | --- | --- | --- | --- | --- | --- | --- | --- |
| Pos | Sail no | Boat | Owner/Skipper | R1 | R2 | R3 | R4 | R5 | Tot |
| 1 | USA 3 | Lucky Dog / Gill Race Team | Travis Weisleder | 2 | 9 | 4 | 5 | 1 | 21 |
| 2 | USA 228 | Midnight Blue | Jason Michas | 4 | 1 | 20 | 13 | 13 | 51 |
| 3 | USA 247 | Barking Mad | James Richardson | 15 | 5 | 19 | 9 | 5 | 53 |
| 4 | USA 176 | Cajun Underwriting | Marcus Eagan | 6 | 27 | 13 | 2 | 7 | 55 |
| 5 | USA 1315 | Ninkasi | John Taylor | 1 | 11 | 31 | 4 | 14 | 61 |
| 6 | USA 20 | STAR | Jeff Ecklund | 17 | 7 | 27 | 7 | 3 | 61 |
| 7 | USA 226 | Section 16 | Richard Davies | 20 | 15 | 2 | 17 | 8 | 62 |
| 8 | ITA 65 | STIG | Alessandro Rombelli | 29 | 4 | 6 | 3 | 20 | 62 |
| 9 | USA 21 | Fu | Marc Hollerbach | 8 | 20 | 16 | 10 | 11 | 65 |
| 10 | USA 193 | Heartbreaker | Robert Hughes | 16 | 6 | 10 | 11 | 26 | 69 |
| 11 | USA 13131 | Samba Pa Ti | John Kilroy | 9 | 2 | 32 | 1 | 27 | 71 |
| 12 | USA 147 | Cinghiale | Robert Wilber | 43 | 3 | 9 | 6 | 21 | 82 |
| 13 | USA 088 | YOLO | Anthony Tabb | 5 | 17 | 1 | 18 | 46 | 87 |
| 14 | USA 14 | Red Sky Sailing Team | Paul Reilly | 22 | 13 | 29 | 14 | 10 | 88 |
| 15 | USA 13 | Bacio | Michael Kiss | 11 | 14 | 17 | 12 | 35 | 89 |
| 16 | MON 333 | Monaco Racing Fleet | Guido Miani | 25 | 24 | 5 | 27 | 16 | 97 |
| 17 | USA 8 | Shimmer | Russell Lucas | 36 | 25 | 8 | 16 | 15 | 100 |
| 18 | USA 236 | Pacific Yankee | Drew Freides | 19 | 8 | 26 | 30 | 18 | 101 |
| 19 | BRA 245 | Portobello | Cesar Gomes Neto | 14 | 21 | 7 | 37 | 23 | 102 |
| 20 | ITA 23 | Mascalzone Latino Jr. | Achille Onorato | 10 | 16 | 25 | 15 | 36 | 102 |
| 21 | ITA 50 | Fremito D'Arja | Dario Levi | 18 | 26 | 22 | 31 | 6 | 103 |
| 22 | USA 250 | oleander | James Wilson | 21 | 28 | 11 | 21 | 24 | 105 |
| 23 | CAN 201 | Team True Racing | Leo van denThillart | 3 | 10 | 41 | 8 | 49 | 111 |
| 24 | CAN 170 | Batteries Not Required | Rhonda Joyce | 12 | 32 | 23 | 19 | 38 | 124 |
| 25 | USA 225 | Flygfisk | Tom Kassberg | 7 | 49 | 21 | 43 | 12 | 132 |
| 26 | USA 207 | Velocity | Bruce Broussard | 49 | 12 | 3 | 33 | 39 | 136 |
| 27 | USA 200 | Flat Stanley Racing: Hooligan | Trey Sheehan | 40 | 18 | 46 | 29 | 4 | 137 |
| 28 | JPN 271 | Mamma Aiuto! | Naofumi Kamei | 31 | 29 | 14 | 20 | 44 | 138 |
| 29 | USA 7676 | Kuai | Daniel Thielman | 42 | 30 | 12 | 28 | 32 | 144 |
| 30 | USA 280 | Volpe | Ryan DeVos | 30 | 34 | 18 | 25 | 37 | 144 |
| 31 | USA 217 | Slingshot | Wes Whitmyer Jr | 13 | 23 | 42 | 53/DNF | 17 | 148 |
| 32 | CAN 142 | dp | David Pollock | 35 | 22 | 38 | 22 | 31 | 148 |
| 33 | USA 121 | Catapult | Joel Ronning | 28 | 35 | 24 | 34 | 29 | 150 |
| 34 | GBR 269 | ngoni | Tony Buckingham | 38 | 42 | 15 | 48 | 9 | 152 |
| 35 | USA 211 | Makaira | Skip Shapiro | 26 | 39 | 34 | 32 | 34 | 165 |
| 36 | USA 231 | Blind Squirrel | John Brown | 46 | 19 | 37 | 24 | 43 | 169 |
| 37 | USA 196 | W | Drew Wierda | 24 | 46 | 39 | 36 | 25 | 170 |
| 38 | USA 12 | Mach Schnell | Kent Haeger | 50 | 41 | 40 | 23 | 19 | 173 |
| 39 | CAN 2 | Touch2Play | Rob & Sandy Butler | 32 | 48 | 43 | 49 | 2 | 174 |
| 40 | ITA 167 | Maolca | Manfredi Vianini Tolomei | 34 | 33 | 30 | 38 | 42 | 177 |
| 41 | ITA 106 | Asante Sana | Claudio Dutto | 23 | 36 | 28 | 45 | 47 | 179 |
| 42 | CAN 222 | Wild Deuces | Paul Currie | 37 | 37 | 49 | 26 | 30 | 179 |
| 43 | CAN 214 | Bella Rena | Henry Demone | 27 | 43 | 36 | 35 | 50 | 191 |
| 44 | CAN 254 | CAN-254 | Frank McLaughlin | 51 | 38 | 33 | 39 | 40 | 201 |
| 45 | USA 202 | upupup | Bo Boje Pedersen | 45 | 50 | 45 | 40 | 22 | 202 |
| 46 | JPN 179 | Sokokumaru | Sumio Shimoyama | 39 | 47 | 35 | 46 | 45 | 212 |
| 47 | USA 194 | Odin | Camille Rasdal | 47 | 31 | 53/ZFP | 42 | 41 | 214 |
| 48 | USA 227 | Gypsea | Bob & Cheryl Hayward | 41 | 45 | 51 | 47 | 33 | 217 |
| 49 | USA 131 | Le Rescator | Erwan le Gall | 52 | 51 | 44 | 50 | 28 | 225 |
| 50 | USA 134 | Problem Child | Elliott James | 33 | 40 | 48 | 53/DNC | 53/DNC | 227 |
| 51 | USA 4 | Miss Betty | Oliver Luebker | 44 | 44 | 50 | 41 | 48 | 227 |
| 52 | USA 238 | Affordable Mistress | Brian Henke | 48 | 53/DNF | 53/DNC | 44 | 51 | 249 |
Back to top
Back to top