China Cup underway
The opening day of the China Cup International Regatta gave an indication of some tough battles to come, after a close-fought Simpson Passage Race from Hong Kong to Shenzhen today.
The breeze was close to 20 knots at start time, launching Frank Pong's 75ft Reichel-Pugh sled Jelik on her way towards Daya Bay. Of the 100 boats in the regatta, the 35 identical Beneteau 40.7s are expected to provide the hottest competition. Last year's winner, Vatti Sailing, led off the start line but helmsman Simon Cooke soon discovered just how hard it will be to defend the title.
"I think it's going to be pretty tough this year," said the former 470 World Champion. "A lot of teams have spent a lot of money. We've put a lot of effort in with our team. We've got two current world champions in the 470 and 49er, and a lot of talent on board. But we're finding other boats have a bit of speed edge, using membrane sails where we're using standard panel sails. As to whether we can win again, it looks like it will be hard work to pull off. But we have the best team to do it, so if anyone can do it, hopefully it's us."
Breathing down Vatti's neck was Vanke Longcheer skippered by Zeng Haitao, with some Australian sailing talent including multiple 18ft skiff world champion Seve Jarvin. Vanke finished second with Gery Trentesaux's Team Courrier in third place.
Trentesaux is one of many international sailors who can't resist coming back year after year, and some have competed in all seven editions of the China Cup. For America's Cup helmsman Sebastien Col, this is his first time racing in China although he said he didn't have much opportunity to enjoy the scenery. "We had a very poor start, and a lot of the race was on port tack so there weren't many chances to overtake," said the French professional, racing on board Eric Ingouf's Beneteau China. "We stayed a bit more inshore than most boats, we found two good windshifts at the end, and we took back 14 boats to come in 8th at the finish, which was pretty good. I'm doing tactics and a little bit of coaching for some really nice people, good sailors who are not used to racing every day but are keen to learn and improve every day."
With a number of Malaysia's national sailing team on board, Vincent Chan's Team Malaysia powered by BMW came to China hoping for a top five placing in the Beneteau 40.7 fleet. "Seeing the quality of the fleet, maybe we should be happy with a top 10!" said Chan after finishing in 10th place today. "It was quite a good result, because at the start we had two boats that were OCS and coming back across the line on port. We had to duck both to avoid a collision, and started a bit late because of that."
With many protests last year, and an International Jury that was working very late into the night, head of the Jury, Bernard Bonneau has introduced on-the-water umpiring with the option of giving boats a 'red flag' instant penalty of a 360° turn. The hope is that this will reduce the number of after-racing protest hearings and give the sailors more time to enjoy the evening hospitality. Today, for example, rounded off with a lavish opening banquet and prizegiving at the Sheraton Hotel Dameisha, where winners of the Passage Simpson Race received their medals.
Shawn Kang's Beneteau 50 Lighthorse continued their winning ways from last year, taking IRC A by more than 5 minutes on corrected time ahead of Denis Logutenko's Russky Team, a Beneteau First 40, with Frank Pong's Jelik a further minute back on IRC corrected time. IRC B went to Nick Southward's J/109 Whiskey Jack ahead of Nikolai Korolev's Sun Odyssey 45 Elena Team by more than two and a half minutes. HKPN Divisions 1 & 2 were dominated respectively by Peter Wong's Bavaria 40 Simplicity and Huang Shaobo's Jeanneau 57 Haiyi.
After testing their straight-line skills on day one, on Saturday the China Cup asks teams to demonstrate their short-course talents around three windward-leeward courses. Good starts, solid tactics and a clear head at the congested turning marks will be the key to success. The Soto 27 one-design fleet will be joining in the action with the bigger boats from today's passage race.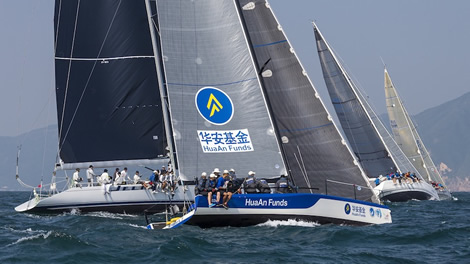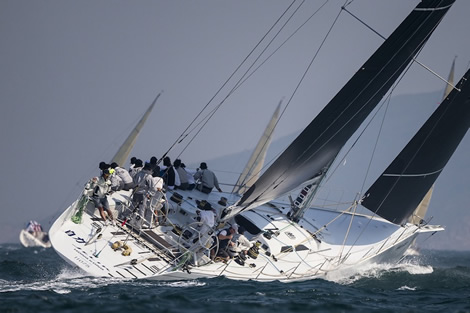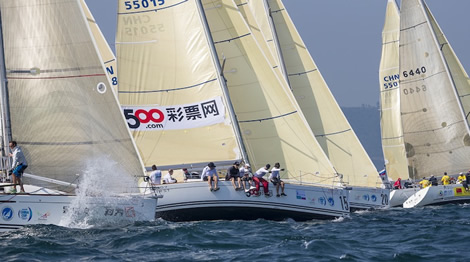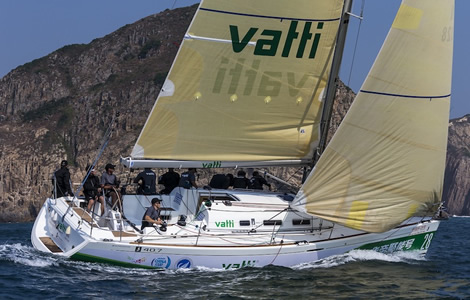 Back to top
Back to top