Vatti the favourite
Some of the world's most famous and accomplished sailors are flying in from around the world to get ready for the start of the 7th edition of the China Cup International Regatta. The four-day regatta starts with a passage race on 25 October, and concludes on 28 October after three days of short-course racing.
With 100 boats representing 35 different nations and regions, entered across four divisions, the international fleet sees everyone from virtual beginners to Olympic Champions racing alongside each other. In the Soto 27 one-design class, for example, China's own 2012 Olympic Champion in the women's singlehander, Lijia Xu, is sailing on board skipper Ji Yusheng's CYA Vatti team.
In the Beneteau 40.7 fleet, helmsman of Lake of Constance is Achim Griese, a Star silver medallist at the Los Angeles Olympic Games in 1984. Griese will be sailing with a group of friends that he has grown up with on Lake Constance since they first learned to sail as kids. They have remained loyal to each other and to their sport ever since.
The Beneteau fleet is creaking at the seams with Olympic talent, with 2008 470 Olympic gold medallist Nathan Wilmot sailing with his father Jamie aboard Toby O'Connell's Dubai Yo! O'Connell says he is looking forward to sailing with a bunch of familiar friends aboard an unfamiliar boat in unfamiliar waters.
Talking of Olympic talent, however, is it possible to have too much? Or could the weight of all the medals on board Team Vatti give this New Zealand team the extra righting moment off the competitive start line? Skipper Jono Rankine has assembled a crew that includes Jo Aleh and Olivia Powrie (470 Olympic Champions 2012), Pete Burling (49er Olympic silver medallist 2012 and recently crowned 49er World Champion), Simon Cooke (a former 470 World and European Champion), and Ed Smyth (former 49er World Champion, America's Cup sailor and reigning Extreme Sailing Series champion).
As defending champions of the Beneteau division at last year's China Cup, Vatti Sailing will start as favourites. Even so, Vatti Sailing didn't win easily last year, and will have a fight to hold on to the trophy. Other fancied teams include Beneteau China, steered by America's Cup helmsman from France, Sebastien Col, and crewed by Vendée Globe veteran Pierre Follenfant; Team Courrier skippered by Gery Trentesaux who has competed at almost every China Cup thus far, and is never far from the front; Russian team Lord of the Sail skippered by Evgeny Neugodnikov, a former match racing European Champion.
For the local crews, racing against such top-notch international competition offers a great opportunity to advance their own skills as the sport of sailing continues to grow meteorically in China. Many overseas teams have already raced at the China Cup multiple times, always attracted back by the warm weather in late October combined with good, close racing and affordable entry and charter fees. Word is spreading, and while the event is already well known to the Australians, French and Russians, for example, this year's China Cup sees Spanish and Swedish teams participating for the first time.
Aside from the Soto 27 and Beneteau 40.7 one design fleets, there are two handicap divisions for boats of assorted sizes and performance profiles - the HKPN Division and the IRC Division. Last year Shawn Kang's Beneteau First 35 Lighthorse and Yan Yuye's Archambault 40 Sea Wolf won multiple races in IRC, and will be among the frontrunners again. The scratch boat in IRC is the Reichel-Pugh 75 Jelik III, skippered by Hong Kong sailor Frank Pong. On 25 October, Pong's high-speed Maxi will be expected to take the lead on the opening Simpson Passage Race from Hong Kong to Shenzhen, where the regatta will be based for the remainder of the regatta.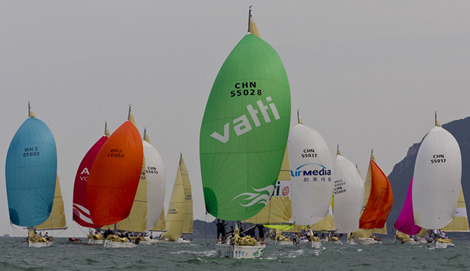 Back to top
Back to top