Peninsula Petroleum into the lead
With six races completed at the RC44 Cascais Cup it was all change on the leaderboard as Peninsula Petroleum claimed the top spot and Team Aqua dropped to fourth. Katusha was the most consistent team in a day where the sea state flattened, the fleet compressed and every position counted.
The first race of the day started in just 6 knots, Synergy Russian Sailing Team tacked straight onto port after the start and headed right, a winning move that took them onto a convincing win. Behind them the places changed leg by leg. Artemis Racing's new tactician, double Olympic gold medallist Iain Percy picked the shifts well, after an indifferent start, for the team to take second on the final run, Katusha finishing third.
A very quick bow change on Aegir Racing, after an incident owner Brian Benjamin put down to a 'good hoist and surge forward' and the boat in front having 'not such a good hoist', race number two got underway with the wind up to 7 knots. Peninsula Petroleum hit the pin end at pace, carried on up the left and by the top mark had left the fleet behind. Their turbo continued to run throughout the race, with tactician Vasco Vascotto not putting a foot wrong to take their first race win of the event. Behind racing was tight but David Murphy, Paul Goodison and the American Ironbound crew finished second holding off the advances Artemis Racing, today helmed today by Sarah Gunderson.
The final race saw the best breeze of the day, touching 9 knots. Katusha got a good start in the middle of the line and played the shifts up the first beat. As the leading boats approached the top mark Team Cascais – Aleph Racing forced Katusha and Synergy to tack just below the layline in tandem. In a close rounding Katusha got the jump, with Synergy and Cascais in pursuit. The places stayed the same until the final leg; a slow hoist by Team Cascais let Ironbound through to take their second top three of the day, local sailor Patrick de Barros having to settle for fourth.
Team Aqua had an unusually inconsistent day, their 5,7,11 scoreline dropped Chris Bake's team from first to fourth place overall. David Murphy and Team Aqua's owner, Chris Bake, are firm friends off the water, but on the water are rivals like all the RC44 team, commenting on the day's events Murphy joked. "Every once in a while it's good to beat Aqua. We admire them a lot, but it's fun to be in front."
Peninsula Petroleum sit at the top of the overnight leaderboard just one point ahead of Gennadi Timchenko's Team Katusha with Steve Howe at the helm. The Gibraltar-based team's tactician, Vasco Vascotto, gave his thoughts on the day and taking the overall lead. "We are very happy with today we kept making steps forward in the right direction. In the last race we were quite behind the fleet but we were able to recover and fight our way through the fleet to a good position. It means we are playing the right cards and making the right decisions on the race course. It gives us confidence, our manoeuvres were always good, but it gives us confidence in our boat speed."
Results:
1. Peninsula Petroleum Sailing Team-4 2 3 4 1 8-22
2. Katusha – 1 7 5 3 6 1-23
3. Synergy Russian Sailing Team – 8 5 2 1 11 2-29
4. Team Aqua – 2 3 1 5 7 11-29
5. Artemis Racing – 6 8 10 2 3 6-35
6.Team Cascais-Aleph Racing – 10 1 7 7 8 4-37
7. Ironbound – 11 10 4 10 2 3-40
8.Team Nika – 9 6 6 9 4 12-46
9. Aegir Racing – 5 4 9 11 10 9 (2)-50
10. Gazprom2 – 12 11 11 8 5 5-52
11. Bronenosec Sailing Team – 7 9 8 12 9 7-52
12. Team Italia- 3 12 12 9 12 10-55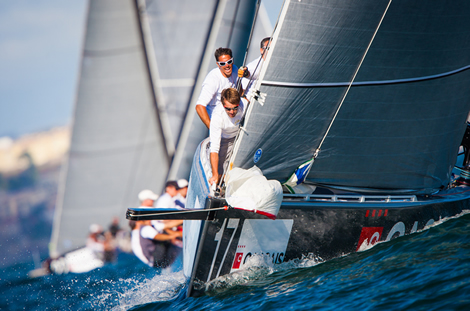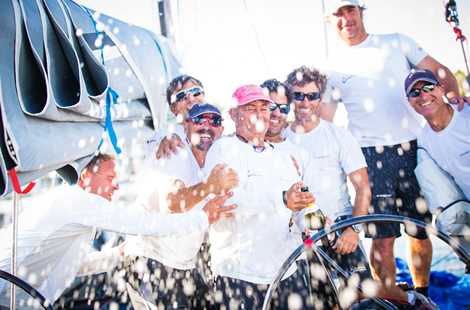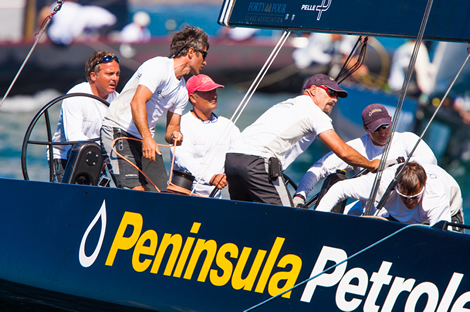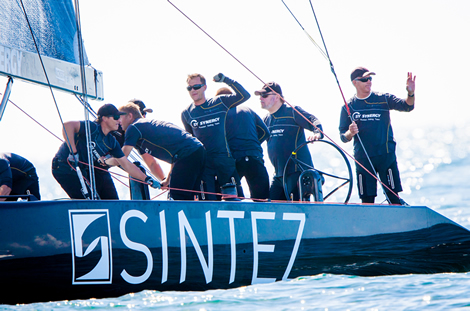 Back to top
Back to top