Bombarda noses ahead
Saturday marked the penultimate day for teams competing at the 2013 Melges 32 World Championship.
Glorious sunshine mixed with light breezes and calm seas set the stage for three additional amazing races. Richard Goransson aboard Helly Hansen Inga From Sweden captured the win in Race Five, Alessandro Rombelli's Azimut by STIG won race six (his very first in the Melges 32 class) and lastly, Naofumi Kamei on Mamma Aiuto! gladly took the win in race seven.
But the real story of the day is that Andrea Pozzi aboard Bombarda now finds himself in the lead by two points, just in front of Jason Carroll on Argo. Carroll came on strong early on in the Championship to lead up until today. After discards went into effect after race six, the scoreboard was shuffled leaving Carroll in second, and Rombelli in third overall. Completing the top five standings are Deneen Demourkas on Groovederci, then Kamei in fourth and fifth respectively.
Going into the final day, the points race is tight and surely, this Championship, like others before it, will come down to the last race, to the last leg of the Championship before deciding a winner.
Sunday is the final day of competition in Porto Rotondo, Italy for the 2013 Melges 32 World Championship. It will be an early start for teams as racing commences at 09.00.
Full results below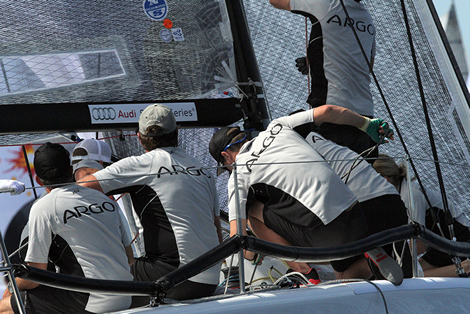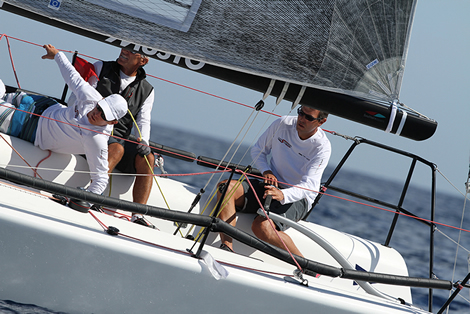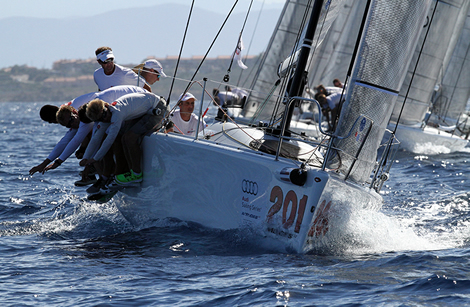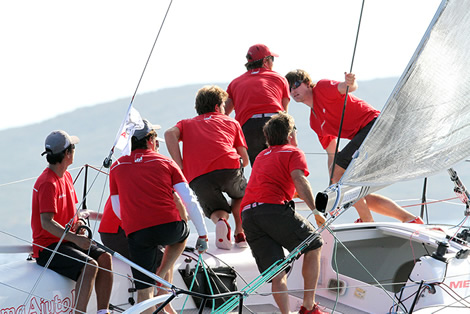 Back to top
Results
| | | | | | | | | | | | |
| --- | --- | --- | --- | --- | --- | --- | --- | --- | --- | --- | --- |
| Pos | Sail no | Boat | Owner/skipper | R1 | R2 | R3 | R4 | R5 | R6 | R7 | Net |
| 1 | ITA 229 | Bombarda Racing | Andrea Pozzi | 2 | 21 | 8 | 3 | 4 | 7 | 3 | 27 |
| 2 | USA 128 | ARGO | Jason Carroll | 5 | 4 | 6 | 2 | 8 | 4 | 8 | 29 |
| 3 | ITA 190 | Azimut by STIG | Alessandro Rombelli | 4 | 8 | 9 | 13 | 2 | 1 | 9 | 33 |
| 4 | USA 201 | Groovederci | Deneen Demourkas | 6 | 20 | 5 | 9 | 10 | 2 | 4 | 36 |
| 5 | JPN 199 | Mamma Aiuto | Naofumi Kamei | 7 | 9 | 1 | 8 | 15 | 21 | 1 | 41 |
| 6 | ITA 212 | Fantastica | Lanfranco Cirillo | 27/DNF | 7 | 4 | 18 | 5 | 6 | 5 | 45 |
| 7 | ITA 2121 | Mascalzone Latino | Vincenzo Onorato | 8 | 1 | 3 | 11 | 13 | 25 | 19 | 55 |
| 8 | ITA 187 | Audi Italia Sailing Team | Mauro Mocchegiani | 14 | 10 | 2 | 26 | 3 | 13 | 15 | 57 |
| 9 | SUI 1 | Robertissima 1 | Roberto Tomasini Grinover | 15 | 15 | 12 | 15 | 6 | 3 | 10 | 61 |
| 10 | USA 208 | Celeritas | Malcolm Gefter | 16 | 5 | 17 | 12 | 9 | 23 | 7 | 66 |
| 11 | JPN 233 | Swing | Keisuke Suzuki | 10 | 2 | 7 | 21 | 17 | 11 | 26 | 68 |
| 12 | ITA 667 | Brontolo HH | Filippo Pacinotti | 3 | 24 | 16 | 7 | 11 | 10 | 22 | 69 |
| 13 | GER 205 | Opus One | Wolfgang Stolz | 23 | 22 | 13 | 1 | 7 | 15 | 14 | 72 |
| 14 | ITA 19 | Atlantica 19 | Giangiacomo Serena di Lapigio | 21 | 13 | 22 | 14 | 14 | 9 | 2 | 73 |
| 15 | SWE 321 | Helly Hansen Inga from Sweden | Richard Goransson | 1 | 14 | 18 | 19 | 1 | 22 | 21 | 74 |
| 16 | RUS 13 | Synergy GT | Valentine Zavadnikov | 11 | 3 | 20 | 5 | 22 | 16 | 20 | 75 |
| 17 | ITA 176 | Margherita | Roberto Mazzucato | 18 | 17 | 11 | 6 | 12 | 24 | 13 | 77 |
| 18 | JPN 203 | Yasha Samurai | Yukihiro Ishida | 27/DNF | 6 | 10 | 17 | 20 | 19 | 18 | 90 |
| 19 | ITA 191 | Fra Martina | Edoardo Pavesio | 19 | 16 | 19 | 10 | 18 | 8 | 22/ZFP | 90 |
| 20 | ITA 172 | Vitamina | Andrea Lacorte | 12 | 23 | 15 | 23 | 23 | 12 | 6 | 91 |
| 21 | ITA 173 | Spirit of Nerina | Andrea Ferrari | 20 | 19 | 23 | 16 | 16 | 5 | 27/ZFP | 99 |
| 22 | ITA 487 | Torpyone | Edoardo Lupi | 9 | 11 | 14 | 22 | 24 | 20 | 23 | 99 |
| 23 | GBR 5839 | ngoni | Tony Buckingham | 17 | 12 | 27/DNF | 4 | 26 | 17 | 24 | 100 |
| 24 | JPN 210 | Quetefeek | Daisuke Kimura | 13 | 25 | 24 | 20 | 19 | 26 | 12 | 113 |
| 25 | ITA 185 | RIMYG | Luca Simeone | 27/DNF | 18 | 25 | 25 | 21 | 14 | 16 | 119 |
| 26 | ESP 226 | Tavatuy-Water Way | Pavel Kuznetsov | 22 | 26 | 21 | 24 | 25 | 18 | 11 | 121 |
Back to top