France again
Once again, the winner of the day is French skipper Xavier Rohart and crew Serge Pulfer. Race 4 was equally as challenging as the previous day's race, but not because of the weather. Rohart and Pulfer fought inch by inch with John MacCausland and Phil Trinter from the moment the starting gun was fired until the last couple of seconds at the finish.
With each day the competition among the Star fleet at the Qualcomm 2013 Star World Championship grows more intense. The fleet began the day with a starting sequence on time at 1230 hrs, but three minutes into the sequence the Race Committee postponed the race to adjust the starting line to avoid another general recall. Shortly after, the Race Committee attempted another start, but was forced to order a general recall when the majority of the fleet was over the starting line before the gun.
Finally on the third attempt, the fleet was all clear at the start but two of the Stars in particular stood out instantly. Xavier Rohart with crew Serge Pulfer and John MacCausland and Phil Trinter were the first two boats off the starting line at the gun with the best boat speed and position on the course. At this moment Rohart and MacCausland began leading the fleet up the right side of the course and their duel to win the race.
Rohart immediately took the controlling position over MacCausland and the two boats started to put some distance between themselves and the fleet. At the first windward mark rounding, Rohart rounded in first with MacCausland following closely behind. On the downwind leg, MacCausland and Rohart engaged in a one-on-one battle for the best position to round the leeward mark and gain the advantage of being the first boat to the favored side of the course.
As both teams approached the mark, Rohart was able to barely squeeze by MacCausland and round the left leeward gate mark in first. During the second windward leg, Rohart's main focus was to protect his position on the course between the MacCausland, the rest of the fleet, and the next mark. At this point in the race, there was very little distance between the two leading boats, and MacCausland was waiting for his chance to take first place.
MacCausland and Rohart continued their duel throughout the last downwind leg, onto the final upwind leg to the finish. Despite the constant fight between the two, Rohart maintained his lead for the entire race and beat MacCausland to the finish by a mere 00:21 seconds.
Although Xavier Rohart and Serge Pulfer won Race 4 of the Qualcomm 2013 Star World Championship Series, John MacCausland and Phil Trinter's second place finish in today's race earned them the overall leading position in the regatta.
Full results below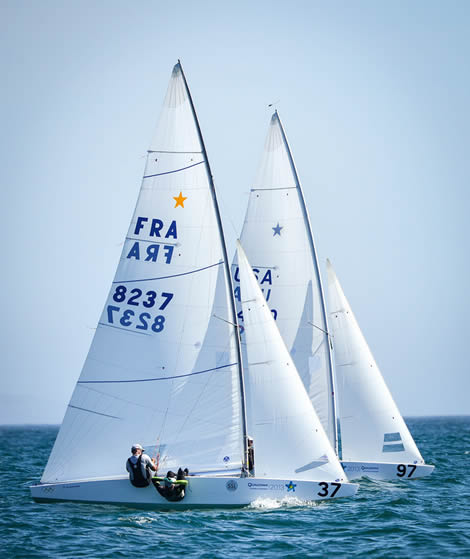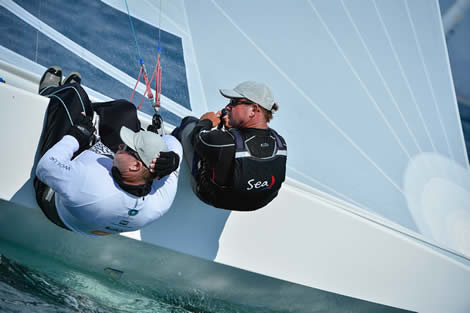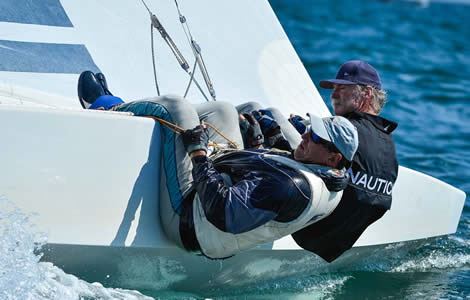 Back to top
Results:
| | | | | | | | | |
| --- | --- | --- | --- | --- | --- | --- | --- | --- |
| Pos | Nat | Sail# / Skipper | Crew | R1 | R2 | R3 | R4 | Tot |
| 1 | USA | 8490 John MacCausland | Phil Trinter | 2 | 11 | 2 | 2 | 17 |
| 2 | USA | 8203 Brian Ledbetter | Gregg Morton | 9 | 1 | 3 | 6 | 19 |
| 3 | USA | 8320 George Szabo | Craig Moss | 7 | 6 | 4 | 5 | 22 |
| 4 | FRA | 8237 Xavier Rohart | Serge Pulfer | 6 | 16 | 1 | 1 | 24 |
| 5 | USA | 8209 Andrew Campbell | John von Schwarz | 3 | 19 | 22 | 4 | 48 |
| 6 | USA | 8465 Augie Diaz | Arnis Baltins | 13 | 3 | 33 | 8 | 57 |
| 7 | USA | 8448 Carl Buchan | Jamie Buchan | 12 | 22 | 9 | 18 | 61 |
| 8 | USA | 8362 Vincent Brun | Brian Terhaar | 4 | 5 | 41 | 12 | 62 |
| 9 | GER | 8331 Hubert Merkelbach | Gerrit Bartel | 20 | 4 | 25 | 13 | 62 |
| 10 | USA | 8323 Eric Doyle | Payson Infelise | 10 | 15 | 19 | 21 | 65 |
| 11 | CAN | 8028 Steven Fleckenstein | Rob Mulder | 15 | 25 | 7 | 25 | 72 |
| 12 | USA | 8129 Mark Reynolds | Hal Haenel | 8 | 7 | 61 | 3 | 79 |
| 13 | USA | 8291 William G. Swigart | Brian Fatih | 24 | 18 | 18 | 20 | 80 |
| 14 | USA | 8229 Tomas Hornos | Josh Revkin | 29 | 17 | 13 | 22 | 81 |
| 15 | CAN | 8143 Brian Cramer | Cam Lymburner | 22 | 8 | 15 | 38 | 83 |
| 16 | USA | 8440 Jim Buckingham | Austin Sperry | 5 | 67 ocs | 11 | 7 | 90 |
| 17 | USA | 8336 Steve Brown | Erick Lange | 36 | 35 | 10 | 9 | 90 |
| 18 | USA | 7741 Benjamin Sternberg | Valentin Veytsman | 33 | 13 | 17 | 27 | 90 |
| 19 | SUI | 8479 Jean-Pascal Chatagny | Patrick Ducommun | 18 | 2 | 20 | 51 | 91 |
| 20 | BRA | 8390 Alessandro Pascolato | Henry Raul Boening | 16 | 10 | 40 | 26 | 92 |
| 21 | BRA | 8459 Admar Gonzaga Neto | Andre Serpa | 34 | 32 | 16 | 10 | 92 |
| 22 | BRA | 8474 Lars Schmidt Grael | Samuel F. Goncalves | 1 | 20 | 36 | 37 | 94 |
| 23 | USA | 7620 Derek De Couteau | Jamie Stewart | 27 | 27 | 6 | 43 | 103 |
| 24 | USA | 8072 Doug Smith | Myles H. A. Prichard | 14 | 21 | 52 | 17 | 104 |
| 25 | USA | 8000 Arthur Anosov | David Caesar | 30 | 37 | 24 | 14 | 105 |
| 26 | USA | 7209 Mark Butler | John Rudderham | 25 | 36 | 30 | 16 | 107 |
| 27 | SUI | 7929 Michel Niklaus | Tyler Bjorn | 28 | 43 | 14 | 28 | 113 |
| 28 | USA | 8082 Ben Mitchell | Julian Busch | 19 | 33 | 29 | 34 | 115 |
| 29 | UKR | 8247 Vasyl Gureyev | Vitalii Kushnir | 35 | 14 | 45 | 24 | 118 |
| 30 | SUI | 8409 Christoph Gautschi | Dominik Schenk | 39 | 26 | 23 | 32 | 120 |
| 31 | USA | 8015 Donny Massey | Isao Toyama | 23 | 29 | 51 | 23 | 126 |
| 32 | USA | 8088 Stephen G Gould | Greg Sieck | 40 | 23 | 54 | 11 | 128 |
| 33 | ARG | 8268 Alejandro Bugacov | Eugenio Cingolani | 17 | 40 | 42 | 30 | 129 |
| 34 | USA | 8023 Mike Dorgan | Matt Dorgan | 11 | 9 | 43 | 67 dnf | 130 |
| 35 | SWE | 7978 Ingvar J-son Krook | Benjamin Pettersen | 37 | 30 | 49 | 15 | 131 |
| 36 | USA | 8361 Tom Londrigan, Jr. | Rick Peters | 67 ocs | 12 | 39 | 19 | 137 |
| 37 | CAN | 8466 Stuart Hebb | Mike Wolfs | 67 dsq | 31 | 12 | 31 | 141 |
| 38 | USA | 8410 Mike Phinney | Rick Burgess | 48 | 28 | 32 | 44 | 152 |
| 39 | CAN | 8271 Allan Cullen | Dave Martin | 21 | 53 | 37 | 48 | 159 |
| 40 | USA | 8163 Jon Pelliconi | Henry Brawner | 49 | 41 | 34 | 36 | 160 |
| 41 | USA | 8162 Chuck Driscoll | Jim Oberg | 59 | 48 | 8 | 47 | 162 |
| 42 | USA | 7621 Peter F. Costa | Jessica Costa | 41 | 57 | 27 | 39 | 164 |
| 43 | USA | 8379 Bill Allen | Eric Beckwith | 43 | 42 | 50 | 29 | 164 |
| 44 | CAN | 8389 Jerry Wendt | Bryan Milne | 32 | 54 | 47 | 33 | 166 |
| 45 | USA | 8087 Keith Donald | Kevin Elterman | 52 | 52 | 5 | 58 | 167 |
| 46 | USA | 8260 Bill Buchan | Erik Bentzen | 67 ocs | 24 | 44 | 35 | 170 |
| 47 | BRA | 8403 Frederico H. V. de Lima | Renato Moura | 51 | 60 | 26 | 41 | 178 |
| 48 | USA | 8189 Robbie Haines | Chris Barnard | 44 | 34 | 35 | 67 dnc | 180 |
| 49 | CAN | 8235 Mark Passmore | Chris Rogers | 31 | 39 | 58 | 53 | 181 |
| 50 | USA | 8306 Thomas E. Springer | David Wood | 67 ocs | 46 | 31 | 40 | 184 |
| 51 | USA | 8187 Robert A Teitge | Sam Eadie | 54 | 63 | 21 | 52 | 190 |
| 52 | USA | 7844 Foss Miller | Malcolm Macneil | 53 | 47 | 28 | 67 dnf | 195 |
| 53 | USA | 8484 Larry Whipple | Mark Strube | 26 | 38 | 67 dnc | 67 dnc | 198 |
| 54 | USA | 7425 Laura Beigel | Read Beigel | 47 | 58 | 38 | 56 | 199 |
| 55 | USA | 6840 Chris Wright | Kyle Henehan | 38 | 59 | 55 | 49 | 201 |
| 56 | USA | 8065 Doug Steele | Andy Dippel | 50 | 49 | 56 | 46 | 201 |
| 57 | USA | 8269 Jock Kohlhas | John Wulff | 56 | 44 | 64 | 45 | 209 |
| 58 | CAN | 8017 Bruce Long | Paul Cobban | 45 | 67 dnf | 48 | 54 | 214 |
| 59 | FRA | 7663 Guillaume Rasse | Nina Aviles | 42 | 56 | 60 | 57 | 215 |
| 60 | USA | 8267 Stephen Gunther | Ed Morey | 58 | 45 | 62 | 50 | 215 |
| 61 | USA | 8215 John Chiarella | Bob Carlson | 46 | 55 | 57 | 60 | 218 |
| 62 | GER | 8416 Hubert Rauch | Kilian Weise | 60 | 51 | 67 dsq | 42 | 220 |
| 63 | USA | 7294 Charles Beek | Chas Beek | 67 ocs | 50 | 46 | 61 | 224 |
| 64 | USA | 7531 William Gerard | Bill Gerard | 57 | 61 | 59 | 59 | 236 |
| 65 | VIE | 8176 Huy Nguyen | Andro Korlaet | 55 | 64 | 53 | 67 dns | 239 |
| 66 | USA | 7977 Paul Kresge | Jon Kidder | 61 | 62 | 63 | 55 | 241 |
Back to top