Brun and Terhaar lead the field
Race two of the Qualcomm 2013 Star World Championship got underway after a postponement due to fog. Winds were around 10 knots at 295°. The Race Committee set a Course 3 (five legs) at 2.1 miles a leg again today.
The overall results after two races show that only four of the 66 teams have finishes in the top 10 in both races.
Local Gold Star Winner Vince Brun and Brian Terhaar rounded each mark solidly in the top of the fleet in today's race and now lead the Qualcomm 2013 Star World Championship series.
Today's race winners, Brian Ledbetter and Greg Morton, had a clear air start at the starboard end of the line with full boat speed at the gun. Ledbetter, and Jean-Pascal Chatagny with Patrick Ducommun, paced each other to work out into the front of the fleet with Hubert Merkelbach with Gerrit Bartel from Germany and Augie Diaz with Arnis Baltins from Florida keeping the pressure on.
Ledbetter and Morton led at every mark putting more and more precious seconds between them and the fleet. Brian Ledbetter and Greg Morton went on to win race two by an impressive 1 minute 9 seconds.
Following today's race results, six of the top 10 teams are local San Diego Star Sailors, including the father and son team of Mike and Matt Dorgan. This event is 13 year old Matt's first Star World Championship and he and his father are currently tied for 7th place.
Brian Ledbetter talked of his day: "It was a nice race today. The day started foggy and so the Race Committee waited because we couldn't see the weather mark. But when we finally got started, it was nice hiking breeze, we got off the line clear, and went to the right. And that actually worked out really well. There were 3 boats really close, but we got around the weather mark ahead of them, and that was pretty crucial because after that there weren't too many passing lanes during the race. So at that point we had to stay ahead, a little bit of easy covering, not too difficult, and tried to extend on the run. The trickiest part of the race was after we rounded the 1st mark first and the fog closed in. We couldn't see the leeward mark, so we didn't know where we were headed. But we held them off there, and we stayed ahead on the way to the finish.
"Our plan is to be consistent. It's a tough fleet, 60 plus boats, and if you can keep throwing single digits up on the board, you'll be close to the action. Our goal is top 10 here, and we're in that spot now so it feels pretty good."
Full results below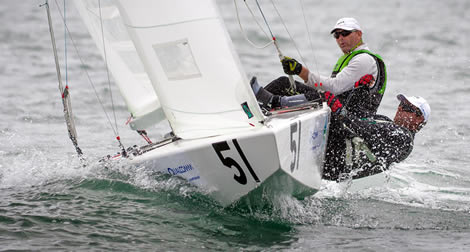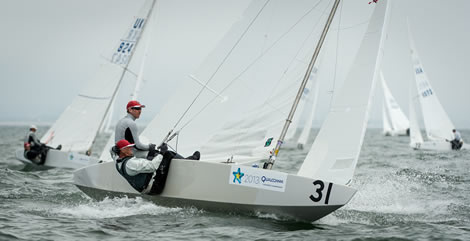 Back to top
Results
| | | | | | | |
| --- | --- | --- | --- | --- | --- | --- |
| Pos | Nat | Sail no / Skipper | Crew | R1 | R2 | Tot |
| 1 | USA | 8362 Vincent Brun | Brian Terhaar | 4 | 5 | 9 |
| 2 | USA | 8203 Brian Ledbetter | Gregg Morton | 9 | 1 | 10 |
| 3 | USA | 8490 John MacCausland | Phil Trinter | 2 | 11 | 13 |
| 4 | USA | 8320 George Szabo | Craig Moss | 7 | 6 | 13 |
| 5 | USA | 8129 Mark Reynolds | Hal Haenel | 8 | 7 | 15 |
| 6 | USA | 8465 Augie Diaz | Arnis Baltins | 13 | 3 | 16 |
| 7 | SUI | 8479 Jean-Pascal Chatagny | Patrick Ducommun | 18 | 2 | 20 |
| 8 | USA | 8023 Mike Dorgan | Matt Dorgan | 11 | 9 | 20 |
| 9 | BRA | 8474 Lars Schmidt Grael | Samuel F. Goncalves | 1 | 20 | 21 |
| 10 | USA | 8209 Andrew Campbell | John von Schwarz | 3 | 19 | 22 |
| 11 | FRA | 8237 Xavier Rohart | Serge Pulfer | 6 | 16 | 22 |
| 12 | GER | 8331 Hubert Merkelbach | Gerrit Bartel | 20 | 4 | 24 |
| 13 | USA | 8323 Eric Doyle | Payson Infelise | 10 | 15 | 25 |
| 14 | BRA | 8390 Alessandro Pascolato | Henry Raul Boening | 16 | 10 | 26 |
| 15 | CAN | 8143 Brian Cramer | Cam Lymburner | 22 | 8 | 30 |
| 16 | USA | 8448 Carl Buchan | Jamie Buchan | 12 | 22 | 34 |
| 17 | USA | 8072 Doug Smith | Myles H. A. Prichard | 14 | 21 | 35 |
| 18 | CAN | 8028 Steven Fleckenstein | Rob Mulder | 15 | 25 | 40 |
| 19 | USA | 8291 William Swigart | Brian Fatih | 24 | 18 | 42 |
| 20 | USA | 8229 Tomas Hornos | Josh Revkin | 29 | 17 | 46 |
| 21 | USA | 7741 Benjamin Sternberg | Valentin Veytsman | 34 | 13 | 47 |
| 22 | UKR | 8247 Vasyl Gureyev | Vitalii Kushnir | 36 | 14 | 50 |
| 23 | USA | 8082 Ben Mitchell | Julian Busch | 19 | 33 | 52 |
| 24 | USA | 8015 Donny Massey | Isao Toyama | 23 | 29 | 52 |
| 25 | USA | 7620 Derek De Couteau | Jamie Stewart | 27 | 27 | 54 |
| 26 | ARG | 8268 Alejandro Bugacov | Eugenio Cingolani | 17 | 40 | 57 |
| 27 | USA | 7209 Mark Butler | John Rudderham | 25 | 36 | 61 |
| 28 | USA | 8088 Stephen Gould | Greg Sieck | 41 | 23 | 64 |
| 29 | USA | 8484 Larry Whipple | Mark Strube | 26 | 38 | 64 |
| 30 | SUI | 8409 Christoph Gautschi | Dominik Schenk | 40 | 26 | 66 |
| 31 | USA | 8000 Arthur Anosov | David Caesar | 30 | 37 | 67 |
| 32 | BRA | 8459 Admar Gonzaga Neto | Andre Serpa | 35 | 32 | 67 |
| 33 | SWE | 7978 Ingvar J-son Krook | Benjamin Pettersen | 38 | 30 | 68 |
| 34 | CAN | 8235 Mark Passmore | Chris Rogers | 31 | 39 | 70 |
| 35 | SUI | 7929 Michel Niklaus | Tyler Bjorn | 28 | 43 | 71 |
| 36 | USA | 8440 Jim Buckingham | Austin Sperry | 5 | 67 ocs | 72 |
| 37 | USA | 8336 Steve Brown | Erick Lange | 37 | 35 | 72 |
| 38 | CAN | 8271 Allan Cullen | Dave Martin | 21 | 53 | 74 |
| 39 | USA | 8410Mike Phinney | Rick Burgess | 49 | 28 | 77 |
| 40 | USA | 8361 Tom Londrigan, Jr. | Rick Peters | 67 ocs | 12 | 79 |
| 41 | USA | 8189 Robbie Haines | Chris Barnard | 45 | 34 | 79 |
| 42 | USA | 8379 Bill Allen | Eric Beckwith | 44 | 42 | 86 |
| 43 | CAN | 8389 Jerry Wendt | Bryan Milne | 33 | 54 | 87 |
| 44 | USA | 8260 Bill Buchan | Erik Bentzen | 67 ocs | 24 | 91 |
| 45 | USA | 8163 Jon Pelliconi | Henry Brawner | 50 | 41 | 91 |
| 46 | CAN | 8466 Stuart Hebb | Mike Wolfs | 67 dsq | 31 | 98 |
| 47 | USA | 6840 Chris Wright | Kyle Henehan | 39 | 59 | 98 |
| 48 | USA | 7621 Peter F. Costa | Jessica Costa | 42 | 57 | 99 |
| 49 | FRA | 7663 Guillaume Rasse | Nina Aviles | 43 | 56 | 99 |
| 50 | USA | 8065 Doug Steele | Andy Dippel | 51 | 49 | 100 |
| 51 | USA | 8269 Jock Kohlhas | John Wulff | 57 | 44 | 101 |
| 52 | USA | 7844 Foss Miller | Malcolm Macneil | 54 | 47 | 101 |
| 53 | USA | 8215 John Chiarella | Bob Carlson | 47 | 55 | 102 |
| 54 | USA | 8267 Stephen Gunther | Ed Morey | 59 | 45 | 104 |
| 55 | USA | 8087 Keith Donald | Kevin Elterman | 53 | 52 | 105 |
| 56 | USA | 7425 Laura Beigel | Read Beigel | 48 | 58 | 106 |
| 57 | USA | 8162 Chuck Driscoll | Jim Oberg | 60 | 48 | 108 |
| 58 | GER | 8416 Hubert Rauch | Kilian Weise | 61 | 51 | 112 |
| 59 | BRA | 8403 Frederico H. V. de Lima | Renato Moura | 52 | 60 | 112 |
| 60 | USA | 8306 Thomas E. Springer | David Wood | 67 ocs | 46 | 113 |
| 61 | CAN | 8017 Bruce Long | Paul Cobban | 46 | 67 dnf | 113 |
| 62 | USA | 7294 Charles Beek | Chas Beek | 67 ocs | 50 | 117 |
| 63 | USA | 8187 Robert A Teitge | Sam Eadie | 55 | 63 | 118 |
| 64 | USA | 7531 William Gerard | Bill Gerard | 58 | 61 | 119 |
| 65 | VIE | 8176 Huy Nguyen | Andro Korlaet | 56 | 64 | 120 |
| 66 | USA | 7977 Paul Kresge | Jon Kidder | 62 | 62 | 124 |
Back to top